Spot blotch, caused by the fungus Biopolaris sorokiniana poses a serious threat to bread wheat production in warm and humid wheat-growing regions globally, affecting more than 25 million hectares and resulting in huge yield losses.
Chemical control approaches, including seed treatment and fungicides, have provided acceptable spot blotch control. However, their use is unaffordable to resource-poor farmers and poses a hazard to health and the environment. In addition, "abiotic stresses like heat and drought that are widely prevalent in South Asia compound the problem, making varietal genetic resistance the last resort of farmers to combat this disease," according to Pawan Singh, Head of Wheat Pathology at the International Maize and Wheat Improvement Center (CIMMYT). Therefore, one of CIMMYT's wheat research focus areas is developing wheat varieties that carry genetic resistance to the disease.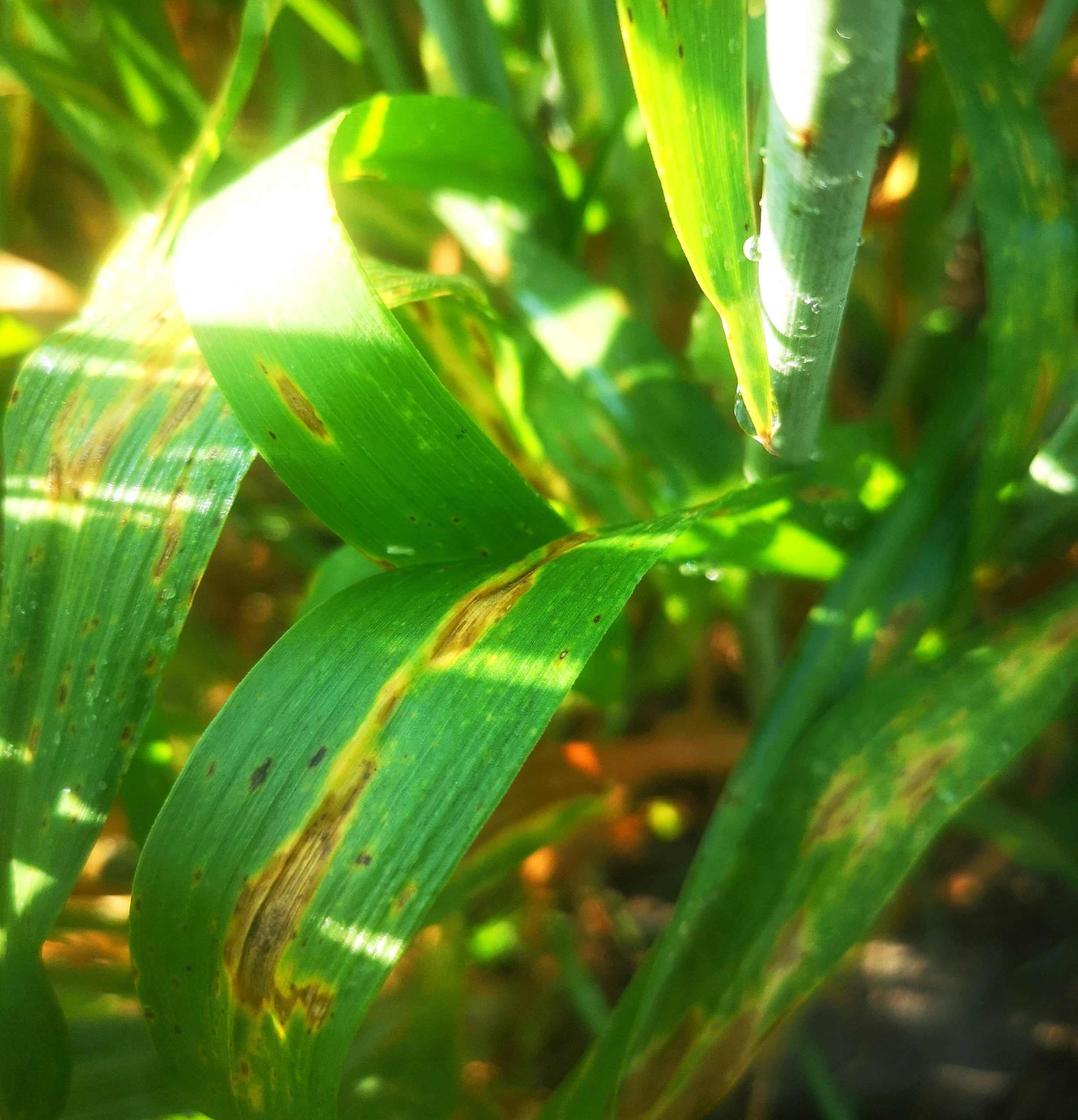 Previously, only four spot blotch resistance genes in bread wheat had been identified. Through a new study, CIMMYT scientists have identified novel genomic regions associated with spot blotch resistance using the genome-wide association mapping approach with 6,736 advanced breeding lines from different years (2013 to 2020), evaluated at CIMMYT's spot blotch screening platform in Agua Fría, in Mexico's state of Morelos.
The study's results are positive and confirmed that:
Many advanced CIMMYT breeding lines have moderate to high resistance to spot blotch.
Resistance to the disease is conferred quantitatively by several minor genomic regions that act together in an additive manner to confer resistance.
There is an association of the 2NS translocation from the wild species Aegilops ventricosa with spot blotch resistance.
There is also an association of the spot blotch favorable alleles at the 2NS translocation, and two markers on the telomeric end of chromosome 3BS with grain yield evaluated in multiple environments, implying that selection for favorable alleles at these markers could help obtain higher grain yield and spot blotch resistance.
"Considering the persistent threat of spot blotch to resource-poor farmers in South Asia, further research and breeding efforts to improve genetic resistance to the disease, identify novel sources of resistance by screening different germplasm, and selecting for genomic regions with minor effects using selection tools like genomic selection is essential," explained Philomin Juliana, Molecular Breeder and Quantitative Geneticist at CIMMYT.
Read the full study:
Genome-Wide Association Mapping Indicates Quantitative Genetic Control of Spot Blotch Resistance in Bread Wheat and the Favorable Effects of Some Spot Blotch Loci on Grain Yield
Cover photo: Researchers evaluate wheat for spot blotch at CIMMYT's experimental station in Agua Fría, Jiutepec, Morelos state, Mexico. (Photo: Xinyao He and Pawan Singh/CIMMYT)