Ensuring the world's food security
CIMMYT works to improve livelihoods and foster more productive sustainable maize and wheat farming in low- and middle-income countries. The center's research portfolio squarely targets critical challenges, including food insecurity and malnutrition, climate change and environmental degradation. By working as multidisciplinary teams in large-scale projects and together with partner organizations, CIMMYT comprehends challenges better and is able to develop more effective solutions.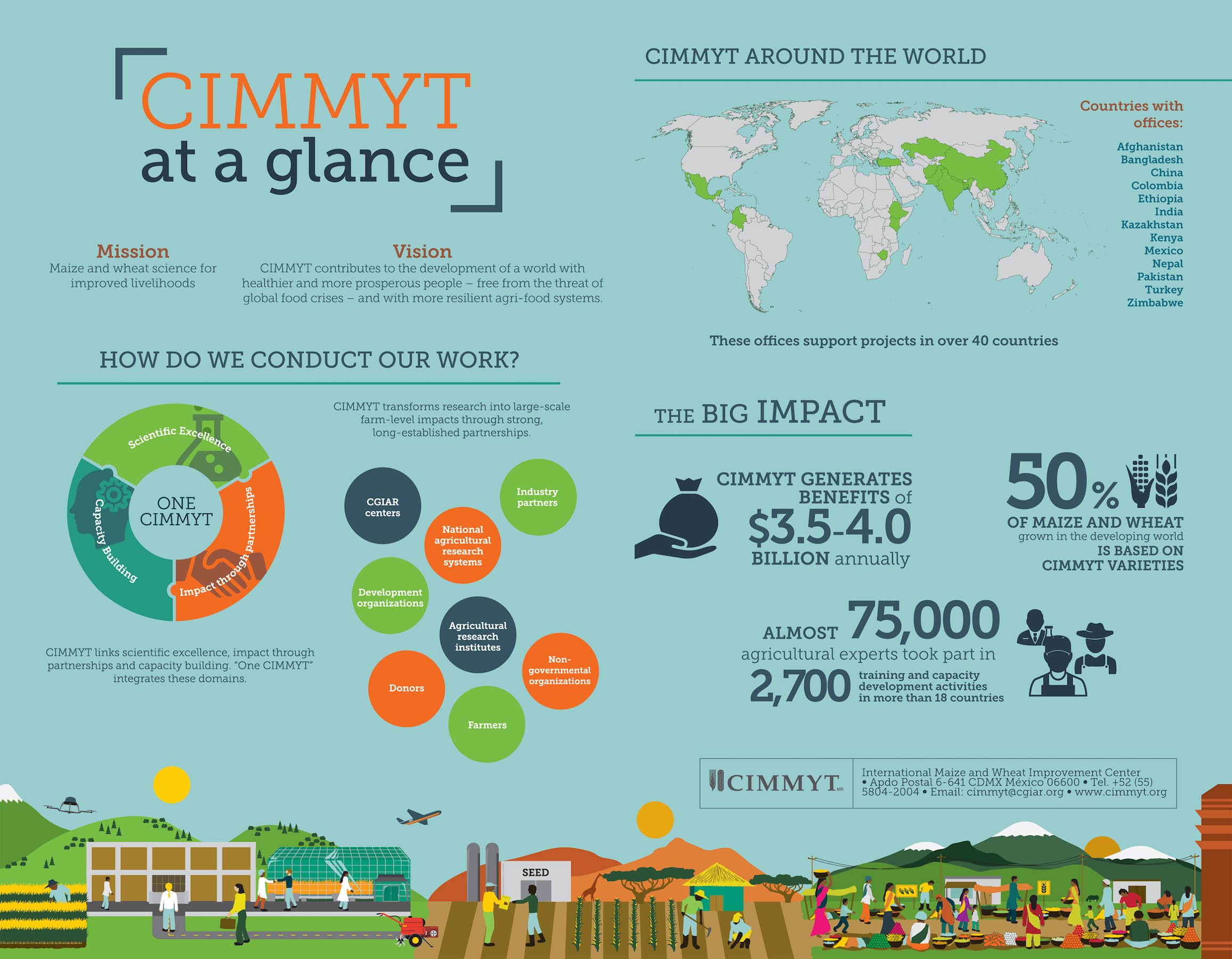 Turning research into impact
Currently CIMMYT is working to:
Improve the food and nutrition security, and livelihoods of farmers and rural populations.
Increase the resilience of agri-food systems, and maize and wheat varieties, to the impact of climate change, pests and diseases.
Develop approaches that reduce greenhouse gas emissions and use land, water, energy, nutrients and labor more efficiently.
Provide nutritious food options for low-income consumers.
Ensure the biodiversity of maize and wheat is used more widely and equitably.
Provide technologies and know-how to farmers and local entrepreneurs and help them to become the engines of economic growth.
Develop the capacity of individuals and institutions in partnership with world-class universities, national agricultural research and extension systems, the private sector, and researchers from other organizations.
Through collaborative research, partnerships, and training, CIMMYT helps to build and strengthen a new generation of national agricultural research and extension services in maize- and wheat-growing nations.
CIMMYT is a member of CGIAR, composed of 15 agricultural research centers working together to sustainably intensify global agriculture. CIMMYT leads the CGIAR Research Programs on Maize and Wheat, and the Excellence in Breeding Platform, which align and add value to the efforts of more than 500 partners.