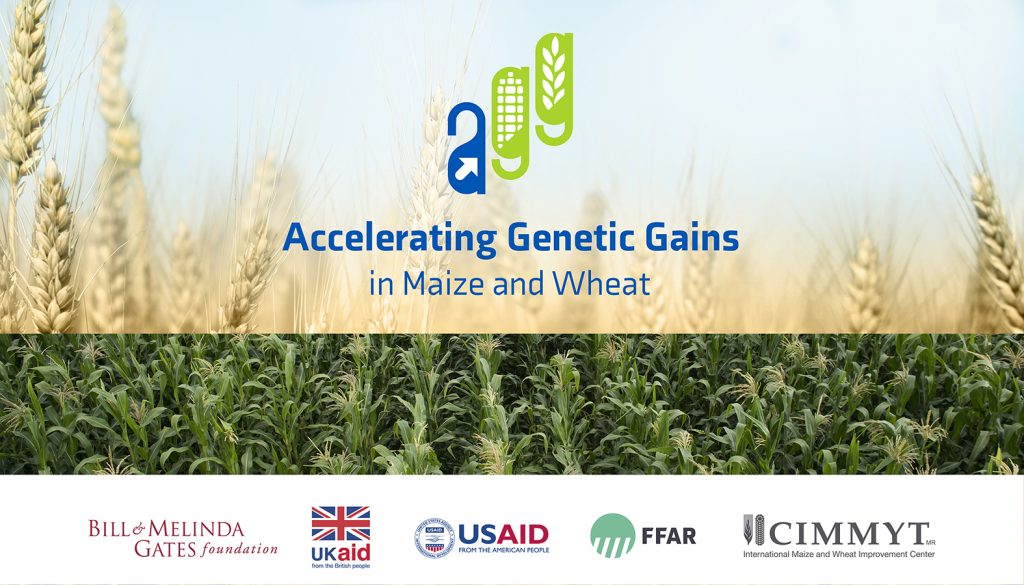 Accelerating Genetic Gains in Maize and Wheat (AGG), a project led by the International Maize and Wheat Improvement Center (CIMMYT), brings together partners in the global science community and in national agricultural research and extension systems to accelerate the development of higher-yielding varieties of maize and wheat — two of the world's most important staple crops.
Specifically focusing on supporting smallholder farmers in low- and middle-income countries, the project uses innovative methods that improve breeding efficiency and precision to produce varieties that are climate-resilient, pest- and disease-resistant, and highly nutritious, targeted to farmers' specific needs.
The maize component of the project serves 13 target countries: Ethiopia, Kenya, Malawi, Mozambique, South Africa, Tanzania, Uganda, Zambia and Zimbabwe in eastern and southern Africa; and Benin, Ghana, Mali, and Nigeria in West Africa. The wheat component of the project serves six countries: Bangladesh, India, Nepal, and Pakistan in South Asia; and Ethiopia and Kenya in sub-Saharan Africa.
This project builds on the impact of the Delivering Genetic Gain in Wheat (DGGW) and Stress Tolerant Maize for Africa (STMA) projects.
Objectives
The project aims to accelerate the development and delivery of more productive, climate-resilient, gender-responsive, market-demanded, and nutritious maize and wheat varieties in support of sustainable agricultural transformation in sub-Saharan Africa and South Asia.
To encourage adoption of new varieties, the project works to improve equitable access, especially by women, to seed and information, as well as capacity building in breeding, disease surveillance, and seed marketing.
Funders
Project funding is provided by the Bill & Melinda Gates Foundation, the UK Foreign, Commonwealth & Development Office, the United States Agency for International Development and the Foundation for Food and Agricultural Research (FFAR).
Key partners
The primary partners for this project are the national agricultural research systems in the project target countries and, for the maize component, the International Institute for Tropical Agriculture (IITA) and small and medium enterprise (SME) seed companies.
Scientific and technical steering committees
We are grateful to our excellent maize and wheat scientific and technical steering committees for their suggestions and thoughtful question on key issues for the success of AGG. Read about the recommendations from the maize steering committee here and the wheat steering committee here.
Year 1 Executive Summary
In its first year of operation, AGG has made great strides in collaboration with our national partners towards the project goals –despite the unprecedented challenges of working through a global pandemic. For specific milestones achieved, we invite you to review our AGG Year 1 Executive Summary and Impact Report (PDF).
Year 2 Executive Summary
AGG has made progress towards all outcomes. Our scientists are implementing substantial modifications to breeding targets and schemes. AGG is also in a continuous improvement process for the partnership modalities, pursuing co-ownership and co-implementation that builds the capacities of all involved. For specific milestones achieved, we invite you to review our AGG Year 2 Executive Summary and Impact Report (PDF).
CIMMYT's adult plant resistance breeding strategy
Download a summary of CIMMYT's breeding strategy for adult plant resistance (PDF).
Subscribe to the AGG newsletter