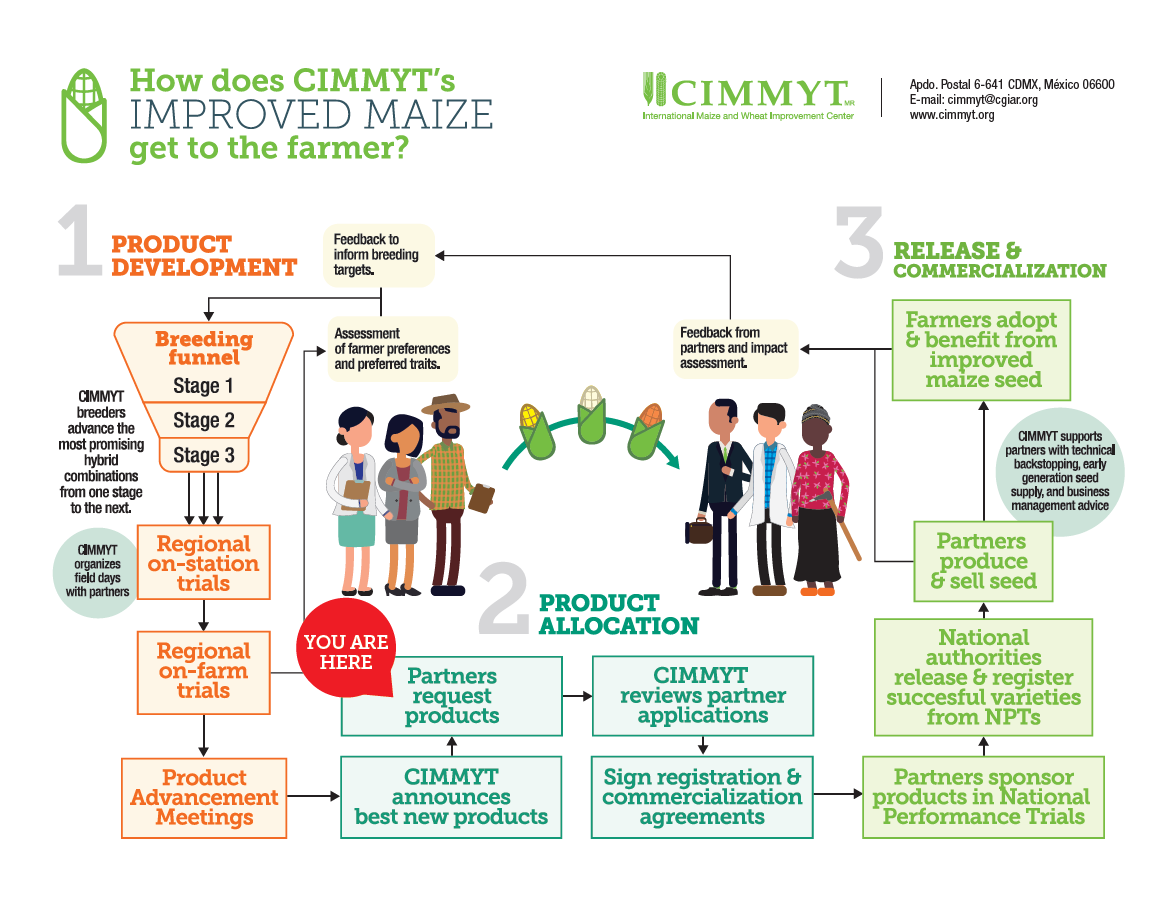 The International Maize and Wheat Improvement Center (CIMMYT) is offering a new set of elite, improved maize hybrids to partners for commercialization in the tropical lowlands of Latin America and similar agro-ecological zones. National agricultural research systems (NARS) and seed companies are invited to apply for licenses to commercialize these new hybrids, in order to bring the benefits of the improved seed to farming communities. In some countries, depending on the applicable regulatory framework for commercial maize seed, successful applicants may first need to sponsor the products through the national registration / release process prior to commercialization.
The deadline to submit applications to be considered during the first round of allocations is September 17, 2021. Applications received after that deadline will be considered during the following round of product allocations.
Information about the newly available CIMMYT maize hybrids from the Latin America breeding program, application instructions and other relevant material is available in the CIMMYT Maize Product Catalog and in the links provided below.
Product Profile
Newly available CIMMYT hybrids
Basic traits
Nice-to-have / Emerging traits
Trial summary
Latin America Product Profile 1A

(LatAM-PP1A)

CIM19LAPP1A-11
Early-maturing, white, high-yielding, drought tolerant, resistant to MLB, TSC and ear rots
FSR, GLS
Appendix 1
CIM19LAPP1A-13
CIMMYT Latin America Stage 4 and Stage 5 Trials: Results of the 2019 and 2020 Trials and Product Announcement
Appendix 1: CIMMYT maize hybrids available under LatAM-PP1A
Appendix 2: Information on Latin America trial locations and management
Principles and Procedures for Acquisition and use of CIMMYT maize hybrids and OPVs for commercialization
Applications must be accompanied by a proposed commercialization plan for each product being requested. Applications may be submitted online via the CIMMYT Maize Licensing Portal in English or Spanish.
Alternatively, applications may be submitted via email to GMP-CIMMYT@cgiar.org using the PDF forms available for download at the links below. Each applicant will need to complete one copy of Form A for their organization, then for each hybrid being requested a separate copy of Form B. (Please be sure to use these current versions of the application forms.)
FORM A – Application for CIMMYT Improved Maize Product Allocation (also available in Spanish: FORMATO A – Solicitud para asignación de productos mejorados de maíz del CIMMYT)
FORM B – Application for CIMMYT Improved Maize Product Allocation (also available in Spanish: FORMATO B – Solicitud para asignación de productos mejorados de maíz del CIMMYT)