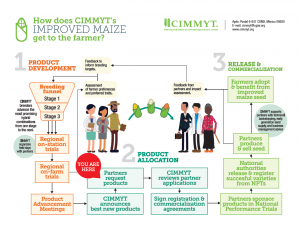 CIMMYT is proud to announce a new improved subtropical maize hybrid that is now available for uptake by public and private sector partners, especially those interested in marketing or disseminating hybrid maize seed across mid-altitudes of Mexico and similar agro-ecologies. National agricultural research systems (NARS) and seed companies are invited to apply for a license to commercialize this new hybrid to bring the benefits of the improved seed to farming communities.
The deadline to submit applications is 15 August 2022. Applications received after that date will be considered during the following round of product allocations.
The newly available CIMMYT maize hybrid, CIM20LAPP2B-2, was identified through rigorous trialing and a stage-gate advancement process that culminated in the 2020 Stage 5 trials for CIMMYT's Latin American tropical mid-altitude maize breeding pipeline (LA-PP2B). While individual products will vary, the LA-PP2B pipeline aims to develop maize hybrids fitting the product profile described in the following table:
| | | |
| --- | --- | --- |
| Product Profile | Basic traits | Nice-to-have / Emerging traits |
| Latin America Product Profile 2B (LA-PP2B) | Intermediate-maturing, yellow kernel, high-yielding, drought tolerant, resistant to FSR, GLS, and ear rots | TSC, TLB |
Information about the newly available CIMMYT maize hybrid from the Latin America breeding program, application instructions, and other relevant material is available in the CIMMYT Maize Product Catalog and the links provided below.
Use the following link to access the full CIMMYT Stage 4 and Stage 5 Trials in Mexico: Results of the 2019 and 2020 Trials and Product Announcement, including the trial performance summary data and trial location data.
Applications must be accompanied by a proposed commercialization plan for each product being requested. Applications may be submitted online via the CIMMYT Maize Licensing Portal and will be reviewed in accordance with CIMMYT's Principles and Procedures for Acquisition and use of CIMMYT maize hybrids and OPVs for commercialization. Specific questions or issues faced with regard to the application process may be addressed to GMP-CIMMYT@cgiar.org with attention to Nicholas Davis, Program Manager, Global Maize Program, CIMMYT.