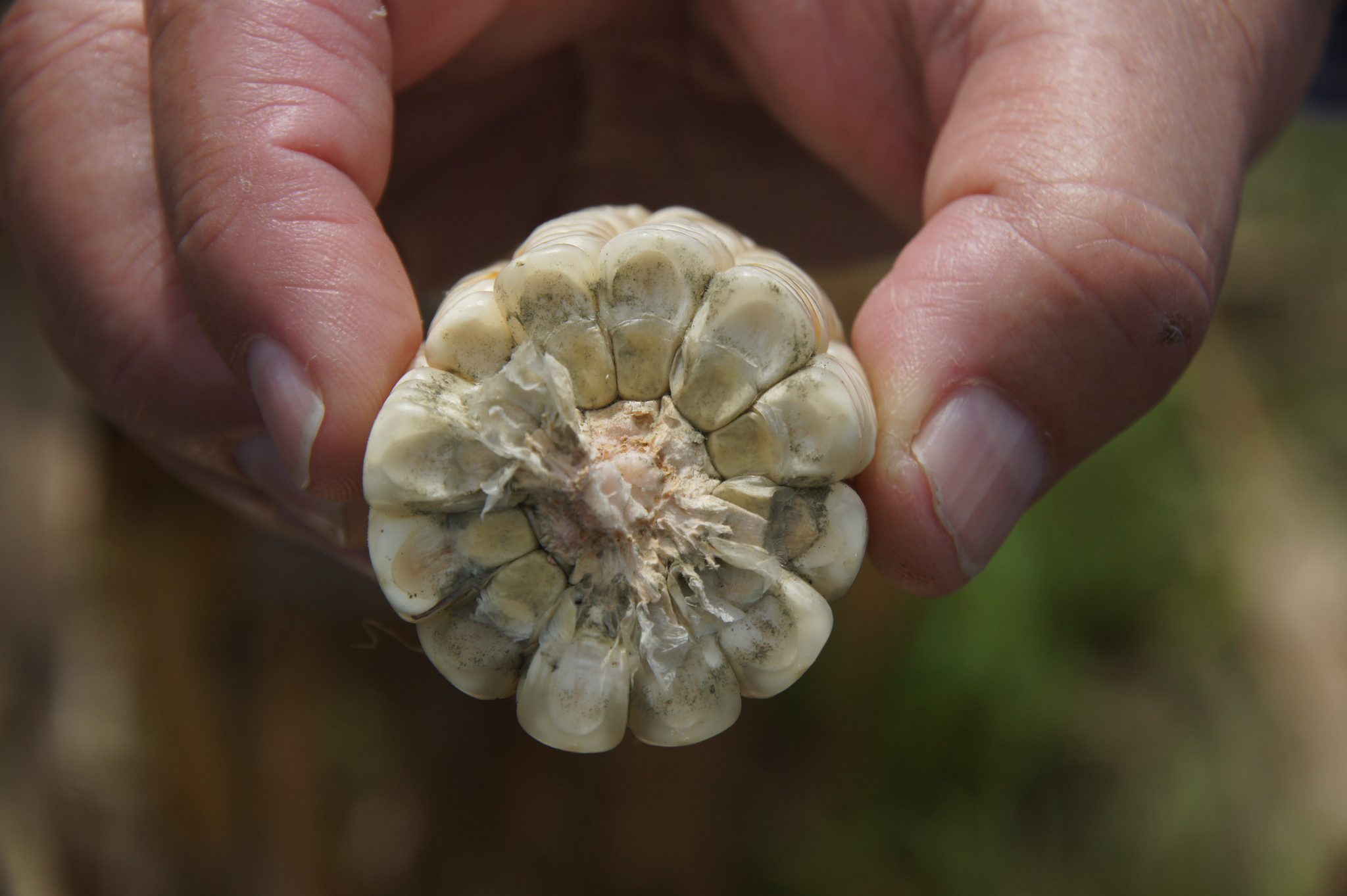 New research evidence could have significant implications for breeding approaches to combat harmful aflatoxin contamination in maize while simultaneously contributing to alleviate vitamin A deficiency. The study "Provitamin A Carotenoids in Grain Reduce Aflatoxin Contamination of Maize While Combating Vitamin A Deficiency" is the first published report to document how biofortification with provitamin A can contribute to reduce aflatoxin contamination in maize.
Aflatoxins are harmful compounds that are produced by the fungus Aspergillus flavus, which can be found in the soil, plants and grain of a variety of legumes and cereals including maize. Toxic to humans and animals, aflatoxins are associated with liver and other types of cancer, as well as with weakened immune systems that result in increased burden of disease, micronutrient deficiencies, and stunting or underweight development in children.
Efforts to breed maize varieties with resistance to aflatoxin contamination have proven difficult and elusive. Contamination of maize grain and products with aflatoxin is especially prevalent in low- and middle-income countries where monitoring and safety standards are inconsistently implemented.
Biofortification also serves to address "hidden hunger," or micronutrient deficiency. Over two billion people are affected globally — they consume a sufficient amount of calories but lack essential micronutrients such as vitamins and minerals. Vitamin A deficiency specifically compromises the health of millions of maize consumers around the world, including large parts of sub-Saharan Africa.
Provitamin A-enriched maize is developed by increasing the concentration of carotenoids — the precursors of vitamin A — and powerful antioxidants that play important roles in reducing the production of aflatoxin by the fungus Aspergillus flavus. The relative ease of breeding for increased concentrations of carotenoids as compared to breeding for aflatoxin resistance in maize make this finding especially significant as part of a solution to aflatoxin contamination problems.
Breeding of provitamin A-enriched maize varieties is ongoing at the International Maize and Wheat Improvement Center (CIMMYT) and the International Institute of Tropical Agriculture (IITA), with the support of HarvestPlus. Several varieties trialed in sub-Saharan Africa have demonstrated their potential to benefit vitamin-deficient maize consumers.
The researchers highlight the potential in breeding maize with enhanced levels of carotenoids to yield the dual health benefits of reduced aflatoxin concentration in maize and reduced rates of vitamin A deficiency. This result is especially significant for countries where the health burdens of exposure to aflatoxin and prevalence of vitamin A deficiency converge with high rates of maize consumption.
Read the full study here: https://www.frontiersin.org/articles/10.3389/fpls.2019.00030/full
Financial support for this study was partially provided by HarvestPlus, a global alliance of agriculture and nutrition research institutions working to increase the micronutrient density of staple food crops through biofortification. The views expressed do not necessarily reflect those of HarvestPlus. The CGIAR Research Program on Maize (MAIZE) also supported this research.
This research builds on the Ph.D. dissertation of Dr. Pattama Hannok at University of Wisconsin, Madison, WI, United States (Hannok, 2015).