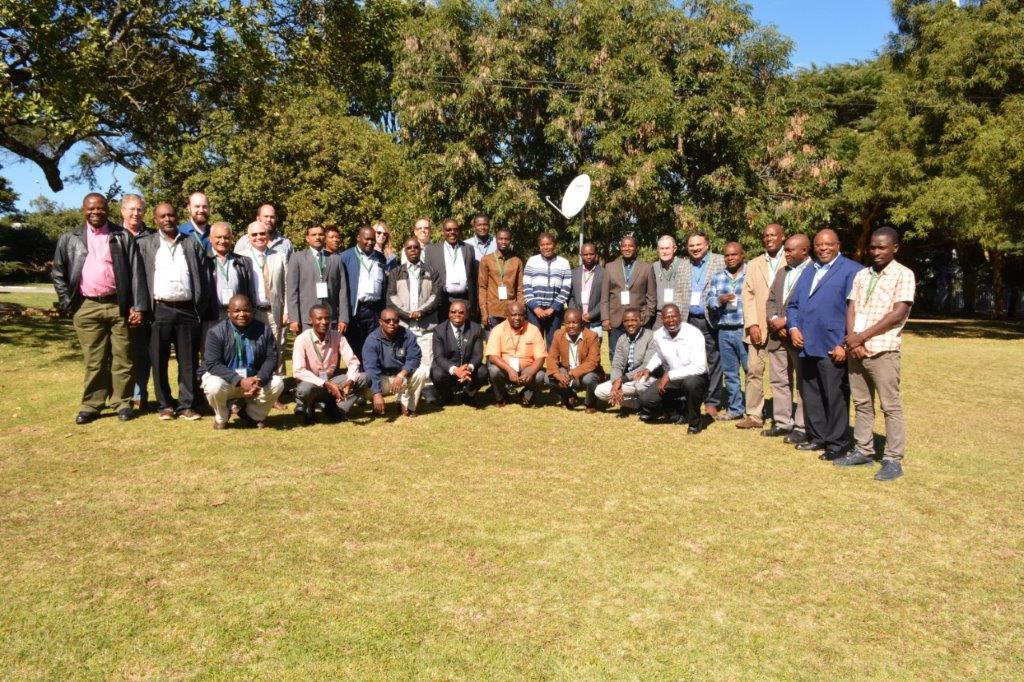 Maize is the most important staple food crop in sub-Saharan Africa, providing food security and a source of income to more than 200 million households. Nonetheless, maize yields in this region rank among the lowest worldwide.
The International Maize and Wheat Improvement Center (CIMMYT) launched the International Maize Improvement Consortium for Africa (IMIC-Africa) in May 2018, to better engage with a committed set of partners from the public and private sector, and to achieve enhanced maize yields in Africa.
Members of IMIC-Africa share a vision: meeting the challenges of maize production by scaling out and fully exploiting the potential of improved climate-resilient and stress-tolerant varieties in sub-Saharan Africa.
Cultivated on over 35 million hectares of typically rainfed land across sub-Saharan Africa, maize is subject to the vagaries of climate, suffering occasional to frequent drought stress. Other regional challenges include poor soil quality, characterized by nitrogen deficiency, and the ongoing threat of transboundary pathogens and pests, such as the voracious fall armyworm. In addition, farmers generally have inadequate access to improved seed that could help them achieve higher yields.
Although the challenges are complex, the effective use of improved, climate-resilient and multiple-stress-tolerant maize varieties has achieved tangible results in this region. Elite drought-tolerant (DT) maize hybrids developed by CIMMYT have demonstrated at least 25-30 percent grain yield advantage over non-DT maize varieties in sub-Saharan Africa under drought stress. CIMMYT has also derived elite heat-tolerant maize hybrids for sub-Saharan Africa, and during the recent outbreak of maize lethal necrosis (MLN), the rapid development and deployment of elite MLN-resistant hybrids was instrumental in the containment of this threat to eastern Africa.
Modelled on its successful counterpart initiatives in Asia (IMIC-Asia) and Latin America (IMIC-LatAm), there is hope that IMIC-Africa will follow a similar pattern of success.
The consortium is comprised of a diverse array of member institutions, including seed companies, national programs and foundations.
Its key objective is to enhance members' capacity for germplasm development in their own breeding programs through provision of early generation or advanced maize lines. The subsequent multi-location testing of elite pre-commercial maize hybrids throughout sub-Saharan Africa by members will serve to identify products that can advance to commercialization and deployment.
"IMIC-Africa has a growing membership aimed at formalizing the sharing of maize lines under development with public and private maize breeding programs," said CIMMYT scientist and Africa regional representative Stephen Mugo. "The consortium will also support a vibrant germplasm testing network, offer opportunities for training and cross learning among members, and grant access to other special services offered by CIMMYT including MLN testing, doubled haploid development and molecular quality assurance/quality control."
The work of the consortium will ultimately benefit the farming community through the targeted development of maize varieties that express traits jointly identified and prioritized by consortium members and that are specifically adapted to the suite of agro-ecologies in sub-Saharan Africa. Traits of relevance include tolerance to abiotic stresses, disease and insect-pest resistance and higher yielding hybrids.
"IMIC-Africa will contribute to food security in Africa by broadening access to and use of stress-tolerant improved maize germplasm as well as strengthening maize breeding programs, thus improving farmers' access to improved maize varieties," Mugo explained.
In September 2018, members of IMIC-Africa held their first annual field day and visited the CIMMYT and Kenya Agriculture and Livestock Research Organization (KALRO) facilities in Kiboko and Naivasha.
Membership of IMIC-Africa is open to all organized and registered private commercial seed companies, corporations, and organized and registered public agencies or organizations involved in maize crop research and improvement, hybrid seed production or maize seed marketing.
For further information about membership and eligibility, please contact B.M. Prasanna, Director of CIMMYT's Global Maize Program and the CGIAR Research Program on Maize: b.m.prasanna@cgiar.org.