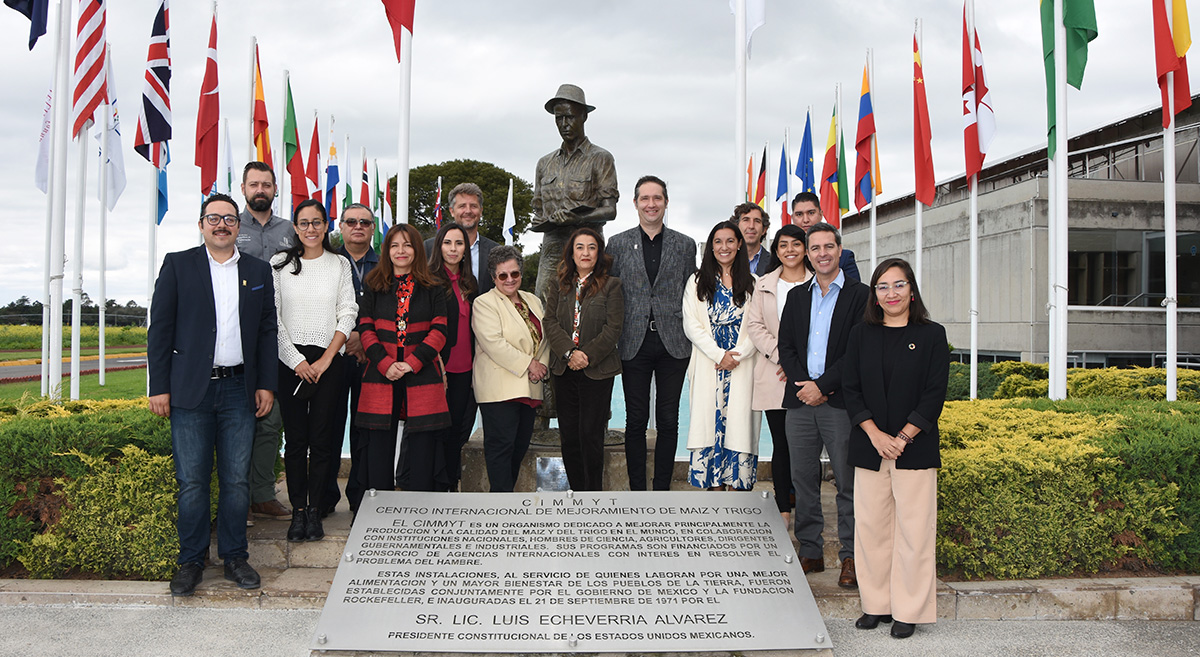 In the framework of National Maize Day, Nestlé Mexico, in collaboration with the International Maize and Wheat Improvement Center (CIMMYT), strengthens its commitment to support the development of farmers in Mexico, through the Plan Maíz initiative, which aligned with the goals of the Sustainable Development Goals (SDGs), seeks to boost productivity, increase and improve the practices of regenerative agriculture to positively impact food security, environmental impact and social inclusion of the Mexican fields.
In Mexico, maize is not only a staple food, but also a fundamental component of the gastronomic and cultural heritage and identity of Mexicans. For this reason, since 2017, Nestlé Mexico and CIMMYT signed a collaboration agreement to work together and contribute not only to improve the quality of life of farmers, but also to take care of the resources that produce one of the most important grains for our country, for the world and for the agrifood sector.
The event, Plan Maíz, commitment to regenerative agriculture and sustainability, was attended by Bram Goavaerts, director general of CIMMYT, and Julieta Loaiza, Vice President of Communication and Corporate Affairs of Nestlé Mexico, as well as representatives and managers of both institutions, in order to present progress and ratify the agreements for the future, with the aim of continuing to combine resources and actions for the development of agriculture in Mexico.
"At Nestlé we are committed to the sustainability and development of the Mexican fields. We have more than 90 years of work, commitment and experience in this beautiful country, so we will expand our support for the development and training of farmers to improve their production processes through regenerative agricultural practices for the care of natural resources and food security in Mexico," said Loaiza.
Govaerts said, "At CIMMYT we are very committed to maize and wheat producers in Mexico, so this Nestlé-CIMMYT alliance allows us to multiply the impact to protect and conserve Mexico's agricultural resources and strengthen the food security of Mexicans."
The results of Plan Maíz obtained to date are significant: 400 farmers have benefited by adopting sustainable practices for the production of both maize and wheat, since they attended training and demonstration events that promoted a more sustainable commercial production model.
Thanks to the agreement's training, the volume of maize and wheat produced grew to a cumulative total volume of more than 193,000 tons of maize and 21,690 tons of wheat. The project impacted more than 9,000 hectares of maize and wheat. In total, and during eight productive cycles, the accumulated number of hectares impacted amounted to more than 19,000, where there is a record of at least the adoption of sustainable practices such as: integral fertility, integral and responsible management of fertilizers and phytosanitary products, among others.
Nestlé has aimed to achieve zero net emissions in its operations by 2050. In this regard, it focuses its efforts on acting on climate change by supporting and expanding regenerative agriculture. This means refining and growing agricultural sustainability programs in key commodities.
To achieve this, they are intensifying their commitment to farmers so that the solutions they create for and with them achieve a positive and sustainable change both in their agricultural processes and in the main raw materials. Therefore, the goal is for 20% of maize and wheat from Plan Maíz to come from regenerative agriculture practices by 2025 and 50% by 2030, thus continuing to build on the commitment to develop the full power of food to improve the quality of life, today and for future generations.
About Grupo Nestlé Mexico:
Nestlé is the world's largest food and beverage company. It is present in 187 countries around the world, and its 300,000 employees are committed to Nestlé's purpose of improving the quality of life and contributing to a healthier future. Nestlé offers a broad portfolio of products and services for people and their pets throughout their lives. Its more than 2,000 brands range from global icons to local favorites. The company's performance is driven by its nutrition, health and wellness strategy. Nestlé is headquartered in the Swiss city of Vevey, where it was founded more than 150 years ago. With 90 years of presence in Mexico, Nestlé is also the leading Nutrition, Health and Wellness company in the country, with the support of 32 global Research Centers, 17 factories in 7 states and 16 distribution centers, where 13,000 jobs are generated. Visit: www.nestle.com.mx
About the International Maize and Wheat Improvement Center (CIMMYT):
The International Maize and Wheat Improvement Center (CIMMYT) is an international organization focused on non-profit agricultural research and training that empowers farmers through science and innovation to nourish the world in the midst of a climate crisis. Applying high-quality science and strong partnerships, CIMMYT works to achieve a world with healthier and more prosperous people, free from global food crises and with more resilient agri-food systems. CIMMYT's research brings enhanced productivity and better profits to farmers, mitigates the effects of the climate crisis, and reduces the environmental impact of agriculture.
CIMMYT is a member of CGIAR, a global research partnership for a food secure future dedicated to reducing poverty, enhancing food and nutrition security, and improving natural resources.
Press contacts:
Nestlé Mexico: Norma Vázquez | norma.vazquez@mx.nestle.com
Hill+Knowlton Strategies: Aremi de la Cruz | aremi.delacruz@hkstrategies.com
Read this article in Spanish.