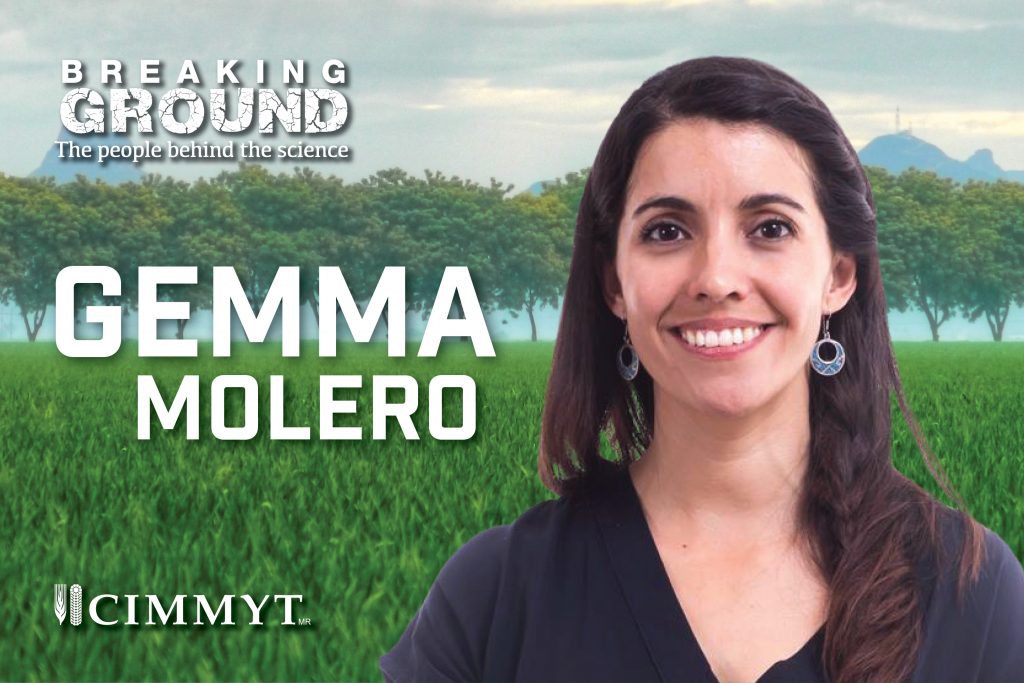 Despite the rising interest in advanced methods to discover useful genes for breeding in crops like wheat, the role of crop physiology research is now more important than ever, according to Gemma Molero, a wheat physiologist at the International Maize and Wheat Improvement Center (CIMMYT).
"Physiology starts with the physical, observable plant," Molero said. "It attempts to understand plant traits and processes and, ultimately, to provide breeders with selectable traits. Take for example the plant's ability to capture and use sunlight. This is a complex trait and there are no useful DNA markers for it, so we have to analyze how it works and then help breeders to select plants that use sunlight better and yield more grain."
A key goal of breeders and physiologists is to boost wheat's genetic yield potential dramatically. Progress through current breeding is less than 1 percent each year. Molero said that needs to go to 1.7 percent yearly, to meet the demand expected by 2050 from expanding and urbanizing populations.
"Science must also adapt wheat to rising temperatures, less water, and mutating disease strains, and physiology is contributing," she added.
Applied science and fieldwork drew Molero to CIMMYT
Molero grew up near Barcelona, Spain, in a family that included a folk-healing grandmother and a grandfather whose potato fields and orchards she recalls helping to tend as a child, during summers in Granada.
"My family called me 'santurrona' — something like 'goody-two-shoes' in English — because I was always trying to help people around me," Molero explained.
Molero completed bachelor's and master's degrees in biology at the University of Barcelona, Spain, by 2006. She then pursued a doctorate in eco-physiology under the supervision of José Luis Araus, a University of Barcelona professor who was also working as a CIMMYT maize physiologist around the same time.
"Araus was an example of persistence and enthusiasm for me," Molero explained. "He sent me to the CIMMYT research station near Ciudad Obregón, in northwestern Mexico, for fieldwork as part of my Ph.D. research. That sealed the deal. I said 'This is the type of work where I can have impact, in an interdisciplinary setting, and with fieldwork.' "
She joined CIMMYT in 2011 as a post-doctoral fellow with Matthew Reynolds, a CIMMYT distinguished scientist who leads wheat physiology research.
Wheat spikes hold grain and catch light
Molero has quickly made a mark in CIMMYT wheat physiology research. Among other achievements, she has spearheaded studies on photosynthesis in wheat spikes — the small ears that hold the grain — to increase yield.
"In elite wheat varieties, spike photosynthesis adds an average 30 percent to grain yield," she said. "In wheat wild relatives and landraces, that can go as high as 60 percent. This has put wheat spike photosynthesis in the science limelight."
Practical outputs of this work, which involves numerous partners, include molecular markers and other tools that breeders can use to select for high spike photosynthesis in experimental lines. "We have a project with Bayer Crop Science to refine the methods," Molero said.
Molero is also collaborating with plant biologists Stephen Long, University of Illinois, and Elizabete Carmo-Silva, Lancaster University, UK, to understand how quickly wheat returns to full photosynthesis after being shaded — for example, when clouds pass overhead. According to Molero, wheat varies greatly in its response to shading; over a long cropping season, quick recoveries can add 20 percent or more to total productivity.
"This is a breakthrough in efforts to boost wheat yields," explained Molero, who had met Long through his participation in the International Wheat Yield Partnership (IWYP), an initiative that aims to raise wheat's genetic yield potential by 50 percent over the next two decades. "I was fortunate to arrive at CIMMYT at just the right time, when IWYP and similar global partnerships were being formalized."
Training youth and improving conditions for young women
From a post-doctoral fellow to her current position as a full scientist at CIMMYT, Molero has supervised 13 Ph.D. students and post-doctoral fellows, as well as serving as an instructor in many training courses.
"During my first crop cycle at Ciudad Obregón, I was asked to coordinate the work of five Ph.D. students," she said. "I'd arrive home exhausted from long days and fall asleep reading papers. But I love supervising students and it's a great way to learn about diverse facets of wheat physiology."
Regarding the challenges for women and youth in the scientific community, Molero believes a lot needs to change.
"Science is male-dominated and fieldwork even more," she observed. "It's challenging being a woman and being young — conditions over which we have no control but which can somehow blind peers to our scientific knowledge and capacity. Instances of what I call 'micro-machismo' may appear small but they add up and, if you push back, the perceived 'feminism' makes some male scientists uncomfortable."
Molero also believes young scientists need ample room to develop. "The most experienced generation has to let the new generation grow and make mistakes."