A new fact sheet captures the impact of CIMMYT after six decades of maize and wheat research in Pakistan.
Dating back to the 1960s, the research partnership between Pakistan and CIMMYT has played a vital role in improving food security for Pakistanis and for the global spread of improved crop varieties and farming practices.
Norman Borlaug, Nobel Peace Prize laureate and first director of CIMMYT wheat research, kept a close relationship with the nation's researchers and policymakers. CIMMYT's first training course participant from Pakistan, Manzoor A. Bajwa, introduced the high-yielding wheat variety "Mexi-Pak" from CIMMYT to help address the national food security crisis. Pakistan imported 50 tons of Mexi-Pak seed in 1966, the largest seed purchase of its time, and two years later became the first Asian country to achieve self-sufficiency in wheat, with a national production of 6.7 million tons.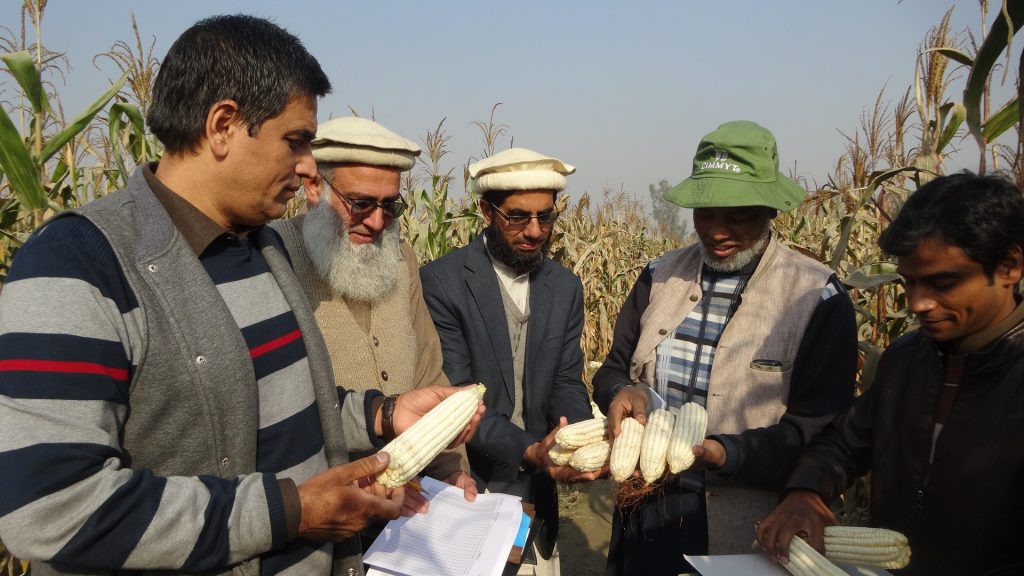 In 2019 Pakistan harvested 26 million tons of wheat, which roughly matches its annual consumption of the crop.
In line with Pakistan's National Food Security Policy and with national partners, CIMMYT contributes to Pakistan's efforts to intensify maize- and wheat-based cropping in ways that improve food security, raise farmers' income, and reduce environmental impacts. This has helped Pakistani farmers to figure among South Asia's leaders in adopting improved maize and wheat varieties, zero tillage for sowing wheat, precision land leveling, and other innovations.
With funding from USAID, since 2013 CIMMYT has coordinated the work of a broad network of partners, both public and private, to boost the productivity and climate resilience of agri-food systems for wheat, maize, and rice, as well as livestock, vegetable, and fruit production.
Download the fact sheet:
CIMMYT and Pakistan: 60 years of collaboration
Cover photo: A wheat field in Pakistan, ready for harvest. (Photo: Kashif Syed/CIMMYT)