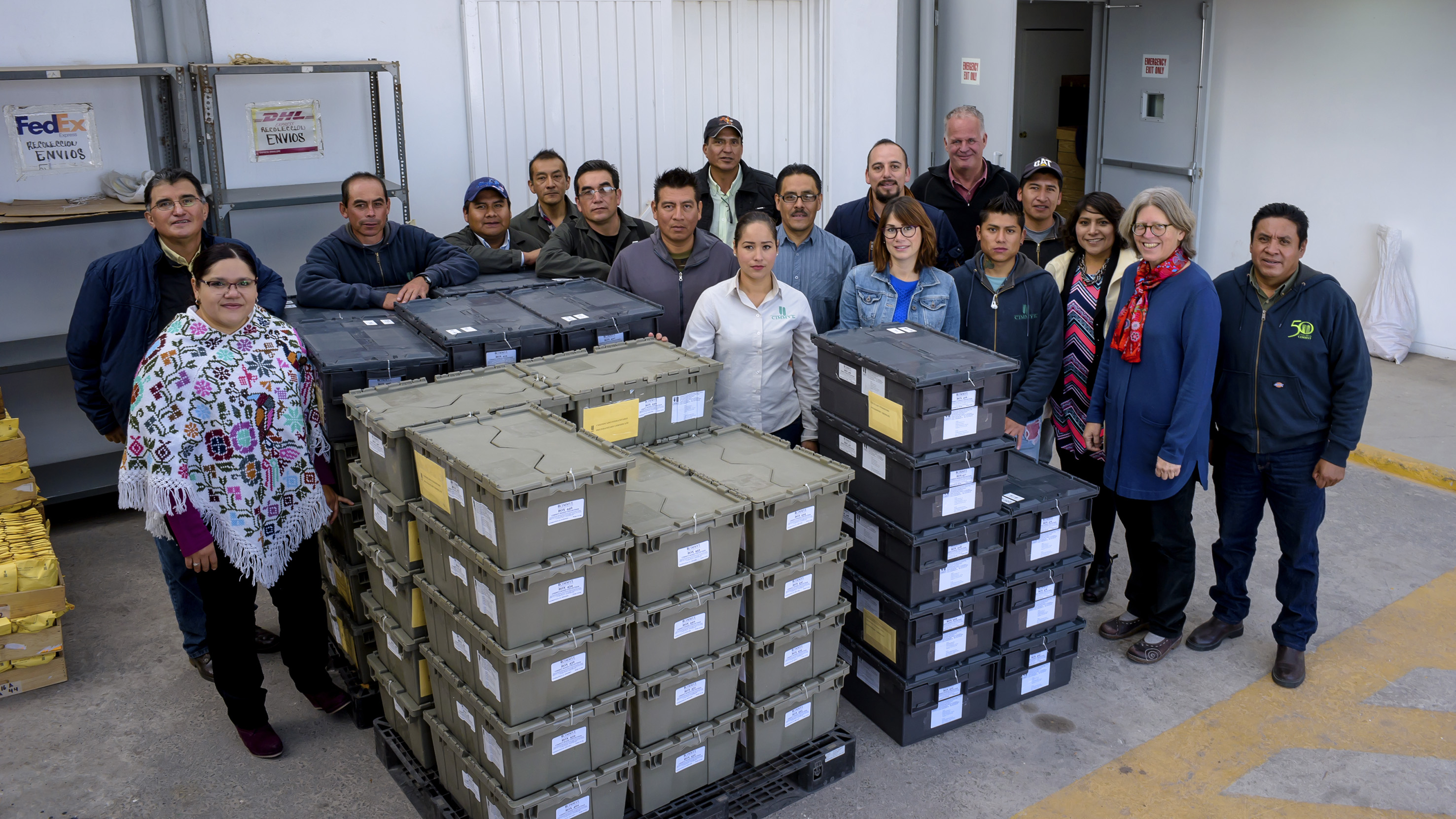 MEXICO CITY, Mexico (CIMMYT) — Staff of the gene bank of the International Maize and Wheat Improvement Center (CIMMYT) have sent 56 boxes of nearly 28,000 samples of maize and wheat seed from the center's collections, to be stored in the Svalbard Global Seed Vault.
Located on Spitsbergen Island in Norway's remote Arctic Svalbard Archipelago, 1,300 kilometers south of the North Pole, the vault provides free, "safe deposit" cold storage for back-up samples of seed of humanity's crucial food crops.
"CIMMYT has already sent  130,291 duplicate samples of our maize and wheat seed collections to Svalbard," said Bibiana Espinosa, research associate in wheat genetic resources. "This brings the total to nearly  158,218 seed samples, which we store at Svalbard to guard against the catastrophic loss of maize and wheat seed and diversity, in case of disasters and conflicts."
Thursday's shipment contained 1,964 samples of maize seed and 25,963 samples of wheat and weighed nearly a ton, according to Espinosa.
The wheat seed came from 62 countries and nearly half the samples comprised "landraces" — locally-adapted varieties created through thousands of years of selection by farmers.
"Of the maize samples, 133 contained seed of improved varieties, 51 were of teosinte — maize's direct ancestor — and 1,780 were of landraces," said Marcial Rivas, research assistant for maize genetic resources. "Many landraces are in danger of permanent loss, as farmers who grew them have left the countryside to seek work and changing climates have altered the landraces' native habitats."
The government of Norway and the Crop Trust cover the cost of storage and upkeep of the Svalbard Global Seed Vault, coordinating shipments in conjunction with the Nordic Genetic Resource Center.  Established in 2006, the Crop Trust supports the conservation and availability of crop diversity for food security worldwide and helps to fund CIMMYT's work to collect and conserve maize and wheat genetic resources.  CIMMYT's maize and wheat germplasm bank is supported by the CGIAR Research Program on Genebanks.