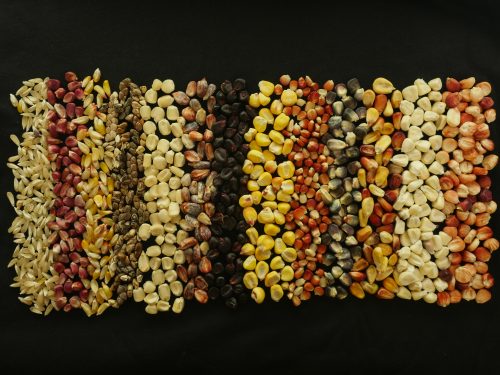 EL BATAN, Mexico (CIMMYT) — The "Doomsday Vault," that safeguards fall-back collections of key food crop seeds in the arctic cold of Longyearbyen, Norway, marks its tenth anniversary this year. To celebrate, leaders in the conservation of crop genetic resources are gathering next week to discuss best practices and to encourage sustainable use of the resources.
The Svalbard Global Seed Vault sits 1,300 kilometers north of the Arctic Circle; the farthest north commercial flights will take you. It is described as the world's largest secure seed storage and was established by the Norwegian Government in February 2008. Repurposing an abandoned coal mine, the global seed vault is set deep into the natural permafrost of the Norwegian island of Svalbard.
Over the last decade, seed-preserving institutions worldwide have shipped backup collections of seed and other plant parts for storage in the vault, which now holds nearly 900,000 varieties of essential crops, representing over 4,000 plant species, which could be drawn upon to restart agriculture in case of a catastrophe.
The International Maize and Wheat Improvement Center (CIMMYT) is the top contributor to the vault, with over 150,000 unique collections containing a total of nearly 50 million seeds and representing roughly 85 percent of the entire CIMMYT germplasm bank collection.
The target is to have 90 percent of the CIMMYT entire collection backed up at Svalbard within two years, according to Thomas Payne, head of CIMMYT's Wheat Germplasm Bank, which is located in Mexico. CIMMYT's Maize Germplasm Bank, led by Denise Costich, has already reached that goal.
"We send seeds every other year, accumulating packets until we have a critical mass and sending them in a large, single shipment," Payne said.
Preparing and shipping the seed involves intricate coordination and painstaking work. For starters, seed must be sent in the winter to avoid it sitting on hot airport tarmacs. Additionally, the Svalbard vault opens for new deposits only a few times a year, so shipping logistics need to match up those dates.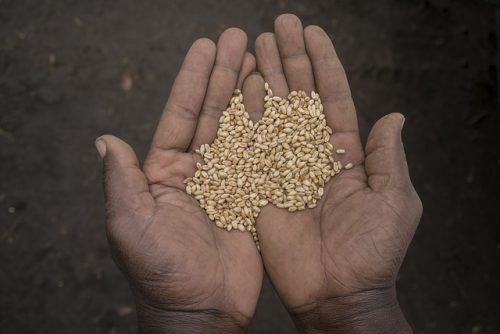 Only seed of the highest quality is sent to Svalbard, in part to ensure that the stored seed retains as long as possible its ability to germinate.
CIMMYT Germplasm Bank seed collections are regularly tested for germination capacity by placing a batch of seeds in a wet paper towel for 7-10 days. When less than 85 percent of a unique collection is viable, then the entire collection is replaced with fresh seed grown from the viable portion.
"There are seed collections at CIMMYT that still meet the minimum viability standard after more than 50 years under storage," Payne said, noting that the center's long-term collections are kept at minus 18 degrees Centigrade and in low humidity.
Payne said the center keeps duplicate collections in Mexico of all the seed it sends to Svalbard and monitors those Mexico back-ups to keep tabs on the viability of its Svalbard deposits.
Payne explained "To check seed viability, we have to take seeds out of storage, representing a loss of several hundred seeds. It's almost a self-defeating process, balancing viability testing with sufficient quantities of seed to test and distribute."
Payne said scientists are seeking new, non-invasive ways to test seed viability, potentially by checking seed respiration rates or rapid germination imaging technologies.
The government of Norway and the Global Crop Diversity Trust cover the cost of storage and upkeep of the Svalbard Global Seed Vault, coordinating shipments in conjunction with the Nordic Genetic Resource Center.  Established in 2006, the Crop Trust supports the conservation and availability of crop diversity for food security worldwide and helps to fund CIMMYT's work to collect and conserve maize and wheat genetic resources.  The CGIAR Genebank Platform also supports CIMMYT's maize and wheat germplasm bank.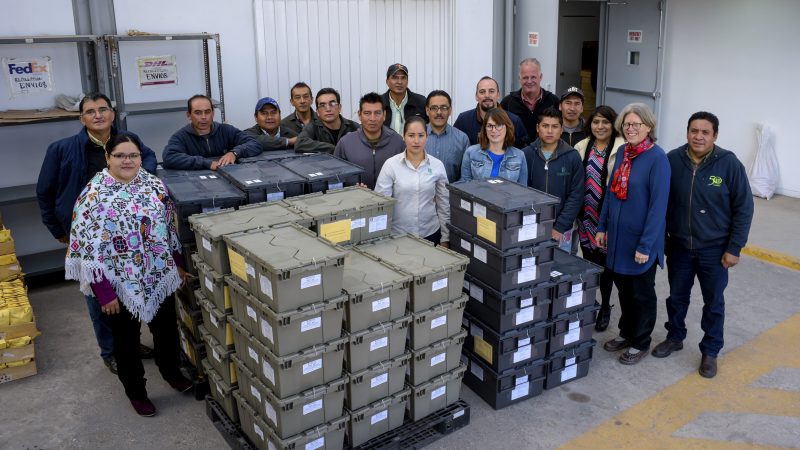 Learn more about the activities of the Maize Germplasm Bank here, and about the Wheat Germplasm Bank here.
 The Maize and Wheat Germplasm banks at the International Maize and Wheat Improvement Center are funded by Global Crop Diversity Trust, the CGIAR Genebank Platform and Germany's development agency.