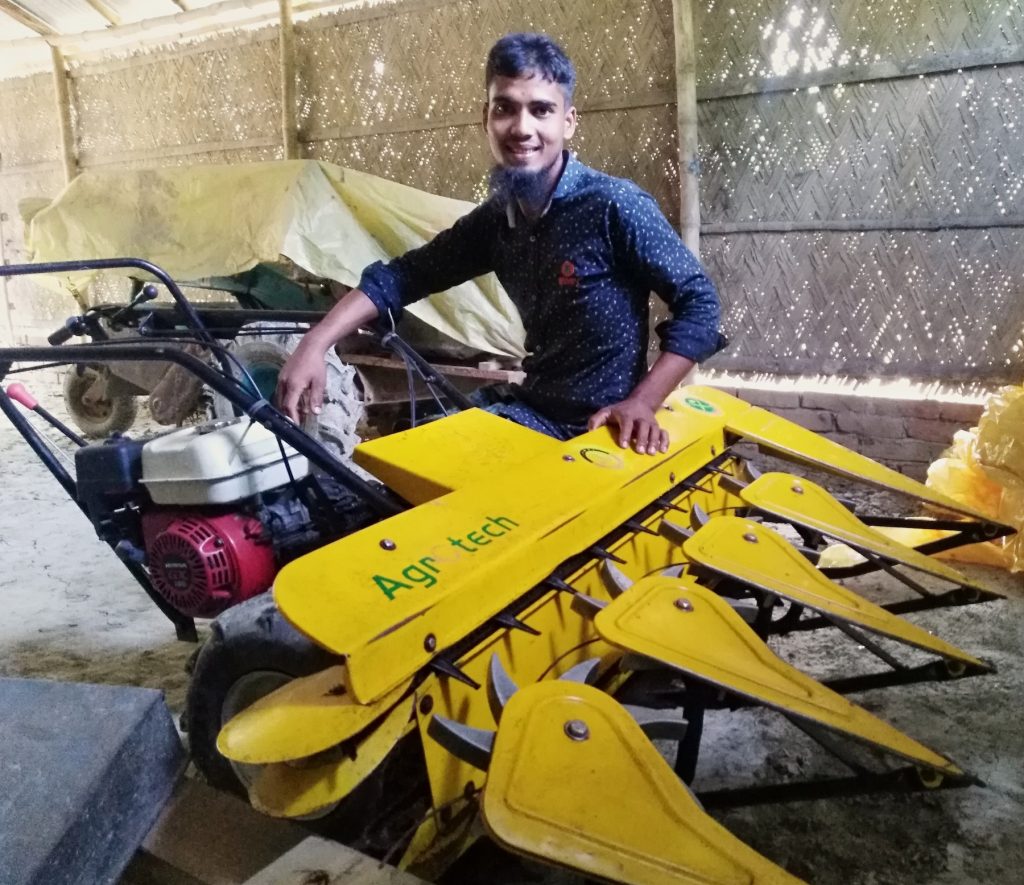 A man in his early 20s walked the winding roads of Sajiara village, Dumuria upazila, Khulna District in Bangladesh. His head hanging low, he noticed darkness slowly descending and then looked up to see an old farmer wrapping up his own daily activities. With traditional tools in hand, the farmer looked exhausted. The young man, Raju Sarder, considered that there had to be a better way to farm to alleviate his drudgery and that of others in the community.
Determined to act, Raju set out to meet Department of Agricultural Extension (DAE) officials the very next day. They informed him about the Mechanization and Irrigation project of the Cereal Systems Initiative for South Asia (CSISA MI). They also introduced him to the project's most popular technologies, namely the power tiller operated seeder, reaper and axial flow pumps, all of which reduce labor costs and increase farming efficiency.
Raju found the reaper to be the most interesting and relevant for his work, and contacted a CSISA representative to acquire one.
The first challenge he encountered was the cost — the equivalent of $1,970 — which as a small-scale farmer he could not afford. CSISA MI field staff assured him that his ambitions were not nipped in the bud and guided him in obtaining a government subsidy and a loan of $1,070 from TMSS, one of CSISA MI's micro financing partners. Following operator and maintenance training from CSISA MI, Raju began providing reaping services to local smallholder rice and wheat farmers.
He noticed immediately that he did not have to exert himself as much as before but actually gained time for leisure and his production costs dwindled. Most remarkably, for reaping 24 hectares Raju generated a profit of $1,806; a staggering 15 times greater than what he could obtain using traditional, manual methods and enough to pay back his loan in the first season.
"There was a time when I was unsure whether I would be able to afford my next meal," said Raju, "but it's all different now because profits are pouring in thanks to the reaper."
As a result of the project and farmers' interest, field labor in Raju's community is also being transformed. Gone are the days when farmers toiled from dawn to dusk bending and squatting to cut the rice and wheat with rustic sickles. Laborious traditional methods are being replaced by modern and effective mechanization. Through projects such as CSISA MI, CIMMYT is helping farmers like Raju to become young entrepreneurs with a bright future. Once poor laborers disaffected and treated badly in their own society, these youths now walk with dignity and pride as significant contributors to local economic development.
CSISA MI is a partnership involving the International Maize and Wheat Improvement Center (CIMMYT) and iDE, a non-governmental organization that fosters farmers' entrepreneurial development, with funding from USAID under the Feed the Future initiative.