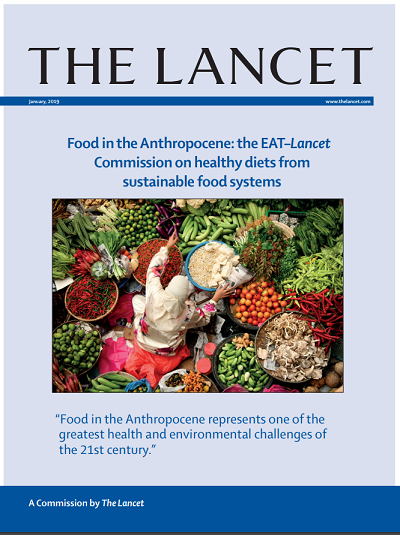 A new report by more than 30 world-leading experts in health and environmental sustainability offers a roadmap for a global food system that provides a healthy, sustainable diet for the world's 10 billion people by 2050.
The report, Food in the Anthropocene: the EAT-Lancet Commission on healthy diets from sustainable food systems, represents the first comprehensive review of what constitutes a healthy diet from a sustainable food system.
Published jointly by EAT, a global non-profit foundation founded to catalyze a food system transformation, and The Lancet, the world's leading medical journal, the report links diets with human health and environmental sustainability. It lays out five global scientific strategies to achieve healthy diets and sustainable food production by the year 2050: shifting diets, producing healthy food, sustainably intensifying food production, improving land and water governance, and reducing food loss and waste.
The report urges substantial dietary shifts and specific courses of action from consumers, policymakers, businesses and government agencies alike to transform the world's food system. As the report states, "Without action, the world risks failing to meet the UN Sustainable Development Goals (SDGs) and the Paris Agreement, and today's children will inherit a planet that has been severely degraded and where much of the population will increasingly suffer from malnutrition and preventable disease."
The report emphasizes eating diets heavy in fruits, nuts, vegetables and whole grains and light on meat, as current Western-style diets are already straining the global food system's environmental impact and pushing planetary limits. According to CIMMYT consultant and leading nutritionist Julie Miller Jones of St. Catherine University, USA, eating whole grain foods reduces obesity and the risk of almost all chronic diseases.
Given that the food system drives nearly 30 percent of greenhouse gas emissions, occupies 40 percent of land and causes 80 percent of biodiversity loss, increasing healthy, resource-saving foods and reducing unhealthy and unsustainably produced foods is an essential step in securing future environmental sustainability.
The founder and executive chair of EAT, Gunhild Stordalen, commented at the report's launch event January 17 in Olso, Norway: "No single sector, technology or entity can fix it alone but, for the first time, we have a clear direction and initial targets to align and guide our actions."
Read the full report here: http://www.thelancet-press.com/embargo/EATComm.pdf.
Read the summary here: https://eatforum.org/content/uploads/2019/01/EAT-Lancet_Commission_Summary_Report.pdf