Breaking Ground is a regular series featuring staff at CIMMYT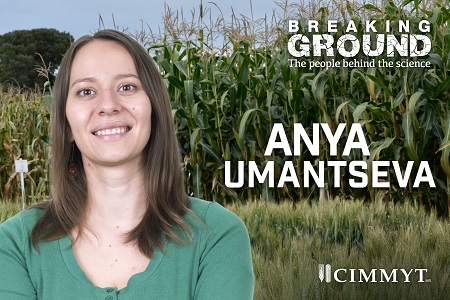 EL BATAN, Mexico (CIMMYT) – Social inequality, including gender discrimination, hinders the potential for economic development, a key focus of the agriculture for development community.
Women in developing countries make up more than 40 percent of waged farmworkers, a percentage that is even higher if unwaged farm work is included, according to the U.N. Food and Agriculture Organization. Despite their significant representation in the sector, women often experience acute poverty due to unequal access to seeds, fertilizer, land and other agricultural necessities.
The challenges are great, but the aim of achieving gender equality and empowering all women and girls everywhere by 2030 is entrenched in the international development framework by the U.N. Sustainable Development Goals (SDGs).
Spurred on by the SDGs, gender has become a key agricultural research and policy focus for the International Maize and Wheat Improvement Center (CIMMYT) and the CGIAR system research programs in recent years.
"Despite improvement, there are still several opportunities which could significantly decrease inequality between men and women," said CIMMYT gender researcher Anya Umantseva. "Little data exists on gender roles in rural communities and most importantly, a systematic integration of social components like gender into scientific, data-based research could really help expand outcomes and impacts to more women as well as men.
"Women in rural communities often face very strict gender norms," said Umantseva, referring to local women's and men's expected roles and behaviors. "What we're trying to do is see how these norms influence the way men and women adopt agricultural innovations, and how adoption of different innovations affects gender norms across different communities."
Umantseva is one of many researchers working on GENNOVATE – a global comparative research initiative, which addresses the question of how gender norms influence men, women and youth to adopt innovation in agriculture and natural resource management.
Gender norms include restricted access to land and financial resources, or even the social taboo of walking alone as a woman, can make it difficult to have equal access to agricultural trainings and other farming inputs, she explained.
Umantseva grew up in Yurga, Russia during the country's economic transition to capitalism after the fall of the Soviet Union. "Witnessing the abrupt change of political-economic regimes, and the impact it had on society, shaped my interest in social sciences and anthropology," she said. "I decided that I wanted to study how social norms and culture are historically constructed."
"Gender in agricultural research for development is not an isolated topic; it is deeply intertwined with social inclusion of disadvantaged groups in general," Umantseva said. "Gender is not just about men and women, but who these men and women are. Through GENNOVATE we want to go deep into their stories, their socio-economic status, religion, position in the family and more."
Around 8,000 rural study participants of different ages and socioeconomic backgrounds reflected on gender norms and how these social rules affect their ability to access, adapt and benefit from innovations in agricultural and natural resource management.
"GENNOVATE is the first attempt of this scale  providing this type of gender-based data for agricultural research for development initiatives," said Umantseva. "But most importantly, we want to convince the research for development community  of the important opportunities, that insights from this kind of data, can bring. It might not always be easy to integrate gender into research, and may require us to do certain things a little differently, but it is necessary if we want to have inclusive development impact."
Along with other researchers, Umantseva is analyzing GENNOVATE data to produce a series of reports, journal articles and other products so researchers and project managers can begin incorporating GENNOVATE's findings into their work.
"Right now we're looking at men and women who have successfully adopted agricultural innovations and what factors their success might have in common, and how men and women differ in adoption. We hope to produce a paper on these findings sometime this year," said Umantseva.
Umantseva received her bachelor's degree in linguistics and translation from Russia's Tomsk State University. She then went on to pursue a master's at the Catholic University of Leuven in Belgium, where she studied minority policies, ethnic relations and gender norms.
Before she joined CIMMYT in 2016, she worked at the United Nations Office on Drugs and Crime, focusing on human trafficking and migration.  She currently lives in Mexico City and is based at CIMMYT's Headquarters in El Batan, outside Mexico City.