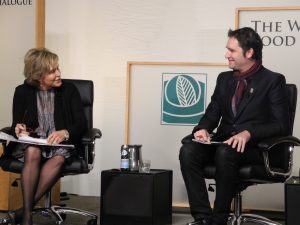 DES MOINES, Iowa (CIMMYT) – Transforming subsistence agriculture and unsustainable farming systems into productive and sustainable operations has been the key focus of scientist Bram Govaerts, 2014 recipient of the Norman Borlaug Award for Field Research and Application at the World Food Prize
Govaerts manages the Sustainable Modernization of Traditional Agriculture (MasAgro) program at the International Maize and Wheat Improvement Center (CIMMYT), which aims to enable farmers to produce high quality staple grains in sufficient quantities to meet the needs of the Mexican market.
"Starting five years ago, MasAgro and, in particular, its work on technological innovation in farmers' fields, have been acting upon the infamous instructions of Dr. Norman Borlaug, founder of CIMMYT and of the World Food Prize," said Govaerts, Latin America Regional Representative of the International Maize and Wheat Improvement Center (CIMMYT)  while participating in the  Borlaug Dialogue panel "Borlaug–Rockefeller: Inspiring a new generation," coordinated by the World Food Prize Foundation.
"Borlaug told his acolytes to 'take it to the farmer,' which is exactly what we have been doing through MasAgro," Govaerts said.
On the panel hosted by Rockefeller Foundation President Judith Rodin, which included three other young researchers who are also Norman Borlaug Award for Field Research and Application laureates, Govaerts added that MasAgro has produced successful results because its applied field research and capacity building activities transfer technologies to the farm sector through decision-making processes based on reliable and objective data.
"We demand scientific excellence of ourselves because agriculture can only be transformed through innovation networks, mechanisms and smart tools that enable farmers to realize their full potential," Govaerts said.
Each year, more than 1,000 private and public sector leaders from the international community meet in Des Moines, the state capital of Iowa in the United States, to participate in the Borlaug Dialogue. The conference precedes the presentation of the World Food Prize, which was established by Borlaug, who reached the pinnacle of his career when he was awarded the 1970 Nobel Peace Prize, in recognition of exceptional leaders who have contributed to the fight against world hunger.
Previously, three CIMMYT researchers—Evangelina Villegas, Surinder Vasal and Sanjaya Rajaram—have been awarded this important prize. This year, the World Food Prize Foundation recognized  Maria Andrade from Cape Verde, Robert Mwanga from Uganda, and Jan Low and Howarth Bouis, both from the United States, for their work developing and disseminating  micronutrient-rich crops, including the biofortified, vitamin A-enriched orange-fleshed sweet potato.
Andrew Mude received the 2016 Norman Borlaug Award for Field Research and Application for developing an insurance program for previously uninsured communities whose livelihoods depend on herding cattle, goats, sheep and camels in the remote, arid and drought-prone lowlands of the Horn of Africa. The field award is sponsored by the Rockefeller Foundation.