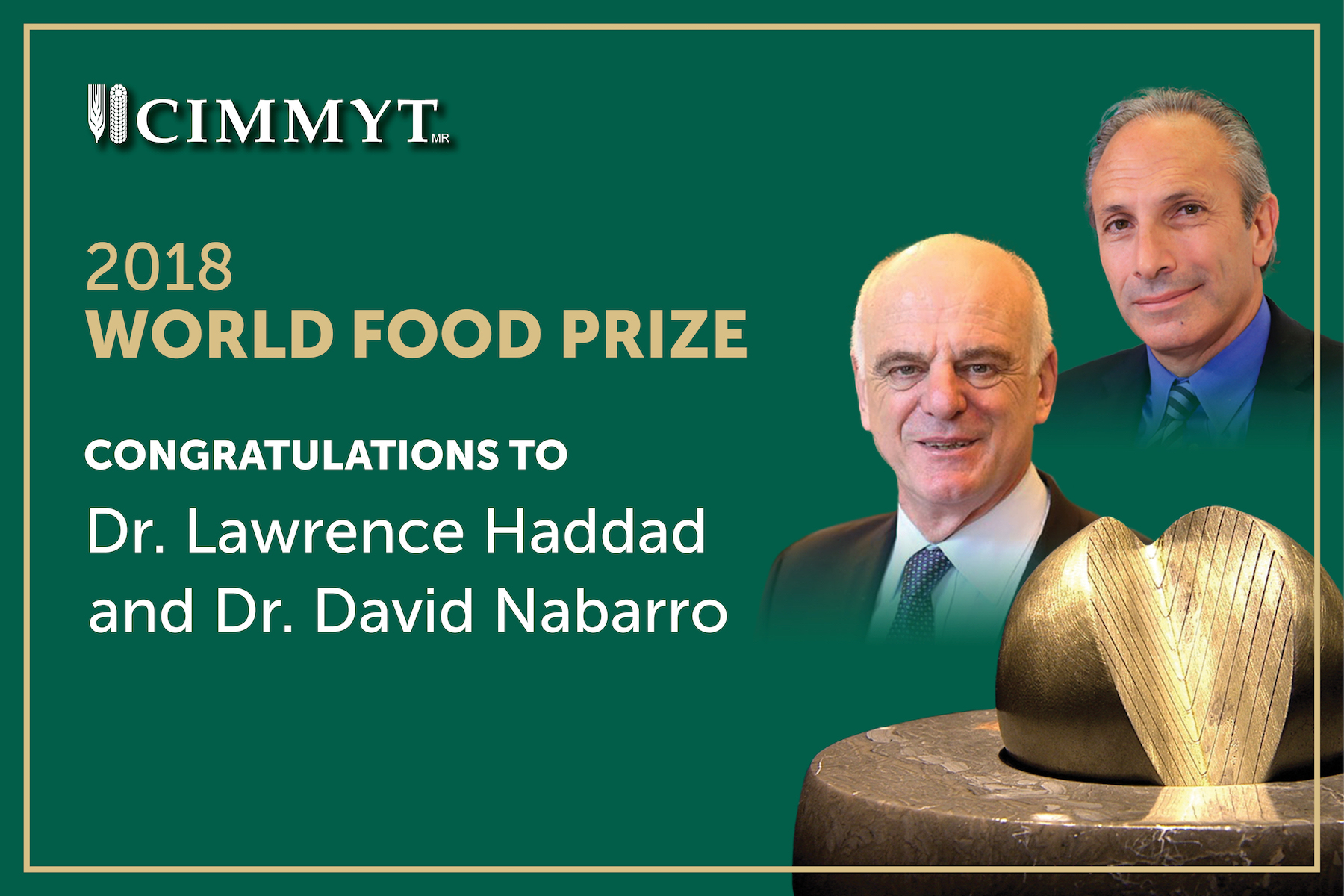 DES MOINES (Iowa) — As winners of the 2018 World Food Prize, Lawrence Haddad and David Nabarro are being recognized today for their individual work in unifying global nutrition efforts and reducing child malnutrition during the first 1,000 days of life. With this award, food and agriculture leaders highlight the importance of linking food production and nutrition.
Haddad's and Nabarro's efforts were crucial in uniting food security policy and programs in the wake of the 2008 global food crisis, when wheat, maize and rice prices doubled. Haddad and Nabarro leapt into action, each rallying a broad group of food system stakeholders and development champions and pushing for the implementation of evidence-based policies.
Using economic and medical research, Haddad convinced leaders to make child and maternal nutrition a priority in the global food security agenda. Nabarro, a champion of public health at the United Nations, was directly responsible for uniting 54 countries and one Indian state under the Scaling Up Nutrition Movement.
The 2018 laureates' work significantly improved nutrition for mothers and children in the critical first 1,000 days of life — the period from pregnancy to a child's second birthday. Their relentless leadership and advocacy inspired efforts by countless others to reduce childhood malnutrition. Between 2012 and 2017, the world's number of stunted children dropped by 10 million.
"I would like to personally congratulate Haddad and Nabarro for putting nutrition and healthy diets on the global agenda," expressed Martin Kropff, the Director General of the International Maize and Wheat Improvement Center (CIMMYT). "Together, we have to strive to develop resilient agri-food systems that provide nutritious cereal-based diets."
Food and agriculture leadership
The World Food Prize has been referred to as the "Nobel Prize for food and agriculture." Awarded by the World Food Prize Foundation, it recognizes individuals who have advanced human development by improving the quality, quantity or availability of food in the world. Winners receive $250,000 in prize money.
The World Food Prize was founded in 1986 by Norman Borlaug, recipient of the 1970 Nobel Peace Prize.
CIMMYT laureates
The World Food Prize has a long association with CIMMYT. Sanjaya Rajaram was awarded the 2014 World Food Prize for his work that led to a prodigious increase in world wheat production. Evangelina Villegas and Surinder Vasal were awarded the 2000 World Food Prize for their work on productivity and nutritional content of maize. Bram Govaerts received the Norman Borlaug Field Award in 2014. As an institution, CIMMYT received the Norman Borlaug Field Medallion in 2014.