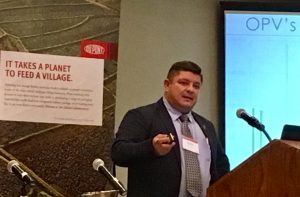 DES MOINES, Iowa (CIMMYT) – Public-private collaborations can deliver improved seeds to smallholder farmers faster, speeding up global efforts to meet food security targets, said delegates attending a forum at the World Food Prize gathering this week in Des Moines, Iowa.
Already more than 800 million people go hungry worldwide and by 2050, global population will increase by more than 2 billion people to at least 9 billion. Among the many challenges scientists face in boosting food crop yields to meet demand is the distribution of high-yielding, nutritionally enhanced, often drought-tolerant, crop varieties to smallholder farmers in developing countries.
"We're hamstrung when it comes to getting improved seeds into the hands of farmers due to a lack of affordable production capabilities," said Arturo Silva, who leads the International Maize Improvement Consortium in Latin America (IMIC-LA), which is based at the International Maize and Wheat Improvement Center (CIMMYT) near Mexico City. "That's where private sector seed companies come in – we need collaborations to ensure the seed gets to farmers."
In Mexico, Silva and other CIMMYT scientists collaborate with the government through the MasAgro project – which promotes the sustainable intensification of maize and wheat production – and with private seed companies through IMIC-LA to distribute seeds that flourish in sub-tropical, tropical and highland environments.
"We still have 2.5 million hectares to convert from old products to new hybrids, but we are convinced we can make Mexico self-sufficient in maize," Silva said. "We must democratize seed through public-private partnerships to help farmers who still lack access to technology."
Currently, Mexican farmers produce 22 million tons of maize a year, but consumer demand outweighs production, leading to imports of up to 12 million tons of yellow maize from the United States a year at a cost of $2.5 billion.
"The challenge is to produce high-yielding seeds, while preserving genetic diversity and protecting the old indigenous landraces from potential risks and threats," Silva said.
One way CIMMYT helps boost demand for native Mexican maize landraces is by connecting small-scale Mexican farmers with intermediaries who sell Mexican maize as a niche gourmet food. In response to recent consumer demand, top chefs in North American cities have been buying niche varieties of maize to create specialty tortillas, tlacoyos, tetelas and tamales.
"We have hundreds of thousands of seed varieties," said Ruben Echeverria, director general of the International Center for Tropical Agriculture (CIAT), which is based in Cali, Colombia.
"The challenge is beyond technical change, it's institutional change," he added. "What CIMMYT is doing with seed companies is the way to go."
"The private sector eventually has to take over," said Jim Gaffney, global biotech affairs and regulatory lead at DuPont Pioneer, which hosted the Seed Security for Food Security forum. "Wherever the seed industry is healthy and vibrant, the private sector has been involved."
DuPont Pioneer tops the Global Index of Field Crop Seed Companies and developed its own food security targets in 2012 that it aims to meet by 2020. Since the goals were established, DuPont Pioneer says it has invested $1.2 billion in research and development, introduced 600 new products and engaged with more than 314,000 smallholder farmers.
DuPont Pioneer also sponsored the development of a Global Food Security Index, which measures food affordability, availability, quality and safety in 113 countries and which the company is using to develop economic forecasts and country reports.
"Seed security equals food security," said John Duesing, the company's senior research director, adding that achieving food security is the world's greatest challenge.