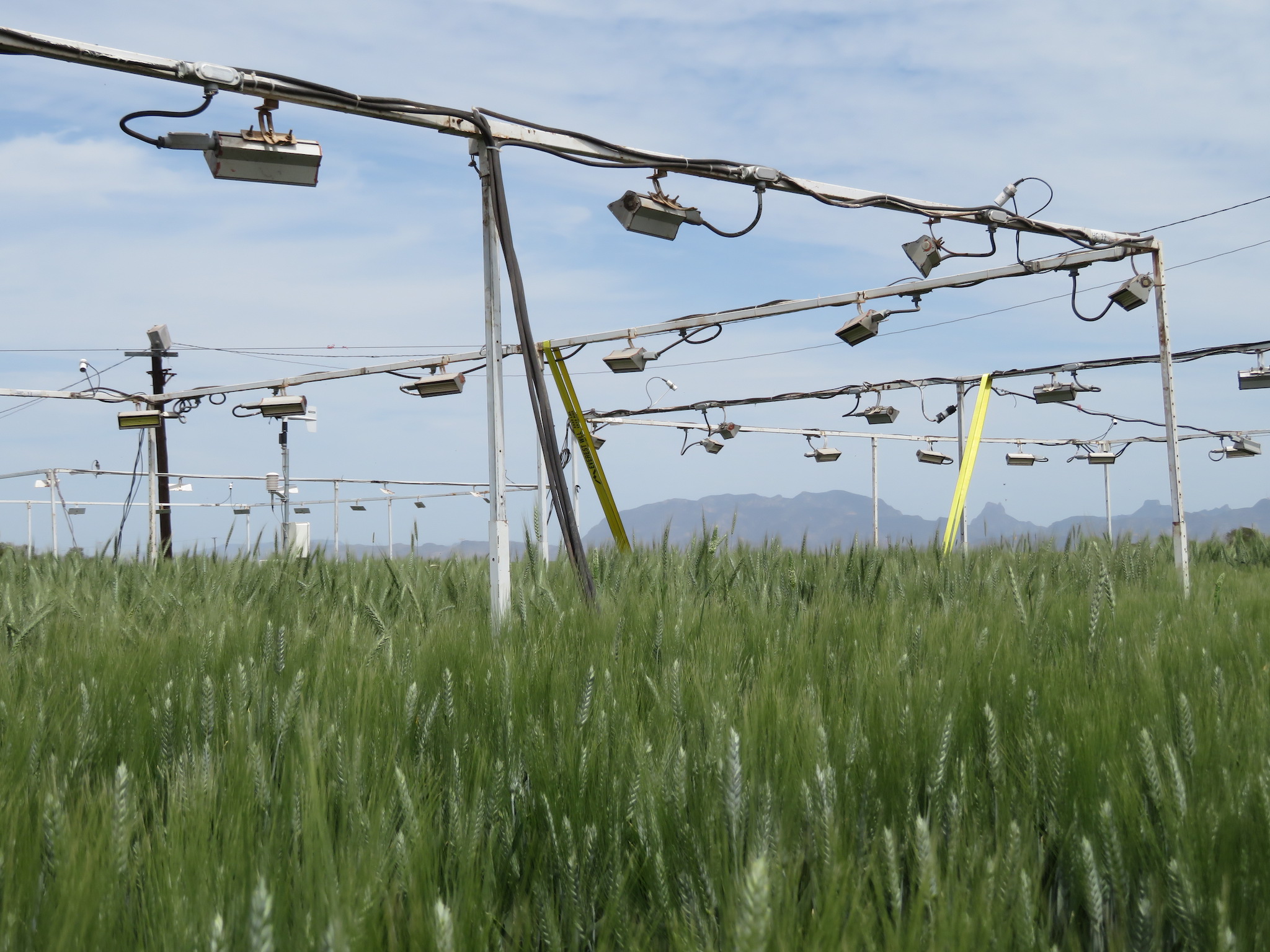 The International Maize and Wheat Improvement Center (CIMMYT) and the John Innes Centre (JIC) have announced a strategic collaboration for joint research, knowledge sharing and communications, to further the global effort to develop the future of wheat.
Wheat, a cornerstone of the human diet that provides 20% of all calories and protein consumed worldwide, is threatened by climate change-related drought and heat, as well as increased frequency and spread of pest and disease outbreaks. The new collaboration, building on a history of successful joint research achievements, aims to harness state-of-the-art technology to find solutions for the world's wheat farmers and consumers.
"I am pleased to formalize our longstanding partnership in wheat research with this agreement," said CIMMYT Deputy Director General for Research Kevin Pixley. "Our combined scientific strengths will enhance our impacts on farmers and consumers, and ultimately contribute to global outcomes, such as the Sustainable Development Goal of Zero Hunger."
Director of the John Innes Centre, Professor Dale Sanders commented, "Recognizing and formalizing this long-standing partnership will enable researchers from both institutes to focus on the future, where the sustainable development of resilient crops will benefit a great many people around the world."
Thematic areas for collaboration
Scientists from CIMMYT and JIC will work jointly to apply cutting-edge approaches to wheat improvement, including:
developing and deploying new molecular markers for yield, resilience and nutritional traits in wheat to facilitate deploying genomic breeding approaches using data on the plant's genetic makeup to improve breeding speed and accuracy;
generating, sharing and exploiting the diversity of wheat genetic material produced during crossing and identified in seed banks;
pursuing new technologies and approaches that increase breeding efficiency to introduce improved traits into new wheat varieties; and
developing improved technologies for rapid disease diagnostics and surveillance.
Plans for future collaborations include establishing a new laboratory in Norwich, United Kingdom, as part of the Health Plants, Healthy People, Healthy Plant (HP3) initiative.
Bringing innovations to farmers
An important goal of the collaboration between CIMMYT and JIC is to expand the impact of the joint research breakthroughs through knowledge sharing and capacity development. Stakeholder-targeted communications will help expand the reach and impact of these activities.
"A key element of this collaboration will be deploying our innovations to geographically diverse regions and key CIMMYT partner countries that rely on smallholder wheat production for their food security and livelihoods," said CIMMYT Global Wheat Program Director Alison Bentley.
Capacity development and training will include collaborative research projects, staff and student exchanges and co-supervision of graduate students, exchange of materials and data, joint capacity building programs, and shared connections to the private sector. For example, plans are underway for a wheat improvement summer school for breeders in sub-Saharan African countries and an internship program to work on the Mobile And Real-time PLant disease (MARPLE) portable rust testing project in Ethiopia.
---
INTERVIEW OPPORTUNITIES:
Alison Bentley – Director, Global Wheat Program, International Maize and Wheat Improvement Center (CIMMYT)
Dale Sanders  – Director, John Innes Centre
OR MORE INFORMATION, OR TO ARRANGE INTERVIEWS, CONTACT THE MEDIA TEAM:
Marcia MacNeil, Head of Communications, CIMMYT. m.macneil@cgiar.org
Rodrigo Ordóñez, Communications Manager, CIMMYT. r.ordonez@cgiar.org
ABOUT CIMMYT:
The International Maize and Wheat Improvement Center (CIMMYT) is the global leader in publicly-funded maize and wheat research and related farming systems. Headquartered near Mexico City, CIMMYT works with hundreds of partners throughout the developing world to sustainably increase the productivity of maize and wheat cropping systems, thus improving global food security and reducing poverty. CIMMYT is a member of the CGIAR System and leads the CGIAR Research Programs on Maize and Wheat and the Excellence in Breeding Platform. The Center receives support from national governments, foundations, development banks and other public and private agencies. For more information, visit www.cimmyt.org.
ABOUT THE JOHN INNES CENTRE:
The John Innes Centre is an independent, international centre of excellence in plant science, genetics and microbiology. Our mission is to generate knowledge of plants and microbes through innovative research, to train scientists for the future, to apply our knowledge of nature's diversity to benefit agriculture, the environment, human health, and wellbeing, and engage with policy makers and the public.
We foster a creative, curiosity-driven approach to fundamental questions in bio-science, with a view to translating that into societal benefits. Over the last 100 years, we have achieved a range of fundamental breakthroughs, resulting in major societal impacts. Our new vision Healthy Plants, Healthy People, Healthy Planet (www.hp3) is a collaborative call to action. Bringing knowledge, skills and innovation together to create a world where we can sustainably feed a growing population, mitigate the effects of climate change and use our understanding of plants and microbes to develop foods and discover compounds to improve public health.
The John Innes Centre is strategically funded by the UKRI-BBSRC (Biotechnology and Biological Sciences Research Council), and is supported by the John Innes Foundation through provision of research accommodation, capital funding and long-term support of the Rotation PhD programme.
For more information about the John Innes Centre visit our website: www.jic.ac.uk.