The International Maize and Wheat Improvement Center (CIMMYT) operates 11 hubs — nodes of innovation — in Mexico, supported by a portfolio of projects including MasAgro. These hubs are perfectly defined by the agro-ecological conditions of the territory in which they are located, and their main aim is innovation management focused on sustainable and resilient agri-food systems.
The Bajío Hub — which includes the central states of Guanajuato, Michoacán and Querétaro — is directed by Erick Ortiz Hernández, who through integrated management, seeks to improve farmers' livelihoods working hand in hand with a large network of stakeholders, promoting and validating sustainable and scalable technologies.
Ortiz Hernández joined CIMMYT in 2010 as a collaborator in the state of Michoacán, where he trained and certified technicians, and managed the first modules and platforms of the MasAgro project. That experience allowed him to become the manager of the Yucatan Peninsula Hub, in southeastern Mexico, in 2015. After three years of serving in the state of Guanajuato, he has recently taken a management position at the Bajío Hub.
Growing up in a rural community of less than a thousand people in the state of Puebla, Ortiz Hernández was familiar with agriculture from a young age. However, he considers that his decision to pursue a career in agronomy was unplanned. It was when he got into the agronomy-engineering program at the Chapingo Autonomous University — one of the most prestigious institutions in agricultural studies in Mexico — that he realized how drawn he was to plant production, choosing it as his specialty.
"As a Chapingo student, you know that CIMMYT is one of the most relevant research institutions not only in Mexico, but internationally," says Ortiz Hernández. "To be honest, when I graduated, I would never have imagined that I could be part of this great team."
Tailored sustainability
Currently, he coordinates and manages the operation of different projects at the Bajío Hub, working with both the public and private sectors. All of them operate under the same objectives: to monitor and address activities in the value chain to improve production systems, produce more with less through conservation agriculture and precision farming practices, and achieve a successful association with the market.
One of these projects is Cultivando un México Mejor [Cultivating a Better Mexico], in partnership with Heineken Mexico. Through CIMMYT's research and the implementation of improved management practices, experts explore the requirements for the sustainable management of water used in the daily cultivation process.
These actions are of utmost importance, since every year the region's water tables are affected by the excessive use of water. Around 80% of the consumption of this natural resource is used for farming activities.
Ortiz Hernández explains that the production of 2.2 pounds of wheat in the region can require 1,500 liters of water on average. However, he and his team have shown that water consumption can be reduced by 30-50% by implementing practices that save water without decreasing yields and, ideally, with low production costs.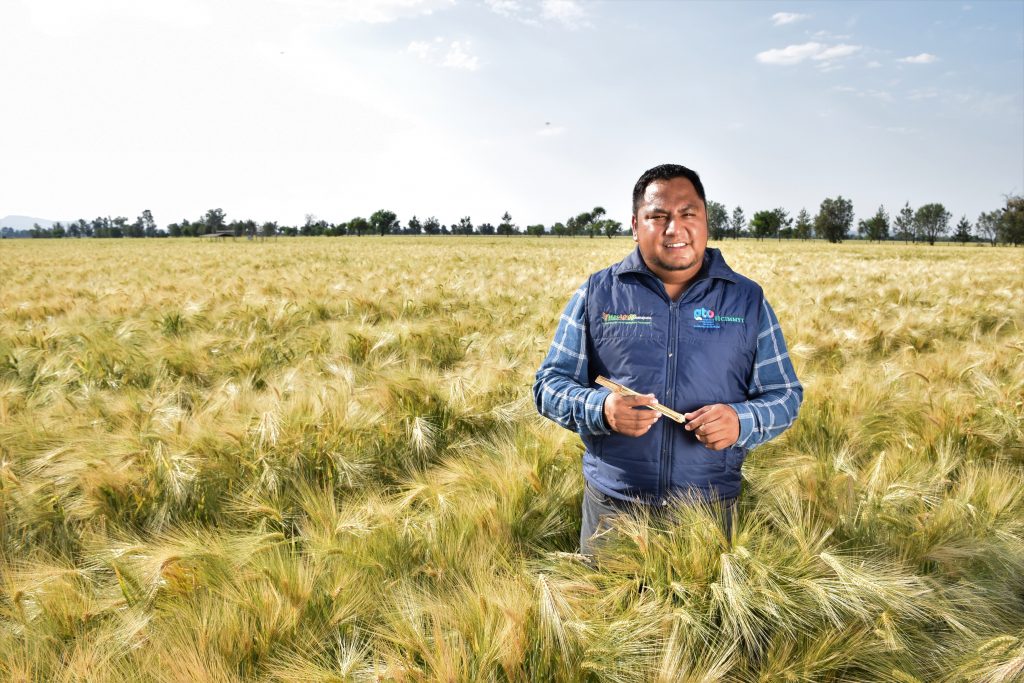 Linking for success
The Bajío Hub also manages MasAgro Guanajuato, a collaboration project between the government of state of Guanajuato and CIMMYT. Its aim is to support the technological improvement of conventional agri-food production, in order to implement actions of diagnosis, design, validation, demonstration and induction to the use of sustainable technological innovations.
One of the current situations faced by this program is that farmers in the area either broadcast or leave the fertilizer on the surface, resulting in an inefficient use. The technical team identified this problem and the possibility of mitigating it, by creating collaborative links with leading companies in the manufacture of agricultural machinery in the state, to design and produce a tool that meets this purpose.
"By working on a territorial innovation management approach, we get stakeholders to provide what is needed for farmers to access and adopt appropriate technology," explains Ortiz Hernández. "What we expect from this type of project is not only to benefit the 500 or 1,000 farmers with whom we work directly, but to scale up and multiply those numbers generating an impact in the region through partnerships and alliances."
Ortiz Hernández sees his management role as a strategic one, in which he has the flexibility to innovate by working with his team to generate efficient models, processes and tools. He can also propose and manage activities with different stakeholders in the region, so they can join in or align common objectives.
"There is no better moment than when farmers are harvesting and you see a smile on their faces due to the good results. When you know you contributed, even a little, you feel good and you come home happy," says Ortiz Hernández.
One of his personal goals, and something he tries to incorporate into any project, is to create awareness of farmers' major role in global food security. "We have to see farmers for what they really are: the people who ensure that food reaches our tables and who guarantee its quantity and quality. It is vital to recognize their daily efforts."