A series of coincidences led Sylvanus Odjo to study agronomy. It was only after finishing his first degree that he learned that his namesake, Silvanus, was the Latin deity of forests and fields.
Spurred by a curiosity about the natural world, he spent several years working at the National Institute of Agriculture in his native Benin, before pursuing advanced degrees in Belgium, where he developed his interest in cereals research.
"Obviously by that point I knew about the CGIAR centers and the International Maize and Wheat Improvement Center," he explains. "If you're working on maize, you'll know about CIMMYT."
He joined the organization as a postdoctoral researcher in 2017 and now works as a postharvest specialist. He coordinates a network of platforms which evaluates and validates potential solutions and transfers them to farmers across Mexico and Latin America.
"All the projects I'm working on now have the same objective: finding ways to avoid and reduce postharvest losses." These, Odjo estimates, can be as high as 40% in some parts of Mexico, with dramatic consequences for smallholder farmers whose food security is directly linked to the amount of grain they have. They are also the most likely to be affected by the effects of climate change.
"A lot of people think postharvest just means storage," he points out, "but it actually encompasses everything from the moment of harvest and includes processes like drying, shelling, technical and economic activities."
A drying specialist by training, Odjo now works across the entire postharvest system. There are two central components to his work. The first involves testing postharvest technologies to develop recommendations for farmers, conducting trials under controlled conditions on CIMMYT research stations and with local collaborators across Mexico and assessing how drying and storage technologies fare under different conditions. The second, and perhaps more challenging, is promoting the successful ones, such as hermetic grain storage bags, among farmers and providing training on how to use them appropriately.
"We see a lot of publications agreeing that we need to promote hermetic technologies, which is true." The question, Odjo asks, is how to do it. "How can we succeed in making a solution available to farmers? And once that has happened, how do we convince them to use it? Those are big questions which people were asking 50 years ago but they're still being discussed today."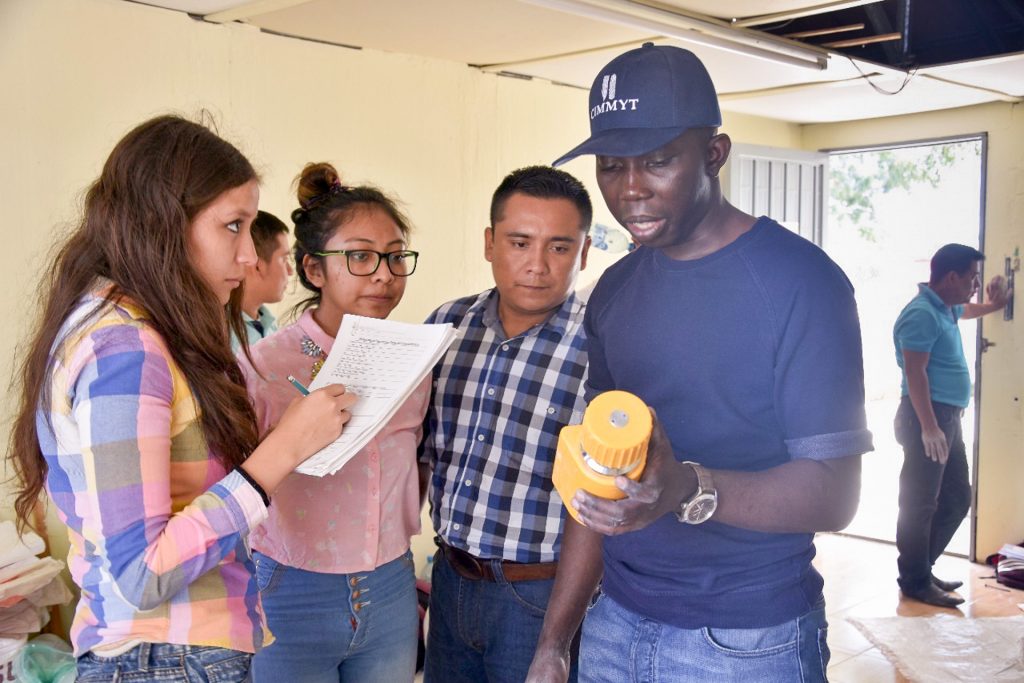 Finding answers to the big questions
"The potential solutions sound so simple, but when you actually try to implement these things it can be very complex."
Odjo can reel off a list of postharvest interventions which seem straightforward initially but fail at the moment of implementation. Farmers might be instructed to harvest their grain at a particular time, which turns out to conflict with the timing of an important traditional ceremony, which cannot be rescheduled. Elsewhere they may be encouraged to avoid reducing moisture levels by purchasing a dryer but lack the resources to do so.
Much of Odjo's work involves conducting research into the process of technology transfer and the scaling of postharvest technologies, working with a number of projects in Mexico to find the most efficient ways of training farmers and providing them with the tools they need to use improved practices and technologies.
"What we're looking for is the right technology for each farmer," he explains. "Because the conditions in the highlands of Guanajuato are not the same as in coastal Yucatán, or any of the other locations we work in." Hermetic technology has been proven to be effective in most conditions, but the choice to use hermetic silos, hermetic bags, or a cocoon storage container ultimately depends on farmer preferences and the specific conditions in their local area. "We noticed, for example, that in the highlands pests tend to pose less of a threat to stored grain, so we need to use a different strategy than we would at sea level, where humidity can significantly increase the risk of grain becoming contaminated."
Odjo and his team have also noted that in Mexico, although many postharvest activities such as shelling are led by women, men are more likely to attend farmer trainings, which makes it harder to ensure that they are reaching their target demographic. "Gender has emerged as a key parameter that we need to take into account, so we're working with an excellent gender specialist at CIMMYT to find ways of making sure we transfer knowledge and technologies efficiently."
While it can be challenging coordinating with so many different stakeholders, each with their distinct priorities and interests, Odjo is adamant that postharvest research can only be successful when it is fully interdisciplinary and collaborative. Though farmers are their core audience, he and his team make sure they work with extension agents, government actors, researchers and development practitioners to find solutions. "I can't do anything alone so I'm open to collaboration," he adds. "We always need fresh ideas."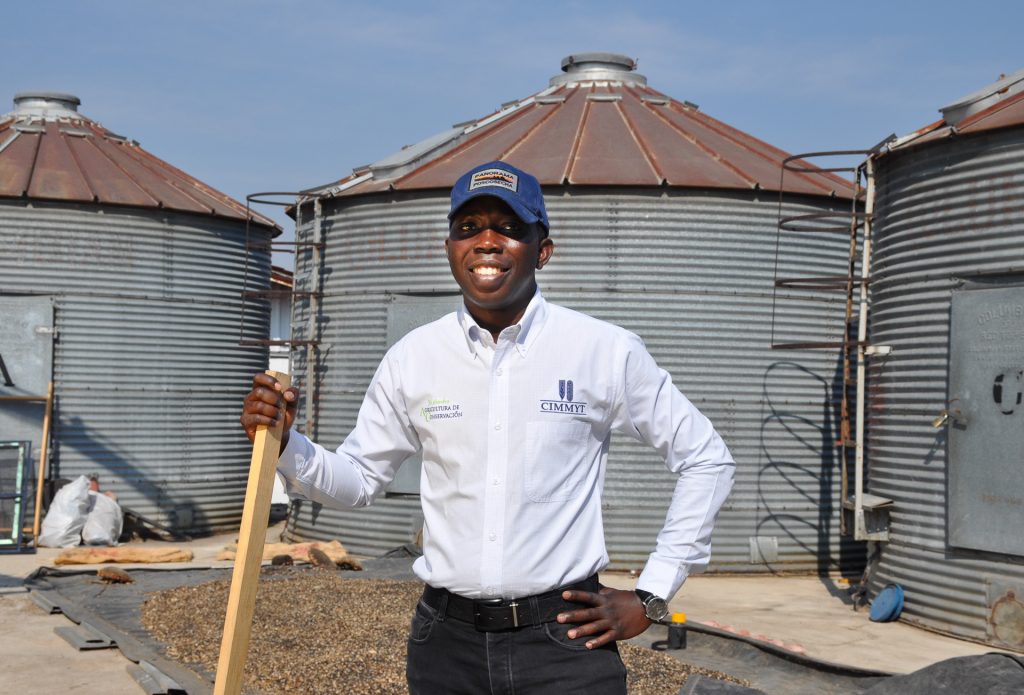 Sharing knowledge in 140 characters
Up until quite recently, Odjo was reluctant to join Twitter because he felt that he had nothing to share. It was only when colleagues encouraged him to use social media as a platform for discussing postharvest issues that he discovered the app is an effective way of sharing recommendations directly with farmers and agricultural service providers. "One of my lecturers used to say that you can understand something if you're capable of explaining it to a kindergarten-aged child. If you don't succeed, it means you haven't understood."
"That's become a part of my job that I really enjoy: figuring out how to share research and results of investigations with different audiences in a simple manner."
His newfound social media presence has also proved useful for connecting with researchers on a global level. In late 2019, researchers in Laos interested in learning about postharvest technologies reached out to Odjo, who was able to arrange for colleagues to travel to the country and share practices developed with local extension agents and blacksmiths in Mexico. "And do you know how they found me? Through my Twitter account."
Moving forward, Odjo hopes to extend the scope of his activities beyond Latin America and carry out more knowledge exchange with his peers across the world. "In research, a lot of people are working on the same topics, but we don't always share the information. I'm open to sharing my experience, because I'm sure I can learn a lot from others that will be useful for my job."
Kenya in particular stands out as a case study he can learn from, where a high incidence of aflatoxins in maize, heavy government intervention and fierce market competition among providers of hermetic bags have allowed for the successful scaling of postharvest technologies. "It would be great to be able to analyze their scaling process and learn from it. Not to replicate it entirely, because obviously the conditions aren't the same, but there will undoubtedly be lessons we can take and apply here in Mexico and Latin America."