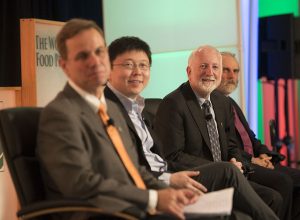 DES MOINES, Iowa (CIMMYT) – Gene editing technology could revolutionize the way scientists breed high-yielding drought, disease and pest resistant, quality plant seeds, greatly reducing the time it currently takes to develop new varieties, said a panel of expert scientists at the Borlaug Dialogue conference in Des Moines, Iowa.
Using CRISPR-Cas9 to select or suppress desired traits in a genome is almost as simple as editing a Microsoft Word document on a computer, said Feng Zhang, the originator of the technology who is a core member of the Broad Institute of MIT and Harvard.
To edit genes, a protein called Cas9 is programmed to create an RNA search string, which can search and edit paired DNA to alter a genome to achieve desired effects in plants, Zheng said.
"There's a lot of exciting opportunity to apply this technology in both human health and in agriculture," he said.
Although the gene editing process itself is extremely fast, it will likely be several years before the benefits of the process for smallholder farmers begin to be realized, said Kevin Pixley, who leads the Seeds of Discovery project and the Genetic Resources Program at the International Maize and Wheat Improvement Center (CIMMYT).
CIMMYT scientists aim to use the breakthrough technology to help smallholder farmers in the developing world address food security, nutrition shortcomings and economic threats to their livelihoods caused by climate change, pests and disease. Additionally, they see the potential to reduce the use of pesticides, and to boost nutrition through bio-fortification of crops.
"We want sustainable agriculture that provides food and nutrition security for all, while enabling biodiversity conservation," Pixley said. "CRISPR-Cas9 is an affordable technology that can help us close the technology gap between the resource rich and resource poor farmers of the world."
CRISPR-Cas9 improved varieties could also reduce the risk of investing in fertilizers, grain storage or other technologies, thereby contributing to "double benefits" for smallholder farmers, Pixley said.
Poverty alleviation and improved livelihoods for farmers are part of the shared vision for CIMMYT and our research partners, and we see CRISPR-Cas9 as a technology that can make a significant contribution to achieving this aim, he added.
DELIVERING BENEFITS
"We think about this as being about bringing abundant potential to agriculture through this technology," said Neal Gutterson, a member of CIMMYT's board of trustees and vice president of research and development at DuPont Pioneer, part of the agriculture division at DowDuPont.
"For us, it's part of the evolution of breeding systems, it's targeted breeding that's enabled by CRISPR-Cas9 technology," he said, describing joint research projects with CIMMYT and the Donald Danforth Plant Science Center.
Currently, CIMMYT and DuPont Pioneer are researching the benefits of using CRISPR-Cas9 to combat maize lethal necrosis (MLN) disease in East Africa. MLN is caused by a combination of two viruses, which can only be treated by developing genetic resistance in the plant.
"We can ultimately accelerate the delivery of improved products that are really highly performing, high yielding, and also resistant to that viral disease," Gutterson said, explaining how the technology would benefit smallholders. "Should the disease spread outside of Africa we'll be poised to deliver solutions even faster."
DuPont Pioneer and the Broad Institute have signed an agreement to allow universities and non-profit organizations to use the technology for agricultural research and product development.
The joint licensing relationship opens up democratic access to CRISPR-Cas9 for agriculture, Gutterson said, adding that research collaborations with CIMMYT and Donald Danforth Plant Science Center will facilitate access to the technology in the developing world, enriching the livelihoods of farmers.
The technology will also benefit non-commodity crops, known as "orphan crops," said Nigel Taylor, interim director of the Institute for International Crop Improvement at Donald Danforth Plant Science Center.
"The exciting thing about them is that they have huge potential because they have not undergone the improvement maize or rice have gone through," Taylor said.
Donald Danforth and DuPont Pioneer are conducting joint research using CRISPR Cas9 into cassava brown streak virus disease, which is projected to spread from East Africa to Nigeria, the largest producer of cassava in the world.
"We edited two of the genes, which means the virus cannot replicate properly in the plant," Taylor said. "We're seeing the viral load is completely reduced."
Taylor also said he would like to develop improved varieties of teff, which is widely grown in Ethiopia and Eritrea, where the seeds are used to make the food staple "injera," a sourdough flatbread.
REGULATORY FRAMEWORK
To ensure access to the technology, consumers, farmers and scientists in Africa must be involved, and questions about how new crops are regulated must be addressed, the scientists agreed.
"We must engage in regulatory work with stakeholders," Taylor said. "African research centers and others around the world must be part of this conversation right now – communication and education about new technologies are essential."
If scientists use CRISPR-Cas9 to rapidly convert popular varieties from, for example, MLN-susceptible to MLN-resistant, they will make a lasting contribution to farmer livelihoods in Africa, Pixley said.
"However, we can't yet assume that the benefits of these technologies will reach smallholder farmers," he said.
"Public opinion is largely unformed because few people know about CRISPR-Cas9, and since the regulatory framework is largely undefined, we have a great opportunity to help form it in a way to make the benefits of these technologies available to smallholder farmers."
We need to begin by recognizing and respecting the sovereignty of every country to decide if, when and how they are going to use this technology, he added.
I think we have a great responsibility to provide accurate, complete and trustworthy information to the public as we bring this technology into the public domain and to the regulatory process, he said.
"We know that it's not going to be a magic bullet because no technology is, but we also think that it's unethical to dismiss any technology without responsibly considering its possible contributions," Pixley said.
The Borlaug Dialogue conference is held each year in Des Moines to coincide with World Food Prize celebrations. This year delegates feted the 2017 laureate Akinwumi Adesina, president of the African Development Bank, thematically focused on "The Road out of Poverty."
Related:
How a seed bank in Mexico produces data to alleviate poverty
Seeds of Discovery website: http://seedsofdiscovery.org/
Al Jazeera: Crop Biodiversity the Key to Ending Hunger