CGIAR researchers are taking an innovative approach to analyzing crop and farming systems, by emphasizing nutritional yield. "This is an unusual perspective for an agronomist to apply to our work," said Timothy Krupnik from the International Maize and Wheat Improvement Center (CIMMYT). "However, farmers in India recognize the critical need to produce more nutritious food that is environmentally sustainable without losing yield levels."To meet this need, more than 25 researchers from CIMMYT and the Indian Council of Agricultural Research's Central Soil Salinity Research Institute (ICAR-CSSRI) met from 25-27 May in Karnal, in India's Haryana state, to plan a collaborative research program on nutrition-smart agriculture.
The program is part of Transforming Agrifood Systems in South Asia (TAFSSA), a CGIAR Regional Integrated Initiative aiming to propel evidence into impact through engagement with public and private partners across the farm production-to-consumption continuum. The Initiative will achieve productive, environmentally-sound agrifood systems that support equitable access to sustainable healthy diets in the world's most poverty-dense region.
Through three days of workshops, attendees met with more than 200 men and women farmers. They developed a common understanding of the research objectives, designed research for multi-criteria analysis of crop and farming systems with an emphasis on nutritional yield, and developed a joint action plan for data collection and analysis.
To provide attendees with context for the research program, Temina Lalani-Shariff, CIMMYT Regional Director for South Asia, presented an overview of CGIAR activities in India and CGIAR Research Initiatives globally. HS Jat, Principal Scientist (Agronomy) from ICAR-CSSRI also presented some of the institute's ongoing research and experiments that are examining the effects of different crop rotations on the production of nutritious foods. This included a visit to ICAR-CSSRI's research trials later in the day.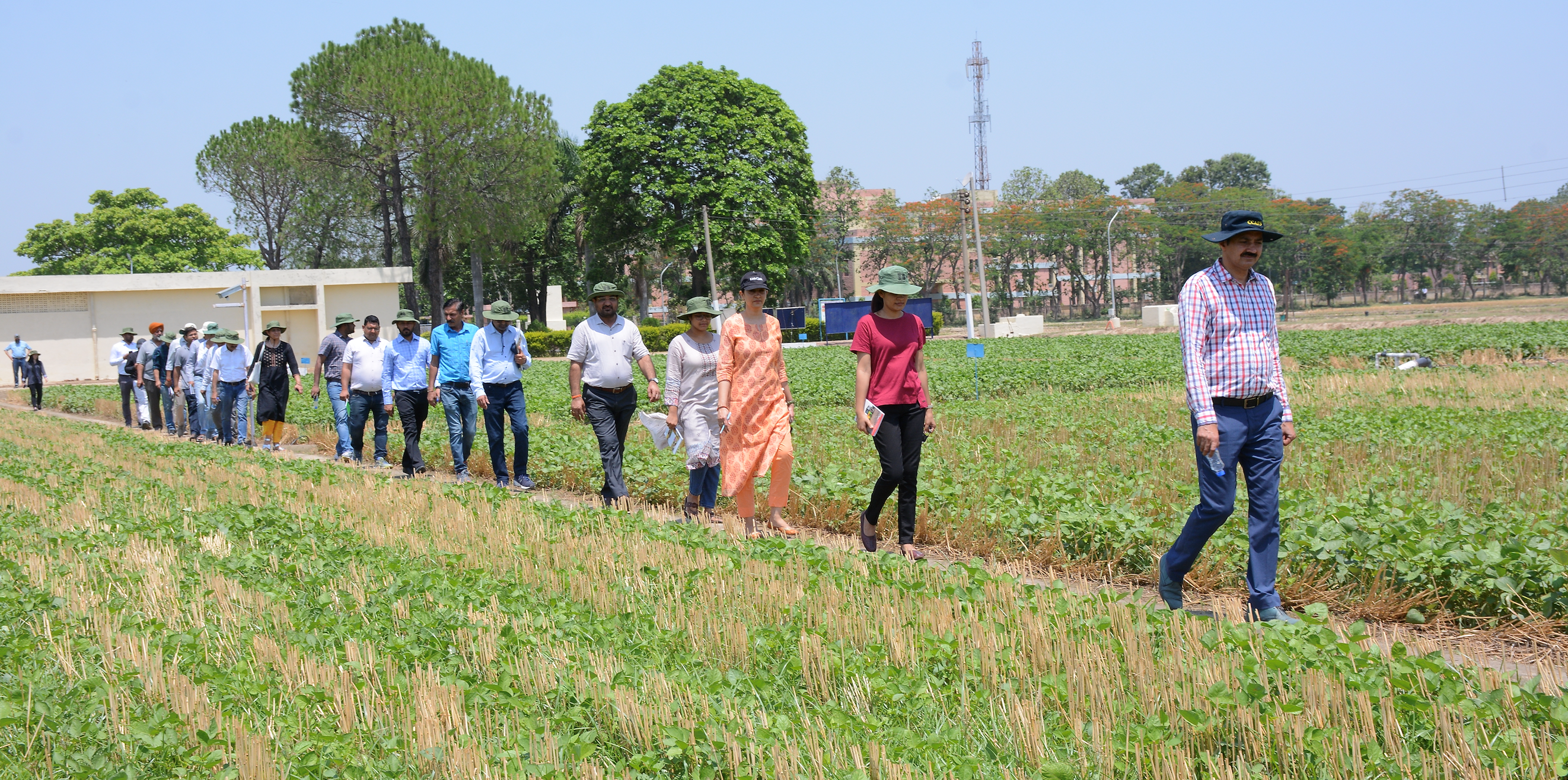 From the ground up
To improve on the participatory design of research and to tailor the Initiative's work to on-the-ground needs, the second day of the program was dedicated to visiting farmers in the states of Haryana and Punjab. There, researchers discussed the proposed research priorities and experimental design with the farmers. The design and priorities were later amended based on this feedback.
"This was an incredibly useful workshop for us," said PC Sharma, Director of ICAR-CSSRI. "This represents a new way of thinking about how to approach crop rotations and production. Having the help of farmers and colleagues in the nutrition community to design our research means we can address multiple issues in one research program. This increases the value of our research and spreads the benefits wider."
To conclude the workshops, groups presented on their field visits and selected crop rotations and management practices as part of agronomic trial design for nutrition-sensitive and environmentally efficient cropping systems, including consideration of implementation and data collection.