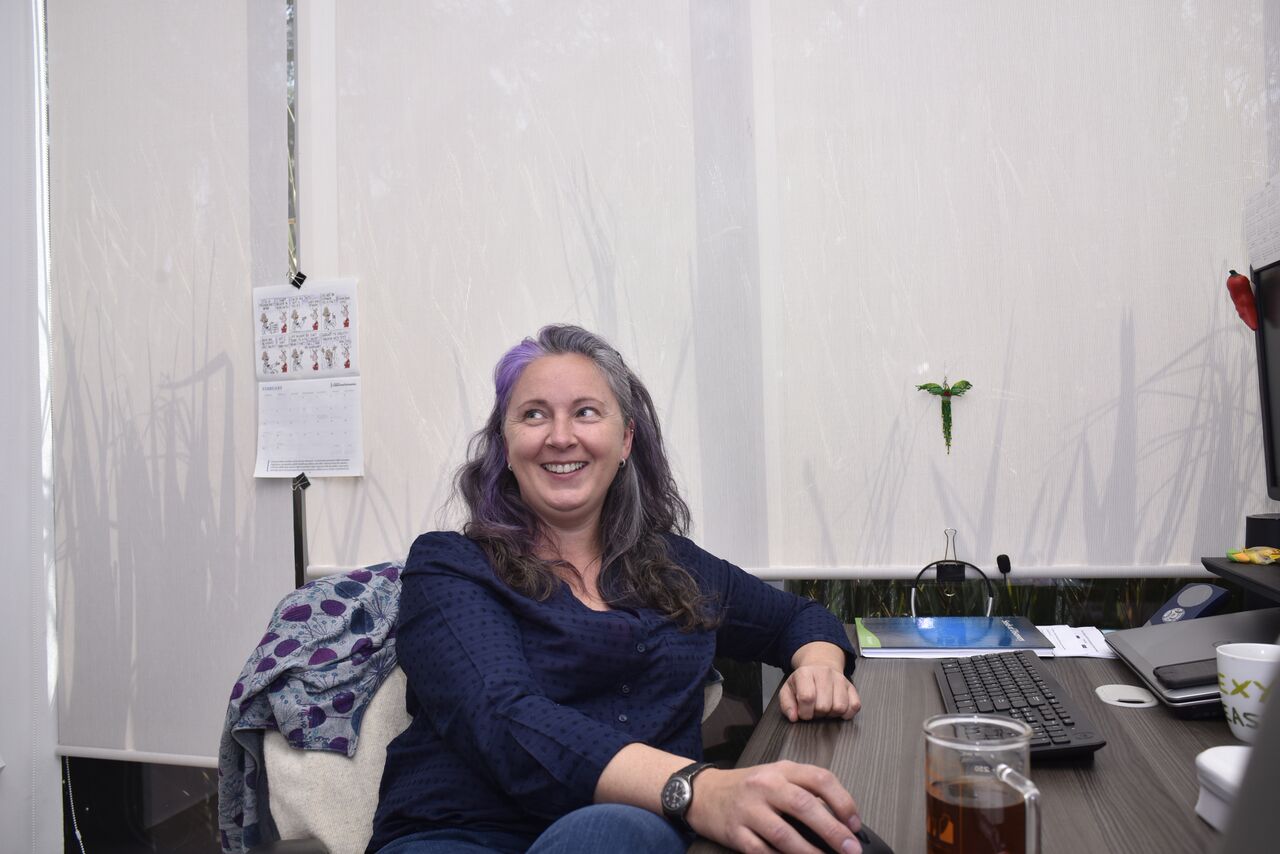 EL BATAN, Mexico (CIMMYT) – Scientific change requires innovation and the best solutions emerge when a wide range of perspectives have been considered, if you don't have representation from half of the population the scope for innovation is narrowed, said a leading molecular geneticist on the International Day of Women and Girls in Science.
"Women often look at problems from a different angle from men – not better, just different – and like men we have a different gender perspective – all perspectives are valid and of value," said Sarah Hearne, who leads the maize component of the Seeds of Discovery project at the International Center for Maize and Wheat Improvement.
Her passion for science began in girlhood, stemming from a curiosity about how things work.
"I loved experimenting and figuring out how and why things happen; I used to dissect my grandma's fish when they died to try to work out why they were floating in the tank – I was six at the time," she said. "Thankfully my parents weren't horrified by this and over the years my requests for microscopes, chemistry sets and supplies of organs to dissect were realized by Santa and the village butcher."
Not all girls receive such encouragement. A study conducted in 14 countries found the probability for female students graduating with a bachelor's, master's or doctoral degree in a science-related field are 19, 8 and 2 percent respectively, while the percentages of male students are 37, 18 and 6, according to the United Nations.
In response, in December, U.N. member states adopted a resolution to establish an annual international day to mark the crucial role women and girls play in science and technological communities celebrated for the first time on Feb. 11 this year. The aim is to further the access of women and girls and their participation in science, technology, engineering and mathematics education, training and research activities.
She kicked off her career in adulthood by earning a Bachelor of Science degree in Applied Plant Science at the University of Manchester and a doctoral degree at the University of Sheffield where she focused on work based across the University of Sheffield, the John Innes Center and Syngenta. Since graduating she has worked at two CGIAR centers in Latin America and East and West Africa.
She currently works with CIMMYT in the Seeds of Discovery project where she develops and applies tools to identify and enable the use of the valuable genetic variation present in genebanks for the benefit of farmers and consumers around the world.
She shared her views on women and girls in science in the following interview.
Q: Why is it important to have an increased number of woman and girls studying as well as working in scientific fields?
Girls rock!
Half the population is female but in science careers we are underrepresented, this imbalance becomes increasingly acute as you move up in career structures towards positions of more decision making.
Gender-balanced companies tend to have higher profitability and rank higher in terms of institutional health. This translates to the non-profit sector – impact instead of profitability is the measure of success. More women are needed in scientific research and development at all levels of organizations. This ideal requires a gender-balanced pool of potential applicants – something that is hard to obtain when women are underrepresented in sciences from school to university.
Q: What inspired you to follow a career in science and agriculture?
I grew up in Yorkshire, a rural area in the UK, my dad was an agricultural engineer and my mum still runs her own shop. Farming was an integral part of our community and our lives.
I loved science at school and was one of the few who studied chemistry and physics. Indeed, I was the only girl who studied the four sciences on offer. I enjoyed studying biology and environmental science the most, and after leaving school I deliberated whether to study genetics or plant science at university, eventually deciding to do a degree in applied plant science.
I spent my third year at university working with Zeneca – now Syngenta. My fellow interns and I were plunged into the deep end of applied research with very limited supervision; I LOVED IT! I got to research design, test, evaluate and develop tools and resources that mattered to the company and to farmers; my boss was very supportive and he encouraged me to try out some of my more "wacky" ideas…I was allowed to fail and learn from failure, developing better methods as a result. After earning my B.Sc. I applied for Ph.Ds., all the Ph.Ds. I applied for were focused on different aspects of crop improvement – I wanted to work with plant science that had an impact on people's lives. The Ph.D. I chose was on maize molecular genetics and physiology working on Striga (a parasitic weed endemic to Africa) and drought. My Ph.D. experiences importantly gave me first-hand experience of the hard reality of the precariousness of food and nutritional security across vast swathes of the human population. When completing my Ph.D. I decided I wanted to be able to contribute to food security through research but I didn't want to do this within a university setting- I thought that was too far from farmers. I came to know CIMMYT through my doctoral research and I have been working in the CGIAR system of agricultural researchers ever since completing my Ph.D.
Q: What challenges do women and girls face with regard to science today?
Perceptions: Women can face direct sexism related to their choice of class/degree/career not being considered gender appropriate, this often has cultural influence so while a girl may be more or less accepted in one culture she is not in another. Role models also pose a challenge. There are few female role models in many areas; those that exist have often sacrificed much personal life to be where they are. This gives a skewed picture to girls in an image-obsessed world where people are expected to be perfect in all aspects of life. Science is still very male dominated, especially agricultural science. Overt and unintentional sexism is rife in many organizations – women can be made to feel like a "token" staff member..
Being assertive and focused is often viewed very negatively when women display this behavior with gender-specific terms being used. I have been called "bossy, bitchy, emotional, aggressive, ice queen, scary, etc.", my male colleagues exhibiting the same behavior are "driven, focused, tough, go-getters, etc." I have never heard them being called bossy….
Inequality at home results in inequality in science. Women still tend to bear the brunt of home and childcare activities and this creates real or perceived impacts. Institutions and national governments don't always help – shared maternity/paternity leave would be a good starting point.
Q: What is your advice to young aspiring female scientists?
Wow, there are lots of wisdom picked up and passed on I could share, here are a few I have found the most useful:
Personal: Check your own prejudice and ensure you treat others in an equal way. I get tired of hearing statements like "men can't multi-task"… it is as offensive as "women can't read maps". If we want equality we have to ensure we model it ourselves.
Work on self-confidence, self-esteem and develop a good, self-depreciating sense of humor. Build a support network to help maintain these things and give you honest feedback. Don't be afraid to ask questions; ask lots of questions.
Don't stress about titles, positions or detailed career paths – career paths don't usually follow a straight or planned path and you discover more fulfilling things on the journey. Give yourself time to explore and discover an area of science you love and are inspired by; believe me it is worth every second invested. Happiness is more important that a title on a business card.
Pick your partners carefully, life is full of surprises and striving for equality shouldn't stop in the classroom or workplace.
In school/the workplace, do not accept gender loaded statements; "you are bossy" should be quickly but firmly rebuked with "not bossy, simply assertive". Speak out about gender bias –be it female, male, bi -or trans gender – and enable and support others to speak out. If someone says something that makes you feel uncomfortable, articulate this to them. In addition, I would advise that you should never, ever accept sexual harassment of yourself or others in the workplace. Report it and if needed shout and scream about it. It is a good idea to build a financial/family safety net for yourself so that you have the freedom to leave situations where there is unwillingness of employers to deal with sexual harassment.
Learn to program Python and a bit of Java. Data is getting easier to capture and as a result the volume of data we are processing grows year on year. Having the skills to manipulate and analyze this is increasingly critical – off the shelf solutions no longer work. Being able to program is an increasingly valuable skill and one many girls are not encouraged to explore.
Try to understand the gender climate of the organization you are working for – or want to work for – and seek out allies to navigate and – hopefully – start to influence the climate to a more gender neutral workplace.
Don't view every decision as having gender bias – sometimes there really isn't any- you just don't like the decision.
Apply for jobs even when you don't meet all of the requirements – if you can do half of the things well and can learn the others then apply- nothing ventured nothing gained (and few candidates, male or female, tick all of the boxes).
Learn how to negotiate and try not to enter a situation in which you are unaware of the facts about what you are arguing for. Women often feel uncomfortable to negotiate salaries – you feel worse when you realize a male colleague doing the same job is being paid more.
Don't let anyone shout at you, and don't let anyone talk over you – calmly, quietly, and privately explain how you want to be treated – if the shouting continues walk away from the situation.
Consider family issues whether you have a family or not; do you need to send an urgent request to someone at 5pm on a Friday? -This helps all colleagues – men have families too and we all need work-life balance.