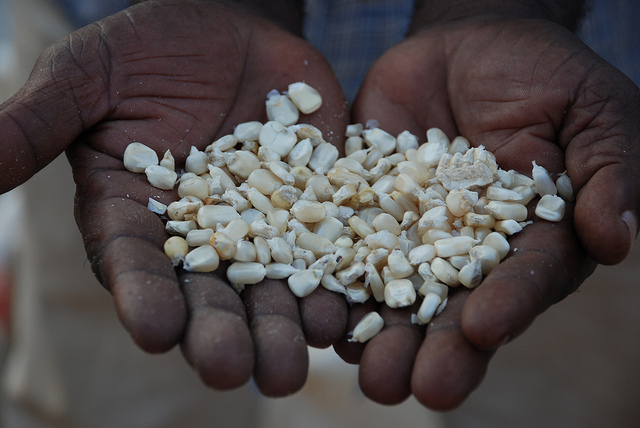 The CGIAR Research Program on Maize (MAIZE) "uniquely fills a gap at the global and regional level, positioning it to continue catalyzing good science across borders," according to a new report.
Commissioned by the CGIAR Advisory Services Shared Secretariat (CAS Secretariat), the report assesses the research-for-development program's achievements and operations over the course of its second phase, from 2017-2019.
The reviewers commend MAIZE's "valuable" technology transfer in the areas of double haploid production and stress-tolerance phenotyping, as well as its "proactive and productive" incorporation of crosscutting gender and youth focused issues in major projects such as Stress Tolerant Maize for Africa (STMA). They note that climate change is "central to all that the [program] is doing."
In addition to the exceptional quality of the program's scientific inputs and the overall quality of its outputs, the reviewers note the program's capacity to mobilize "stakeholders, resources and knowledge to rapidly deliver valuable solutions for a critical need." The review authors specifically note MAIZE's efforts towards halting the spread of maize lethal necrosis (MLN).
While, like all CGIAR Research Programs, MAIZE is due to conclude at the end of 2021, much of the program's pioneering work will continue under new guises, such as the Accelerating Genetic Gains in Maize and Wheat for Improved Livelihoods (AGG) project.
"As we move towards the implementation of One CGIAR, MAIZE's expertise in increasing genetic gains in tropical and sub-tropical, stress-prone environments through the integration of advanced breeding methodologies, a strong phenotyping network for various abiotic and biotic stresses, improved agronomic practices, and a rich network of public-private partnerships for scaling and deploying climate resilient improved maize varieties in Africa, Asia and Latin America — not to mention its capacity to respond quickly and successfully to devastating transboundary diseases and pests through multidisciplinary and multi-institutional initiatives — will be extremely valuable," says B.M. Prasanna, director of MAIZE and of the International Maize and Wheat Improvement Center's (CIMMYT) Global Maize Program.
MAIZE — led by CIMMYT in partnership with the International Institute of Tropical Agriculture (IITA) — spearheads international, multi-stakeholder research for development to improve the livelihoods and food security of poor maize producers and consumers. It simultaneously seeks to strengthen the sustainability of maize-based agri-food systems. The program focuses on maize production in low- to middle-income countries — accounting for approximately two-thirds of global maize production — where the crop is "key to the food security and livelihoods of millions of poor famers," according to the report.
"MAIZE provides a very robust platform for collaboration with our national partners, including private companies, community seed produces and other stakeholders. Through projects such as Drought Tolerant Maize for Africa (DTMA) and STMA, research has been able to provide innovative solutions to challenges that smallholder farmers face in their daily lives, such as drought, poor soils, and pests and diseases," says Nteranya Sanginga, IITA's Director General.
The review concludes that MAIZE "good management and governance practice are a strong foundation for the remainder of [the program's] running." The reviewers also recommend that the "excellent," participatory application of theory of change thinking in the second phase of MAIZE be mainstreamed at the CGIAR system level moving forward. Key recommendations for the program's final phase include:
Building on MAIZE's "strong network of partners" by deepening these relationships into "multidirectional partnerships."
Building on existing cross-cutting work on capacity development, climate change, gender and youth.
Diversifying and expanding MAIZE's knowledge dissemination efforts to more deeply engage with include multiple and non-scientific audiences.
To read more, see the report summary or visit the CGIAR Advisory Services page.