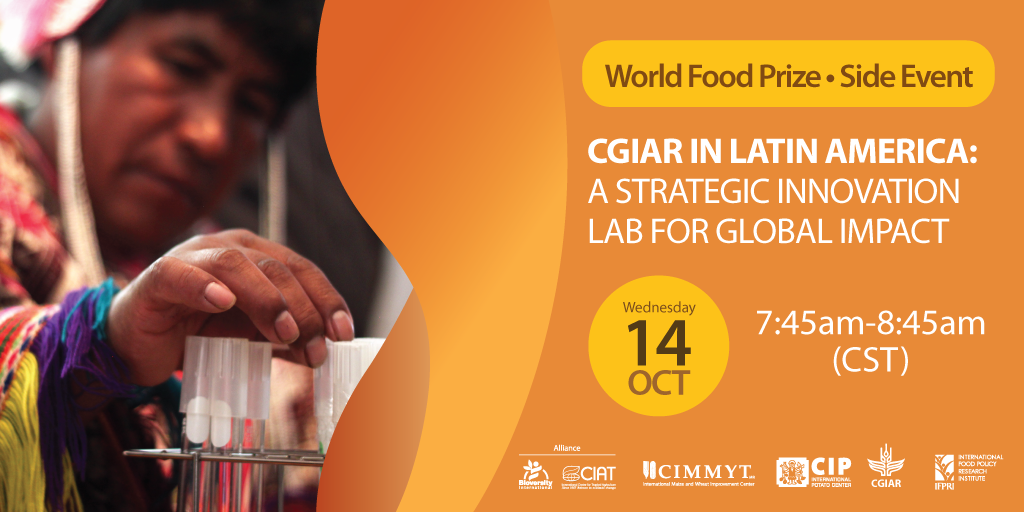 With global agriculture in stasis and under threat from climate change, Latin America's role to address these challenges through innovation and partnerships is crucial. This was the main takeaway from a 2020
World Food Prize
roundtable event
, where representatives from four CGIAR centers discussed opportunities for increased investment in Latin America for developing innovations to improve global agriculture and agro-biodiversity.
The event was moderated by Natasha Santos, the Vice President of Global Stakeholders Strategy and Affairs for Bayer Crop Sciences. Speaking online from Brazil, Santos stressed the importance of private sector partnerships in Latin America for achieving sustainable growth and development.
Jesus Quintana, the Managing Director for the Americas, the Alliance of Bioversity International and CIAT opened the event with a short description of his organization's work with development finance to promote sustainable development in the Amazon. "With USAID," he said, "we are searching for business models that strengthen local innovations and social businesses to conserve biodiversity, including agri-food systems."
Picking up on the idea of agri-food systems, Bram Govaerts, Interim Deputy Director General, Director of Integrated Development and Representative for the Americas, International Maize and Wheat Improvement Center (CIMMYT), noted that the World Food Programme will receive the Nobel Peace Prize 50 years after Norman Borlaug – whose work was the inspiration for the CGIAR – became the first recipient of the prestigious award from the fields of food and agriculture. The span between awards, Govaerts said, serves as notice that much important work still remains in the fight against hunger and nutrition insecurity worldwide.
In this vein, Govaerts described CIMMYT's work with a program called AgroTutor, which delivers site-specific data and recommendations tailored to farmers' needs that help improve yields and facilitate more profitable market interactions.
The continuing mission to eradicate global hunger and promote development in the face of climate change can be uniquely addressed in the Andes, said Ginya Truitt Nakata, Regional Director for Latin America and the Caribbean, International Potato Center (CIP). Home to 85 of the world's 110 biological life zones, Truitt Nakata said CIP's Andean Initiative would use the mountains as a living laboratory for co-investigation of agricultural challenges with networks of smallholder farmers.
"The data and lessons we draw from these spaces will have application for farmers around the world," she said.
As the event centered around recent CGIAR innovations in Latin American, Ruben G. Echeverría, Senior Research Fellow, International Food Policy Research Institute (IFPRI), said the greatest need, system-wide, is the bottleneck of ideas and innovations prior to implementation. For this reason, IFPRI is developing project incubation facilities to scale up innovations for stronger, further-reaching impact with farmers. "This work requires partnerships with public and private finance to help transform our knowledge into impact for food systems," he said.
Following the short presentations, the roundtable opened a conversation that focused on the need for inclusiveness in research, private sector partnerships, and data collection supported by monitoring and learning.
"As the CG system, we are talking about participatory development with farmers – women, men and youth. It takes a little longer but the adoption rates [of innovation] are much higher," Truitt Nakata said.
Agriculture in Latin America, like other regions of the world, also struggles with "brain drain," losing talented young people to other sectors of the employment market. "So, when we talk about youth," Echeverría responded, "We need more than participation. It's about attracting young people to agricultural opportunities through IT and finance."
Focusing on the technical side of innovation, Govaerts and Quintana cited the need for improved use of data.
"We need to multi-purpose data and use monitoring in real time to ensure better return on investment," said Govaerts, "We need to know where we made progress and where we made mistakes." Quintana endorsed that sentiment, "Careful monitoring of projects should be the heart of collaborative work, to generate baselines so we can accurately measure our impact and make more responsible use of resources."
Given the wealth of ideas exchanged in the hour-long event, Marco Ferroni, the Chair of the CGIAR System Management Board, said the presentations showed the indispensable value of the region's to food system and agrobiodiversity research.
"Latin America is the world's largest food exporting region and important producer of ecosystem services that shape global weather patterns and climate… Motivated by the need to increase the scope of our impact, partnerships help us achieve critical mass in terms of data, analysis and delivery to stakeholders. For all these reasons, and others, Latin American food systems need and deserve policy attention and investment," Ferroni said.
FOR MORE INFORMATION AND MEDIA CONTACTS:
Bioversity/CIAT: Adriana Varón a.p.varon@cgiar.org
CIMMYT: Ricardo Curiel: r.curiel@cgiar.org
CIP: Viviana Infantas: v.infantas@cgiar.org
IFPRI: Katarlah Taylor: k.taylor@cgiar.org