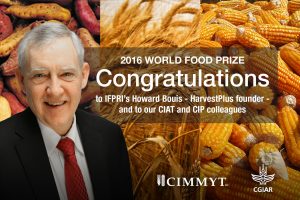 EL BATAN, Mexico (CIMMYT) — HarvestPlus director Howarth Bouis is one of four winners of the 2016  World Food Prize, honored for international research leading to a substantial increase in the availability of nutritious biofortified crops for millions of poor people.
Bouis was recognized specifically for pioneering work that established a multi-institutional approach to biofortification as a global plant breeding strategy, World Food Prize organizers said in a statement on Tuesday. The interdisciplinary, collaborative HarvestPlus program was launched in 2003 and is now part of the Agriculture for Nutrition and Health program managed by the CGIAR consortium of agricultural researchers.
Bouis, who works with the CGIAR International Food Policy Research Institute (IFPRI), has directed initiatives that have led to the release or testing of such crops as iron- and zinc-fortified beans, rice, wheat and pearl millet, along with vitamin A-enriched cassava, maize and the orange-fleshed sweet potato in more than 40 countries.
The three other laureates, Maria Andrade, Robert Mwanga and Jan Low of the CGIAR International Potato Center (CIP) are being recognized for work leading to the development of the biofortified orange-fleshed sweet potato. Andrade and Mwanga, plant scientists in Mozambique and Uganda, bred the Vitamin A-enriched potato using genetic material from CIP and other sources, while Low structured the nutrition studies and programs that convinced almost two million households in 10 separate African countries to plant, purchase and consume the nutritionally fortified food, the statement said.
Although orange-colored sweet potatoes are common in some parts of the world, in parts of Africa white sweet potatoes have historically been more typical. Breeding potatoes so they can synthesize more vitamin A means they can be grown in poor areas to benefit consumers and smallholder farmers who cannot afford to buy or grow food high in micronutrients.
Due to the combined efforts of the four World Food Prize laureates, more than 10 million people are now gaining nutritional benefits from biofortified crops, and the potential exists to benefit several hundred million more people in the coming decades, the statement said.
"The impact of the work of all four winners will be felt around the globe, but particularly in sub-Saharan Africa," said Kenneth Quinn, president of the World Food Prize. "It is particularly poignant that among our 2016 recipients are two African scientists who are working on solutions to tackle malnutrition in Africa, for Africa."
Some 2 billion people around the world suffer from micronutrient deficiency, which occurs when food does not provide enough vitamins and minerals, according to the World Health Organization. South Asia and sub-Saharan Africa are most affected by hidden hunger.
Andrade, Mwanga, Low and Bouis will receive the World Food Prize at a ceremony in Des Moines, Iowa, on October 13, the main event during the annual Borlaug Dialogue symposium. The late Nobel Peace Prize laureate, Norman Borlaug, a wheat breeder at the International Maize and Wheat Improvement Center (CIMMYT), established the World Food Prize 30 years ago.
CIMMYT scientists have won the prestigious award twice.  Evangelina Villegas and Surinder Vasal received it in 2000 for their work developing quality protein maize with an adequate balance of amino acids using biofortification techniques. They provided nutritional options for people with diets dominated by maize and with no adequate alternative source of protein.
Wheat breeder Sanjaya Rajaram, who worked with both CIMMYT and the CGIAR International Center for Agricultural Research in the Dry Areas (ICARDA), won in 2014 for producing a remarkable 480 wheat varieties, which produce yields that are estimated to feed more than 1 billion people a year.
HARVESTPLUS MAIZE AND WHEAT
While the orange sweet potato is a highlight, biofortified wheat and maize are part of the overall HarvestPlus success story, benefiting thousands of resource-poor farmers and consumers.
"This news shows that it is vital to keep up the fight and serves as encouragement for partners, collaborators and donors to pursue biofortification more vigorously to achieve greater global impact on food and nutritional security," said CIMMYT wheat breeder Velu Govindan.
CIMMYT maize and wheat scientists tackle micronutrient deficiency, or "hidden hunger," through HarvestPlus to help improve nutrition in poor communities where nutritional options are unavailable, limited or unaffordable. Micronutrient deficiency is characterized by iron-deficiency anemia, vitamin A and zinc deficiency.
The wheat component of the HarvestPlus program involves developing and distributing wheat varieties with high zinc levels.
"Breeding these varieties involves the use of diverse genetic resources, including wheat landraces, ancestors and wild relatives, with high genetic potential to accumulate zinc in the grain, which are combined with adapted wheat to obtain high-yielding varieties with high zinc grain concentration," said Carlos Guzman, head of the Wheat Chemistry and Quality Laboratory at CIMMYT, adding that such varieties have been shown to have higher iron values in grain than conventional varieties.
A project to develop superior wheat lines combining higher yield and high zinc concentrations in collaboration with national agriculture program partners in South Asia has led to new biofortified varieties 20 to 40 percent superior in grain zinc concentration, which are already available for farmers in India and Pakistan. Other national partners, such as Bolivia, are also close to releasing biofortified wheat varieties developed through collaboration with CIMMYT.
Additionally, a recent HarvestPlus study revealed that modern genomic tools such as genomic selection hold great potential for biofortification breeding to enhance zinc concentrations in wheat.
Scientists working with HarvestPlus have developed vitamin A-enriched "orange" maize. Orange maize is conventionally bred to provide higher levels of pro-vitamin A carotenoids, a natural plant pigment found in such orange foods as mangoes, carrots, pumpkins, sweet potatoes, dark leafy greens and meat, converted into vitamin A by the body.
Vitamin A is essential for good eyesight, growth and boosting immunity. Almost 200 million children under the age of 5 and 19 million pregnant women are vitamin A deficient, and increasing levels through maize kernels is an effective means of boosting it in the diet.
Maize breeders are currently working on developing varieties with 50 percent more pro-vitamin A than the first commercialized varieties released. In Zambia, Zimbawe and Malawi, 12 varieties, which are agronomically competititve and have about 8ppm provitamin A, have been released.
Provitamin A from maize is efficiently absorbed and converted into vitamin A in the body.  Stores of Vitamin A in 5 to 7 year old children improved when they ate orange maize, according to HarvestPlus research. The study also shows preliminary data demonstrating that children who ate orange maize for six months experienced an improved capacity of the eye to adjust to dim light. The findings indicate an improvement in night vision.
Researchers are also developing maize varieties high in zinc. Scientists expect the first high zinc hybrids and varieties will be released in 2017. Further efforts are starting in such countries as Zambia, Zimbabwe and Ethiopia. Results from the first nutrition studies in young rural Zambian children indicate that biofortified maize can meet zinc requirements and provide an effective dietary alternative to regular maize for the vulnerable population.