By Gurdev Singh/CIMMYT
Dr. Sanjaya Rajaram was on board a flight to New Delhi on 18 June when he was announced as the recipient of the 2014 World Food Prize (WFP). Upon landing, he was given a warm welcome by his close associates in India, Dr. O.P. Shringi and Sanjaya Chhabra of DCM Shriram Ltd. and others, who informed him of the official announcement. After spending some quality time with his family in his hometown of Varanasi, he had a completely new itinerary for his visit that involved several congratulatory events at agriculture-related institutes and organizations.
Rajaram has been working closely with DCM   Shriram Ltd. in New Delhi since 2005 on its wheat project. Sovan Chakrabarty, the business head and executive director, congratulated Rajaram in the traditional Indian way, with a shawl and a bouquet, in the presence of the Shriram Farm Solutions team members.­ Shringi said the firm took pride in being the first to receive and honor Rajaram after the official W­­­FP announcement. During the ceremony, Rajaram said he is a strong proponent of public-private partnerships for food security and increasing wheat productivity in India. He applauded Shriram Farm Solutions' excellent famer delivery mechanism and the progress it has made in developing and marketing new wheat varieties in a very short time.
At the request of Dr. R. R. Hanchinal, chairperson of Protection of Plant Varieties & Farmers' Rights Authority at the National Seed Institute of India, Rajaram attended a function at the National Agriculture Science Center Complex. Dr. S. Ayyappan, director general of the Indian Council of Agriculture Research (ICAR) and the chief guest, honored Rajaram as "the best living wheat scientist in the world today," and Hanchinal shared his achievements with a select group of scientists and authorities from Indian agricultural universities and institutions.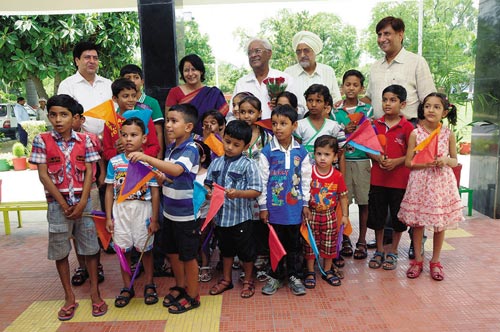 The Indian Agriculture Research Institute in New Delhi, where Rajaram earned his master's degree in genetics and plant breeding, also held a function. The director, Dr. H.S. Gupta, lauded Rajaram's contributions and congratulated him for being selected to receive the most prestigious prize in agriculture.
In a speech to several distinguished scientists, Rajaram emphasized the need to address the productivity problems in the eastern part of the Indo-Gangetic plains.
Rajaram has been a regular visitor at Punjab Agriculture University in Ludhiana, so the vice chancellor, Dr. B.S.  Dhillon, invited Rajaram to an event in his honor.  Dr. Darshan Singh Brar, former head of plant breeding, biotechnology and biochemistry at the International Rice Research Institute, and Dr. Gurdev Singh, a former professor at the university and adviser to DCM Shriram Ltd., were special guests. Rajaram took time to interact with the faculty, particularly Dr. Kuldeep Singh, director of biotechnology, and his Ph.D. students.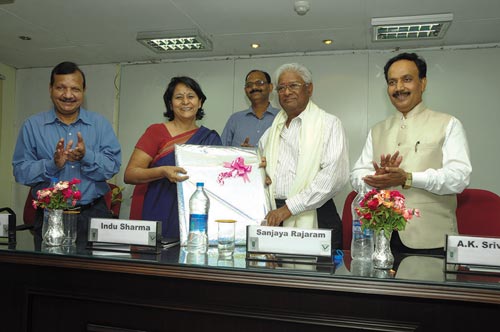 Dr. Indu Sharma, director of ICAR's Directorate of Wheat Research (DWR), organized a large event for Rajaram's visit to DWR on 27 June. Sharma joined a group of staff members' children to welcome Rajaram by waving flags, and then she shared some fond memories in a staff meeting of him interacting with Indian wheat scientists in the field.  The DWR staff gave Rajaram a standing ovation for his unparalleled contribution to wheat production, particularly in Asia. Dr. A.K. Srivastava, director of the National Dairy Research Institute in Karnal, offered hearty congratulations and opined that wheat varieties with slightly more biomass would be handy in providing much-needed fodder for milking animals.
Addressing the audience, Rajaram congratulated the Indian wheat researchers for achieving remarkable wheat production again this year, and he emphasized the need to develop human resources and train the younger generations to work hard in the fields in an interactive mode. He also discussed the important issue of post-harvest handling and storage facilities in India. He then planted a tree at DWR's new compound in Karnal.