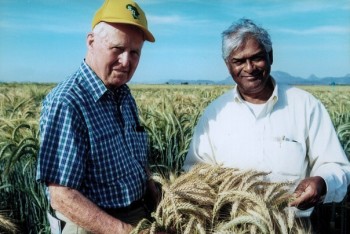 EL BATAN, Mexico (CIMMYT) — Scientist Sanjaya Rajaram, originally from a small farm in India's state of Uttar Pradesh, is now widely recognized by the international agriculture sector for his prolific contributions to food security and poverty alleviation.
He is credited with producing a remarkable 480 wheat varieties, which have boosted worldwide yields by more than 180 million metric tons (200 million tons). These increased yields provide food to more than 1 billion people each year.
The varieties Rajaram developed during his 40-year career have been released in 51 countries on six continents.
They are used by farmers with both large and small land holdings who rely on disease-resistant wheat adaptable to a range of climate conditions.
For those feats and more Rajaram is the 2014 World Food Prize laureate, an honor awarded each year to the person who does the most to advance human development by improving the quality, quantity or availability of food in the world. Rajaram received the award at the World Food Prize ceremony on October 16 in Des Moines, Iowa.
"Rajaram has made a massive contribution to food security – I doubt that one person will ever again be involved in the development of as many widely grown wheat varieties," said Hans Braun, director of the Global Wheat Program at the International Maize and Wheat Improvement Center (CIMMYT), where Rajaram worked for 33 years.
"As a former colleague once said: 'It's amazing what happens, when the 'Sultan of Wheat' puts his magic hands on a wheat line'," he added.
INTERESTS FLOURISH
Rajaram was born in 1943 on the 5-hectare (12 acre) farm in Raipur where his family eked out a living by producing wheat, rice, maize, sugarcane and millet.
His parents recognized Rajaram's intellectual potential and sent him to school 5 kilometers (3 miles) from home, which at the time was unusual in an area where 96 percent of people had no formal education.
Rajaram excelled scholastically and became the top-ranked student in his district. A state scholarship gave him the opportunity to attend high school, which led to his acceptance at the College of Jaunpur in the University of Gorakhpur, where he earned a Bachelor of Science in agriculture in 1962.
Afterwards Rajaram attended the Indian Agricultural Research Institute in New Delhi, graduating with a Master of Science in 1964.
Subsequently, he earned a doctorate in plant breeding at Australia's University of Sydney where he first made contact with the superstars of what became known as the "Green Revolution" – Norman Borlaug and Glenn Anderson, who were leading scientists at CIMMYT.
CIMMYT VARIETIES
Borlaug, who was from the United States, died in 2009 at age 95. He is known as the "Father of the Green Revolution" and he was awarded the Nobel Peace Prize in 1970. Borlaug is credited with saving 1 billion lives in the developing world — particularly in South Asia — as a result of the disease-resistant, high-yield semi-dwarf wheat varieties he developed.
Borlaug had also introduced similar innovations throughout Mexico – where CIMMYT is headquartered – leading to the country's self-sufficiency in wheat.
Anderson, a Canadian who died in 1981 at 57, was recruited by Borlaug to lead the major "Green Revolution" wheat improvement project in India. In 1971, Anderson became deputy director of the CIMMYT Wheat Program and then its director after Borlaug retired in 1979.
The two recruited Rajaram, who joined CIMMYT in 1969. He was appointed head of the wheat breeding team by Borlaug three years later. He set to work cross breeding select plant varieties, and the yield potential of his cultivars increased 20 to 25 percent.
"His technique was to cross winter and spring wheat varieties, which were distinct gene pools, leading to the development of higher yield plants that can be grown in a wide range of environments around the world," Braun said, adding that Rajaram's varieties were disease- and stress-resistant.
"The varieties he developed were eventually grown on a larger area than those developed by Borlaug."
His varieties could be planted in areas previously uninhabitable for wheat in China, India and in Brazil's acidic soils, for which he developed aluminum-tolerant wheat. Rajaram also developed wheat cultivars now grown on millions of hectares worldwide with durable resistance to rust diseases, which can devastate crops.
Rajaram spent eight years working for the International Center for Agricultural Research in the Dry Areas (ICARDA). At ICARDA, first as director of the Integrated Gene Management Program, then as special scientific advisor, he oversaw the promotion of new technologies to help farmers in the Central and West Asia and North Africa (CWANA) region.
He developed wheat improvement strategies to tackle some of the challenges facing wheat in dry areas, including stripe rust disease, which can spread quickly and have a devastating effect on wheat.
MENTOR TO MANY
"Rajaram's research not only led to enhanced productivity, but farmers also saw big increases in profits due to higher yields and disease resistance – they no longer had to buy expensive fungicides to protect their plots," said Ravi Singh, current head of wheat breeding at CIMMYT, one among many breeders Rajaram mentored.
Now a Mexican citizen and still a firm believer in the value of education, Rajaram continues his affiliation with CIMMYT, recently attending a "trainee wheat boot camp" for students from major wheat-growing nations.
"We know we need to double food production to feed the more than 9 billion people we're expecting by 2050," Rajaram said.
"Global objectives for food security can most definitely be met. However, we must be able to rely on guaranteed research funding from both the public and private sectors to address the many challenges we face, including decreasing land availability and erratic environmental changes related to climate change."
Wheat currently provides 20 percent of overall daily protein and calories consumed throughout the world. Production must grow 70 percent over the current amount by 2050, according to the international Wheat Initiative – an achievable goal if annual wheat yields are increased from a current level of below 1 percent to at least 1.7 percent.
Researchers at CIMMYT are aiming to develop resilient wheat varieties tolerant to the drought, heat, extreme wet and cold conditions anticipated by scientists to grow more extreme as mean annual temperatures continue to increase and weather patterns become more volatile.
Rajaram's great legacy was to give opportunities to newly graduated doctoral students, Singh said.
"He put us in charge of different parts of the breeding program each season, so we had to learn all aspects of the process for ourselves – we worked many long hours with him in the field developing confidence, which was very important for our professional careers."
Rajaram intends to put a portion of his World Food Prize winnings, valued at $250,000, into training and education programs.