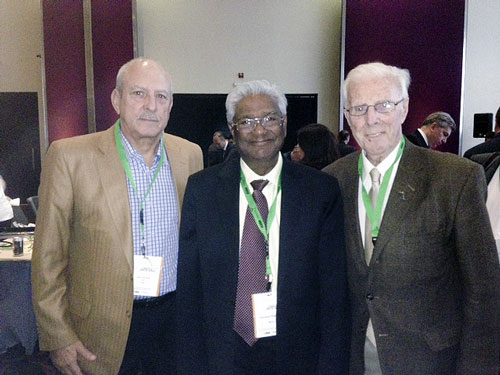 Sanjaya Rajaram, recipient of the 2014 World Food Prize, told more than 200 participants at the World Food Forum in Santiago, Chile, on 14 April, that he held hopes for a "second Green Revolution."
Speaking to an audience that included the Chilean Minister of Agriculture, Carlos Furche Guajardo, Rajaram talked about feeding the world's growing population and the challenges that farmers face to achieve this, which include rising temperatures and more extreme and erratic rainfall. Rajaram emphasized the importance of small-scale agriculture, genetically-modified crops and biofortified crop varieties to provide more nutritious food.
The event included a special recognition for Rajaram's outstanding work at CIMMYT, along with Dr. Norman Borlaug, to develop more than 500 wheat varieties.
The Forum was organized by CROPLIFE,whose members include Dow, FMC, DuPont, BASF, Bayer, Monsanto, Syngenta and Arista.