Conserving organic matter in soils improves vital nutrients in wheat, according to new study in Ethiopia. On World Food Day, CIMMYT Systems Agronomist Frédéric Baudron highlights the role of healthy soils as a tool for fighting malnutrition, in an article published on The Conversation.
The study by Baudron and Stephen A. Wood of The Nature Conservancy found that wheat grown on soils rich in organic matter, especially near the forest, had more essential nutrients like zinc and protein. Ethiopia faces varying levels of hidden hunger: a deficiency in vitamins and minerals in food, despite rising yields.
In Ethiopia and many low and middle-income countries, Nitrogen-based fertilizers are out of reach for farmers. But low-cost techniques like agroforestry, minimum tillage, and planting nitrogen-fixing legumes can help African farmers enhance soils, and have been successfully implemented in different African farming systems. The study found that wheat farms near forests had richer soils due to decomposing trees and plants, and more livestock manure, pointing to the benefits of an integrated approach.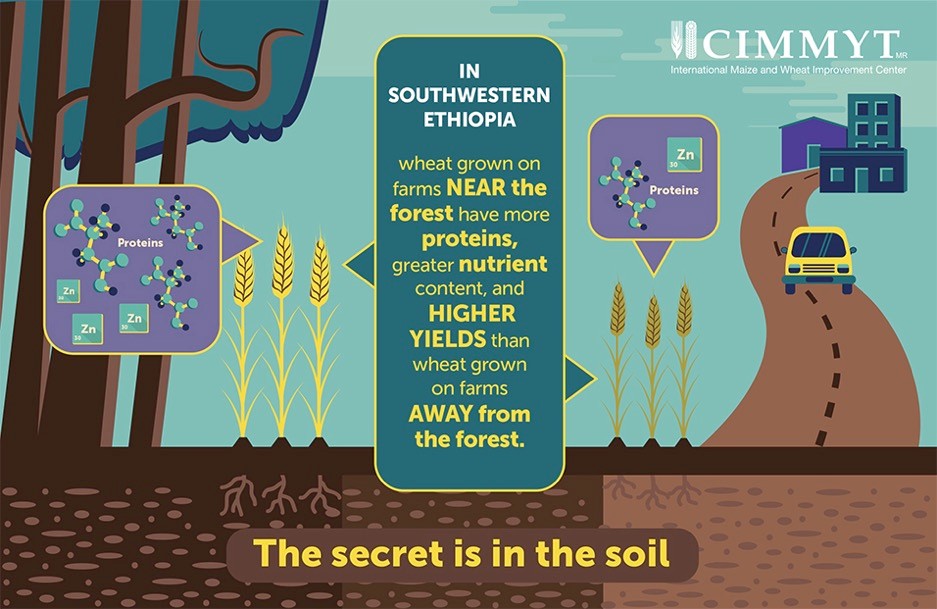 The researchers conclude that healthy soils are an important tool for "feeding the world well" and achieving Zero Hunger, one of the Sustainable Development Goals. "The finding offers a new solution in addressing growing malnutrition," writes Baudron.
Read the article: Study in Ethiopia links healthy soils to more nutritious cereals on The Conversation.
Original study: Wood SA and Baudron F. 2018. Soil organic matter underlies crop nutritional quality and productivity in smallholder agriculture. Agriculture, Ecosystems & Environment 266 (100-108). https://doi.org/10.1016/j.agee.2018.07.025