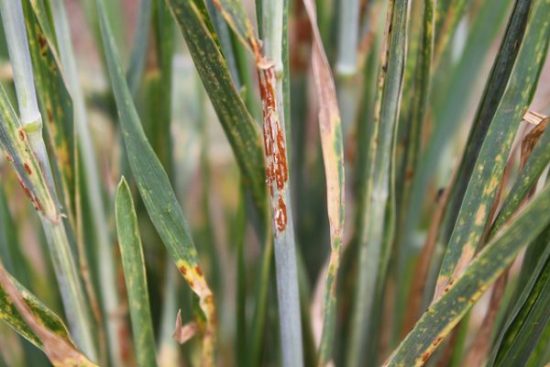 As reported today in Communications Biology, an international team of researchers led by the John Innes Centre, U.K., found that 80 percent of U.K. wheat varieties are susceptible to the deadly stem rust strain. The group also confirmed for the first time in many decades that the stem rust fungus was growing on barberry bush, the pathogen's alternate host, in the UK.
"This signals the rising threat of stem rust disease for wheat and barley production in Europe," said Dave Hodson, senior scientist at the International Maize and Wheat Improvement Center (CIMMYT) and co-author on the study.
A scourge of wheat since biblical times, stem rust caused major losses to North American wheat crops in the early 20th century. Stem rust disease was controlled for decades through the use of resistant wheat varieties bred in the 1950s by scientist Norman Borlaug and his colleagues. Widespread adoption of those varieties sparked the Green Revolution of the 1960s and 70s.
In 1999 a new, highly-virulent strain of the stem rust fungus emerged in eastern Africa. Spores of that strain and variants have spread rapidly and are threatening or overcoming the genetic resistance of many currently sown wheat varieties. Scientists worldwide joined forces in the early 2000s to develop new, resistant varieties and to monitor and control outbreaks of stem rust and yellow rust, as part of collaborations such as the Borlaug Global Rust Initiative led by Cornell University.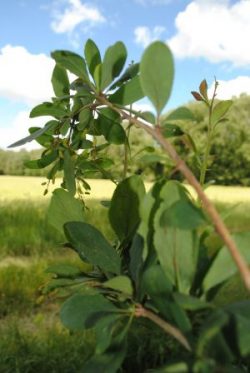 The Communications Biology study shows that 2013 U.K. stem rust strain is related to TKTTF, a fungal race first detected in Turkey that spread across the Middle East and recently into Europe. It was the dominant race in the 2013 stem rust outbreak in Germany and infected 10,000 hectares of wheat in Ethiopia's breadbasket the same year.
Because disease organisms mutate quickly to overcome crop resistance controlled by single genes, researchers are rushing to identify new resistance genes and to incorporate multiple genes into high-yielding varieties, according to Ravi Singh, CIMMYT wheat scientist who participated in the reported study.
"The greatest hope for achieving durable resistance to rust diseases is to make wheat's resistance genetically complex, combining several genes and resistance mechanisms," Singh explained.
Barberry, which serves as a spawning ground for the stem rust fungus, was largely eradicated from the U.K. and U.S. last century, greatly reducing the spread and genetic diversification of rust disease races. Now barberry is being grown again in the U.K. over the last decade, according to Diane G.O. Saunders, John Innes Centre scientist and co-author of the study.
"The late Nobel laureate Norman Borlaug said that the greatest ally of the pathogen is our short memory," Saunders stated. "We recommend continued, intensive resistance breeding. We would also welcome work with conservationists of endangered, barberry-dependent insect species to ensure that planting of common barberry occurs away from arable land, thus safeguarding European cereals from a large-scale re-emergence of wheat stem rust."
Click here to read the John Innes Centre media release about the Communications Biology report and view the report.