Following the spread of fall armyworm, crowdsourced data is powering a web-based application to help farmers in Bangladesh stay ahead of the crop pest.
The Fall Armyworm Monitor collects population, incidence and severity data, and guides pest management decisions. The web tool relies on information gathered by farmers using smartphones in their fields.
It was developed by the International Maize and Wheat Improvement Center (CIMMYT) in cooperation with Bangladesh's Department of Agricultural Extension, through the Fighting Back Against Fall Armyworm project, supported by USAID and Michigan State University.
When a foreign caterpillar first munched through Muhammad Hasan Ali's maize field during the winter 2018-2019 season, he was stumped as to what it was or how to manage it. All he knew was his harvest and the investment he made in growing his crop was at risk.
"I'd never seen this type of insect in previous seasons, but I soon learned from government extension workers it was the fall armyworm," explained Hasan Ali, a farmer from rural Chuadanga, in western Bangladesh. When poorly managed, fall armyworm can significantly reduce maize productivity.
Hasan Ali asked to join a training program, where he learned how to identify, monitor and control the spread of the invasive and voracious crop pest. The training, mainly tailored to extension staff, was facilitated by CIMMYT and Bangladesh's Department of Agricultural Extension.
Equipped to fight the pest
Extension staff and farmers gained valuable insights into different methods of control, including management of small and large patches of insect attack.
"I learned to identify fall armyworms in my field — and how to use hand picking methods and appropriate application of insecticide for control," said Hasan Ali.
Farmers also learned how to set up pheromone traps to monitor pest populations and to use smartphones to make data-driven integrated pest management decisions using a cloud-based monitoring platform.
Crowdsourced information on the movement of fall armyworm is essential for effectively monitoring its spread and is a pivotal step in its management, said CIMMYT Senior Scientist and Systems Agronomist Timothy Krupnik.
"Farmers in top maize growing regions are working with extension officers to monitor traps and report findings weekly by entering data into smartphones," Krupnik said.
Pheromones are natural compounds emitted by female moths to attract males for mating. Synthetic compounds that mimic natural fall armyworm pheromones are placed in traps to lure and capture male moths, after which extension agents count moths, enter, and upload data in their districts. At the time of writing, 649 staff from the Department of Agricultural Extension are reporting weekly moth count and pest damage data.
"Pest management practices are best when they are data-driven," Krupnik explained. "Having information on the geographical location, plant growth stage and severity of infestation provides an informed base from which appropriate decisions can be made, with the ultimate goal of reducing pesticide misuse."
"We are also excited as the data are open-access, and we are working to share them with FAO and other partners crucial in fall armyworm response," he added.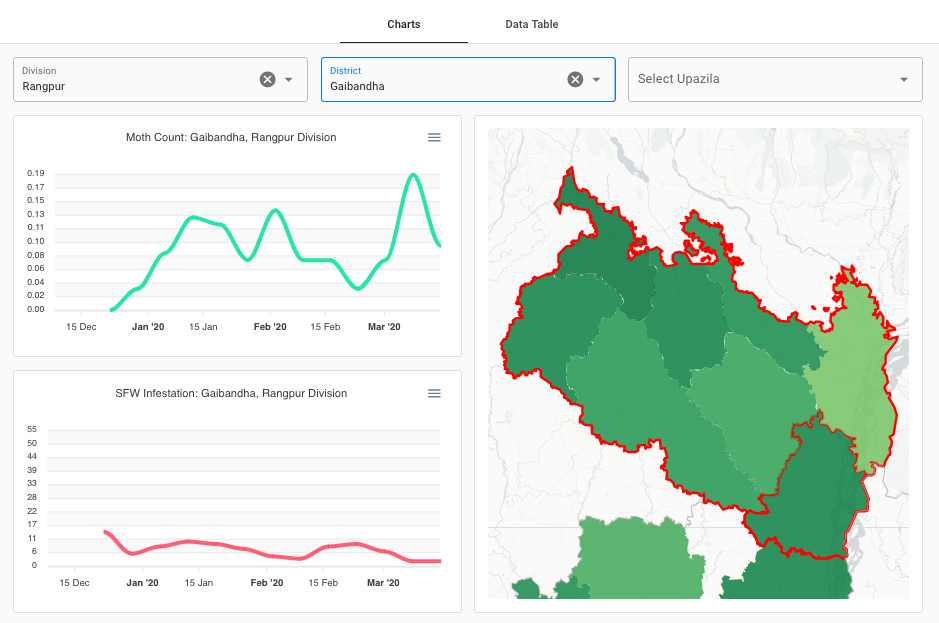 Data for better decisions
"The website hosts real-time data and depicts them graphically and in maps depending on user's preferences. This information — which was core to the training extension agents participated in — is key for integrated pest management strategies," explained Mutasim Billah, CIMMYT Data Specialist and the lead developer of the application.
"The department of extension services have employed 253 officers to visit fields with handheld smart devices in 25 districts to upload data," said Billah. "The online tool stores data entries in its server and calculates the aggregated value for division, district and sub-district level on a weekly basis, and shows the estimated values through charts and in tabular format."
The Fall Armyworm Monitor has become an essential tool for government officials to aid farmers in managing the pest which so far has been successful, said Bijoy Krishna Halder, additional Deputy Director of Plant Protection with the Bangladesh government.
"CIMMYT's web portal is a very efficient way to collect data from the field. Anyone can access the page to see the overall condition of infestation across the country,"said Krishna Halder. "I check the portal every week about the fall armyworm condition and now it shows that the infestation is low with the overall field conditions good."
The pest native to the Americas has become a global menace as it has spread attacking crops through Africa, and Asia, threatening the food and economic security of smallholder farmers.
Visit the Bangladesh Fall Armyworm Monitor.
The Fall Armyworm Monitor was created as part of the new Fighting Back Against Fall Armyworm in Bangladesh project is aligned with Michigan State University's Borlaug Higher Education for Agricultural Research and Development (BHEARD) program, which supports the long-term training of agricultural researchers in USAID's Feed the Future priority countries.