Hundreds of agricultural professionals in Bangladesh were trained in the latest fall armyworm management strategies as part of a new project that will strengthen efforts against this threat to farmers' income, food security, and health. The new project, Fighting Back Against Fall Armyworm, is supported by USAID and the University of Michigan.
As part of the project, last November over 450 representatives from government, nonprofits and the private sector participated in three-day training to learn how to identify, monitor and apply integrated pest management approaches.
Fall armyworm presents an important threat to farmers' income, food security and livelihoods as it continues to spread across the country, in addition to health risks if toxic insecticides are indiscriminately used, said Tim Krupnik, senior scientist and agronomist at the International Maize and Wheat Improvement Center (CIMMYT). It is anticipated the course participants will pass on knowledge about the pest and appropriate control practices to around 30,000 farmers in their respective localities.
"Participants were selected for their ability to reliably extend the strategies that can be sustainably implemented by maize farmers across the country," explained Krupnik. "The immersive training saw participants on their hands and knees learning how to scout, monitor and collect data on fall armyworm," he said. "They were also trained in alternatives to toxic chemical pesticides, and how and when to make decisions on biological control with parasitoids, bio-pesticides, and low-toxicity chemical pesticide use."
Following its ferocious spread across Africa from the Americas, fall armyworm first attacked farms in Bangladesh during the winter 2018-2019 season. Combined with highly apparent damage to leaves, its resilience to most chemical control methods has panicked farmers and led researchers to promote integrated pest management strategies.
In this context, the 22-month Fighting Back Against Fall Armyworm project will build the capacity of the public and private sector for effective fall armyworm mitigation.
The hungry caterpillar feeds on more than 80 plant species, but its preferred host is maize — a crop whose acreage is expanding faster than any other cereal in Bangladesh. The pest presents a peculiar challenge as it can disperse over 200 kilometers during its adult stage, laying thousands of eggs along its way.
Once settled on a plant, larvae burrow inside maize whorls or hide under leaves, where they are partially protected from pesticides. In a bid to limit fall armyworm damage, farmers' indiscriminate application of highly toxic and inappropriate insecticides can encourage the pest to develop resistance, while also presenting important risks to beneficial insects, farmers, and the environment.
Reaching every corner of the country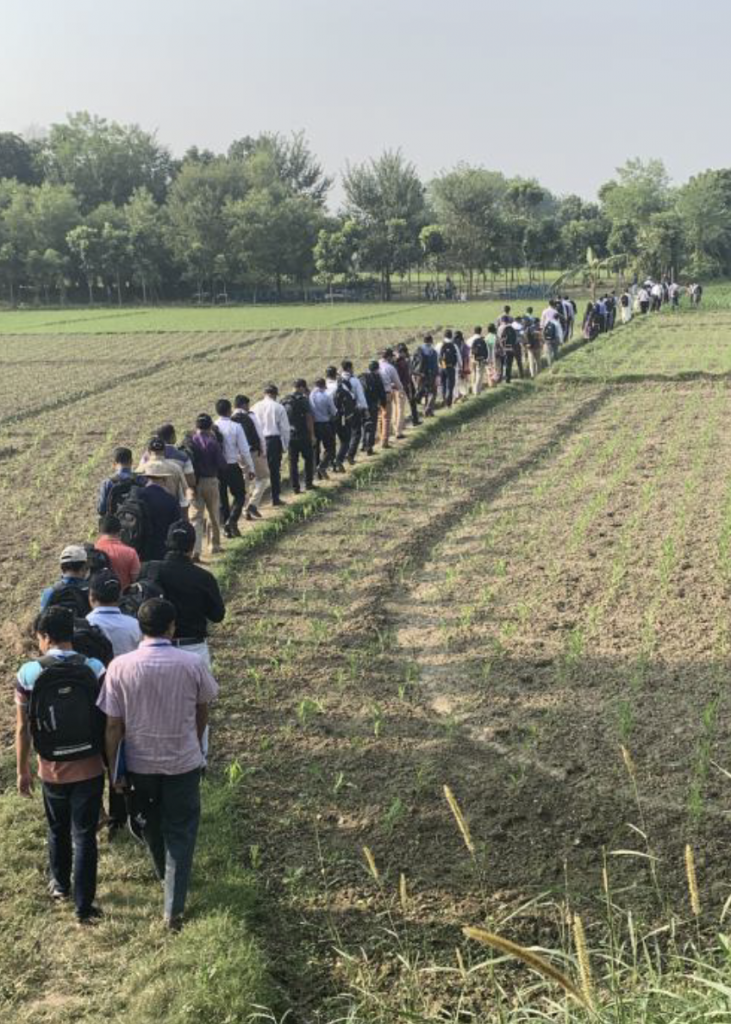 As part of the project, CIMMYT researchers supported Bangladesh's national Fall Armyworm Task Force to develop an online resource to map the spread of fall armyworm. Scientists are working with the Ministry of Agriculture to digitally collect real-time incidents of its spread to build evidence and gain further insight into the pest.
"Working with farmers and agricultural agencies to collect information on pest population and incidence will assist agricultural development planners, extension agents, and farmers to make informed management decisions," said Krupnik, who is leading the project.
A key objective is to support national partners to develop educational strategies to facilitate sustainable pest control while also addressing institutional issues needed for efficient response.
"In particular, the Government of Bangladesh has been extremely responsive about the fall armyworm infestation and outbreak. It developed and distributed two fact sheets — the first of which was done before fall armyworm arrived — in addition to arranging workshops throughout the country. Initiatives have been taken for quick registration of microbial pesticides and seed treatments," commented Syed Nurul Alam, Entomologist and Senior Consultant with CIMMYT.
"It is imperative that governmental extension agents are educated on sustainable ways to control the pest. In general, it is important to advise against the indiscriminate use of pesticides without first implementing alternative control measures, as this pest can build a resistance rendering many chemicals poorly effective," Krupnik pointed out.
To this end, the project also consciously engages members of the private sector — including pesticide and seed companies as well as agricultural dealers — to ensure they are able to best advise farmers on the nature of the pest and suggest sustainable and long-term solutions. To date, the project has advised over 755 agricultural dealers operating in impacted areas of Bangladesh, with another 1,000 being trained in January 2020.
Project researchers are also working alongside the private sector to trial seed treatment and biologically-based methods of pest control. Biocontrol sees researchers identify, release, and manage natural predators and parasitoids to the fall armyworm, while targeted and biologically-based pesticides are significantly less of a health risk for farmers, while also being effective.
The 22-month project, funded by USAID, has 6 key objectives:
Develop educational materials to aid in reaching audiences with information to improve understanding and management of fall armyworm.
Assist the Department of Agricultural Extension in deploying awareness raising and training campaigns.
Prepare the private sector for appropriate fall armyworm response.
Standing task force supported.
Generate data and evidence to guide integrated fall armyworm management.
The Fighting Back Against Fall Armyworm in Bangladesh project is aligned with Michigan State University's Borlaug Higher Education for Agricultural Research and Development (BHEARD) program, which supports the long-term training of agricultural researchers in USAID's Feed the Future priority countries.
To achieve synergies and scale, the project will also be supported in part by in-kind staff time and activities, through linkages to the third phase of the USAID-supported Cereal Systems Initiative for South Asia (CSISA), led by the International Maize and Wheat Improvement Centre (CIMMYT). CSISA and CIMMYT staff work very closely with Bangladesh's Department of Agricultural Extension and the Bangladesh Maize and Wheat Research Institute (BWMRI) in addition to other partners under the Ministry of Agriculture.