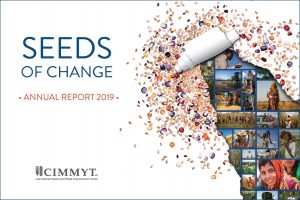 Read the web version of the Annual Report 2019

Download the Annual Report 2019 in PDF format 
Download the financial report 2019
In 2019, CIMMYT continued to perform groundbreaking crop research and forge powerful partnerships to combat hunger and climate change, preserve maize and wheat biodiversity, and respond to emerging pests and diseases.  
Bill Gates spoke about the "essential role of CGIAR research centers in feeding our future" and together with other stakeholders urged us to "do even better." In his Gates Notes blog, he highlighted the great example of CIMMYT's drought-tolerant maize, which helps resource-poor farmers withstand increasing climate risks. 
Over the course of the year, we supported our national partners to release 82 maize and 50 wheat varieties. More than 14,000 farmers, scientists, and technical workers across the world took part in over 900 training and capacity development activities. CIMMYT researchers published 386 peer-reviewed journal articles. 
In 2019, CIMMYT also marked the end of a decade of achievements in seed security. CIMMYT celebrated being the largest depositor at the Svalbard Global Seed Vault with 173,779 accessions from 131 countries. The most recent deposit included 15,231 samples of wheat and 332 samples of maize. 
Innovative solutions like DNA fingerprinting – a method used to identify individual plants by looking at unique patterns in their genome – brought state of the art research into farmer's fields, providing valuable insights into the diversity of wheat varieties grown in Afghanistan and Ethiopia.   
CIMMYT also continued to play a key role in the battle against fall armyworm, coordinating a global research-for–development consortium to build an evidence-based response against the pest in both Africa and Asia. 
Through the Cereal Systems Initiative for South Asia (CSISA), CIMMYT helped women find business opportunities and empowered female entrepreneurship with the help of mechanization solutions. 
The year 2019 showed us that while CIMMYT's work may begin with seeds, our innovations support farmers at all stages of the value chain. The year ahead will be a challenging one as we continue to adjust to the "new normal" of life under COVID-19.  We hope you enjoy this Annual Report as we look back on the exciting year that was 2019.   
Read the web version of the Annual Report 2019

Download the Annual Report 2019 in PDF format