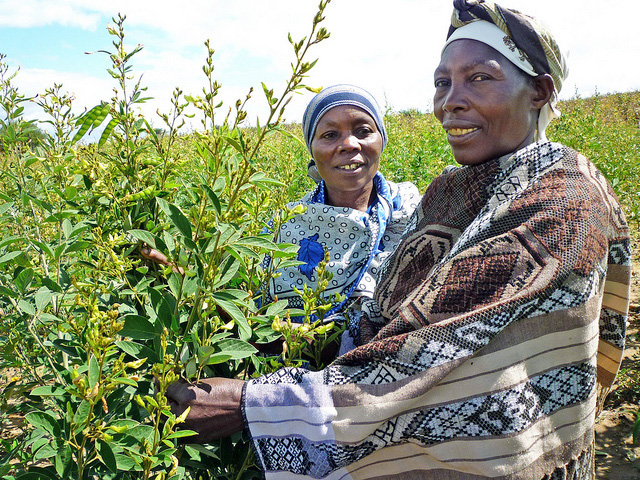 East and Southern African countries need to formulate and implement appropriate policies to help smallholder farmers access technologies that will enable them to increase farm yields and improve crop resilience and nutrition to address poverty, food security, and economic growth, renowned Zimbabwean agricultural economist and academic Mandivamba Rukuni told a high-level policy forum.
Delivering the keynote address at the SIMLESA policy forum co-organized by CIMMYT and the Association for Strengthening Agricultural Research in Eastern and Central Africa (ASARECA) in Entebbe, Uganda, on 27–28 October, Rukuni said this can only be achieved through a dramatic shift to help smallholder farmers produce sufficient food for themselves, plus generate income. "Such technologies include improved seed varieties and fertilizers, and better infrastructure, such as roads and small-scale irrigation,'' said Rukuni. SIMLESA is funded by the Australian Centre for International Agricultural Research (ACIAR) and implemented by CIMMYT.
The forum, whose theme was "Mobilizing policy action to scale-up best agricultural practices," was attended by the ministers of agriculture of Kenya (represented by Jacinta Ngwiri), Mozambique (Feliciano Mazuze), Rwanda (Charles Murekezi), Tanzania (Hussein Mansoor), and Uganda (Ambrose Agona).
Five challenges that stand in the way of wide-scale adoption of sustainable intensification and policy options were the subject of discussion: sustainable intensification of maize and legume production and livestock integration; building on social capital for collective action; facilitating access to key farm inputs; removing barriers to border trade; and containing maize lethal necrosis: current knowledge.
Fifty people participated, including researchers from CIMMYT, national agricultural research systems (NARS), ACIAR, international and regional non-governmental organizations, farmer associations, and private companies. The ministers pledged to support sustainable agricultural intensification and concurred that enhancing access to markets, extension services, and inputs is a fundamental policy issue that must be urgently addressed so farmers can reap more benefits from agriculture.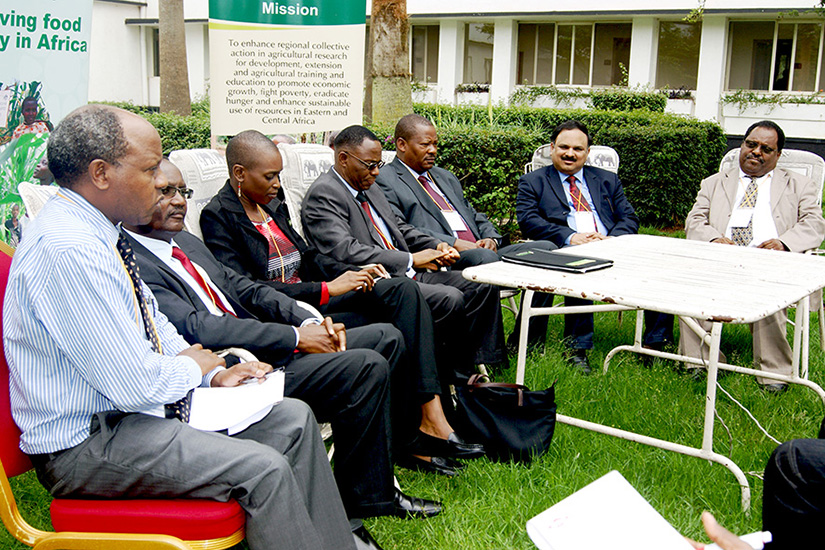 High on the agenda was formulating policies that would shape an agricultural market estimated to be worth billions of dollars. At the end of the two-day forum, the ministers acknowledged in a joint communiqué that the market faces many operational challenges. They also pledged to influence their governments to establish sound policies backed by evidence from agricultural research.
This means empowering smallholder farmers by giving them access to finance, better seeds and fertile soil, effective extension services, reliable markets, and supportive policies. Policymakers, the communiqué continued, can boost East and Southern Africa's agricultural development by removing hurdles that limit the productivity of women farmers relative to men. The five ministers pledged to support the establishment and implementation of effective, research-backed policies.
The representatives of the agriculture ministers expressed a continued commitment to the region's smallholder farmers including pushing for further progress under the African Union (AU)'s Comprehensive Africa Agriculture Development Programme. Launched 11 years ago by the AU in Maputo, Mozambique, and approved by African governments, the program calls on these governments to commit at least 10% of their annual national budgets to agriculture and reach 6% annual agricultural growth by 2015.
According to B.M. Prasanna, Director of the CGIAR Research Program MAIZE and CIMMYT's Global Maize Program, gone are the days when agricultural production in developing countries depended on multinational organizations. "Agriculture in East and Southern Africa continues to underperform because it is not giving farmers enough yield to feed themselves and get more to take to market,'' he told a media briefing parallel to the forum.
In East and Southern Africa, only 5% of the land is under irrigation, while 60% of Asia's farmland is irrigated. Improved seed varieties are not widely used in the region and only 40% of its overall yield potential is realized, according to the Food and Agriculture Organization of the United Nations (FAO).
Prasanna added that another threat to the region's development is maize lethal necrosis (MLN), a disease that cannot be ignored. "Effective policies and practices are needed to curb the spread and impact of MLN in Africa," he observed. "We need to focus on finding practical solutions to tackle this complex challenge, including strengthening MLN diagnostic and surveillance capacity while we continue inter-institutional efforts to develop and deploy improved maize varieties that incorporate MLN resistance." By producing and delivering healthy, MLN-free seed to farmers, the commercial seed sector also plays a key role. However, without agricultural transformation policies that endorse such basic technologies for smallholder farmers, the region's agriculture will continue to underperform.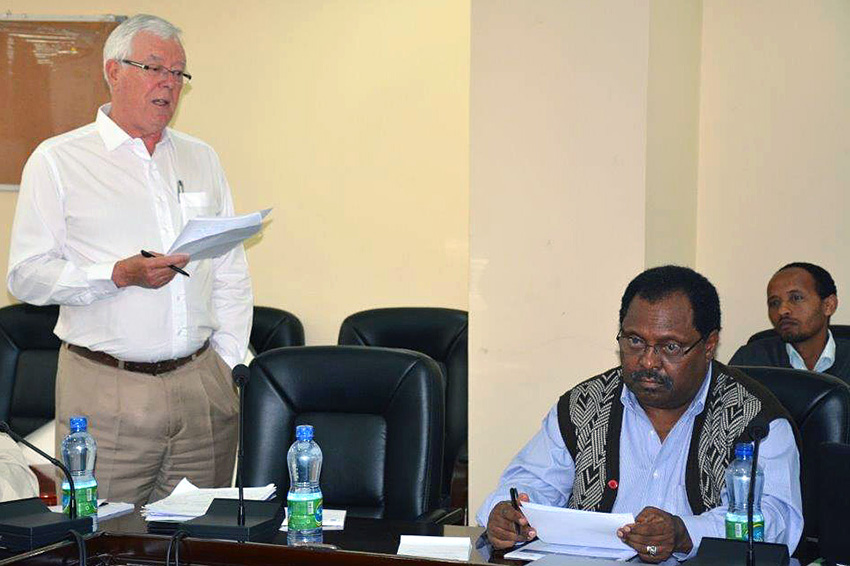 But there has been some progress. A few countries such as Ethiopia and Rwanda, for example, have managed to expand their agricultural sectors. They have witnessed a huge decrease in poverty, with Ethiopia reducing poverty rates by 49%. Ethiopia is investing more than 10% of its national budget in agriculture, in line with the Maputo Declaration of 2003.
SIMLESA project leader Mulugetta Mekuria urged researchers and socioeconomists to provide policymakers with factual information to facilitate the establishment of sound policies. By forging strategic, well-formulated partnerships, the region's smallholder farms stand to succeed as businesses connected to lucrative local, regional, and global markets.
But there are many obstacles along the way. For example, half of the region's population lives in extreme poverty, and more than 60% lives in remote rural areas where agriculture is the main economic activity. This is unlikely to change any time soon, strengthening the case for effective policies that will improve their lives.
Moreover, the projection is that between 2012 and 2050, the population in most sub-Saharan Africa will more than double, to 11.3 times its 1950 level. Research by FAO shows that growth in sub-Saharan Africa's agricultural sector reduces poverty 11 times more effectively than growth in other sectors.
Mekuria said food production is being hampered by climate change and called for agricultural technologies to help farmers adapt and cope with climate change impacts such as frequent droughts. At the media briefing, Mekuria explained that research results and tools aside, what is lacking is the political will and commitment to transform and make agriculture more productive and more resilient to climate change, thereby increasing food security.