By Ricardo Curiel
The Invest in LAC Agriculture campaign kicked off 13 May to encourage increased investment and unlock the grain production potential of Latin America and the Caribbean (LAC). The region is home to more than one-third of the world's freshwater resources and more than a quarter of its medium- to high-potential farmland.
Scaling up investments in agricultural development and research in LAC was one of the key policy recommendations of a groundbreaking report by the Inter-American Development Bank and the Global Harvest Initiative titled The Next Global Breadbasket: How Latin America Can Feed the World, released on 23 April (download the report here). This report illustrates the opportunities, obstacles and challenges that stand in the way of realizing LAC's agricultural potential, and how the public and private sectors can and must move forward together.
CIMMYT was among more than 30 partner organizations that contributed compelling evidence for policy action action and investment. In particular, CIMMYT shared its experience in improving extension services in Mexico by developing MasAgro-Móvil, a mobile information service that offers technical advice, grain price information and weather updates to more than 3,500 farmers who participate in the Sustainable Modernization of Traditional Agriculture (MasAgro) project.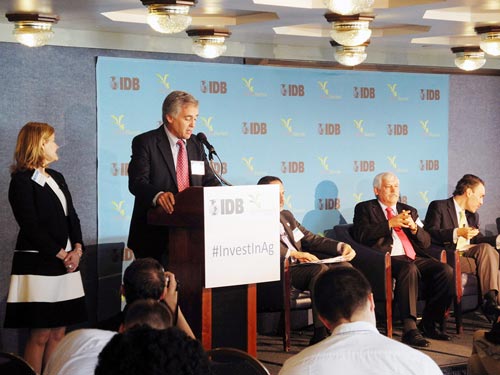 CIMMYT and the Mexican Agriculture Secretariat (SAGARPA) started MasAgro in 2010 to increase Mexico's maize and wheat productivity by developing improved maize seeds for rain-fed zones and promoting conservation practices among resource-constrained farmers, explained Bram Govaerts, associate director of the Global Conservation Agriculture Program, who represented CIMMYT at the launch event at the National Press Club in Washington, D.C.  MasAgro drew praise from the representatives of the partner institutions who spoke at the launch.
Ricardo Sánchez, sustainable food security director for Latin America of The Nature Conservancy, commended the collaboration for offering opportunities to young farmers who wish to earn their livelihood from agriculture. Philippe Villers, president of GrainPro Inc., said that Mexico and CIMMYT were at the forefront of the Green Revolution of the 1970s and that today their partnership is developing extension systems that effectively achieve yield increases and reduce post-harvest losses.
The LAC report was further discussed at an afternoon briefing attended by members of Congress and their staffs as well as representatives of the U.S. Department of Agriculture, the Agency for International Development, NGOs, foundations and think tanks, plus researchers and academics working in and for LAC.