HARARE — Several African nation ambassadors to Zimbabwe pledged to step up support for improved agriculture technologies during a visit to The International Maize and Wheat Improvement Center's (CIMMYT) Southern Africa Regional Office (CIMMYT-SARO) in Harare, Zimbabwe, in April.
The special field day and meeting, held as part of CIMMYT 50 celebrations, gave ambassadors from 12 African countries (Algeria, Botswana, Democratic Republic of Congo, Ethiopia, Namibia, Nigeria, Sudan, South Sudan, Tanzania, Uganda, South Africa and Zambia) the opportunity to learn about CIMMYT projects that are helping to strengthen food systems in sub-Saharan Africa and discuss future initiatives.
During the visit, the need to develop policies that promote smallholder farmers' access to technologies that enable them to increase yields and improve crop resilience in the face of challenges such as droughts, as well as policies to address poverty, food security and economic growth surfaced as main priorities for the countries represented.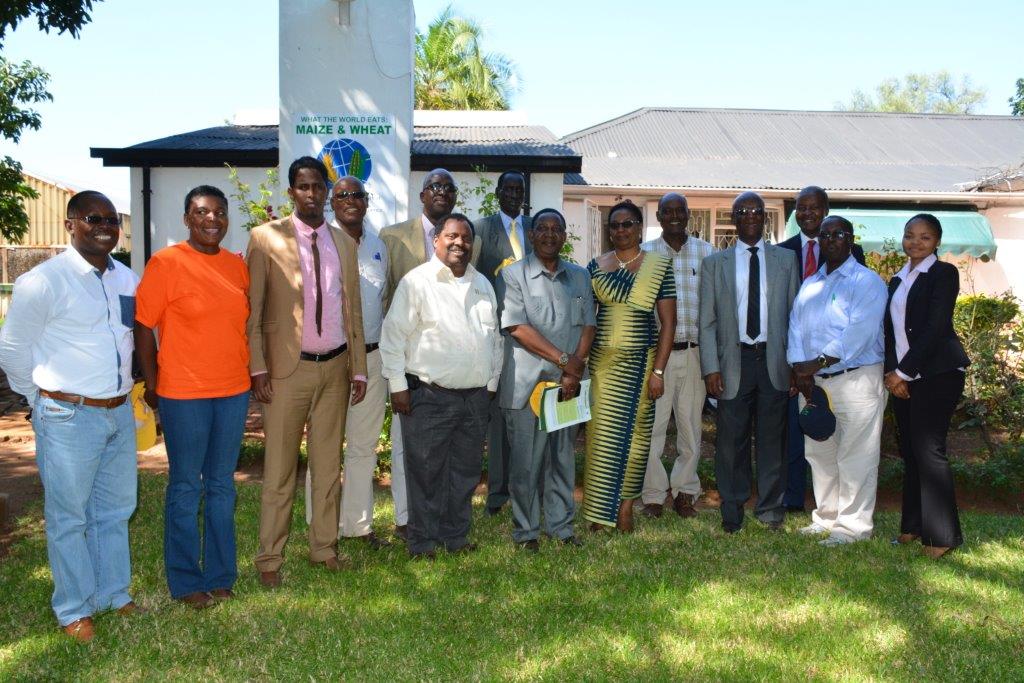 In his welcome address, Mulugetta Mekuria, CIMMYT-SARO regional representative, pointed out, "Sub-Saharan Africa's food security faces numerous challenges, but drought is the most devastating because our farmers rely on rainfed agriculture. As you will see, CIMMYT's work has created high-level impacts. But a host of challenges still hamper socioeconomic growth, such as reduced funding of agricultural research."
According to Mekuria, CIMMYT's work in sub-Saharan Africa aims to ensure farmers can access improved maize seed with drought tolerance and other relevant traits that contribute to higher, more stable yields, as well as technologies such as optimal fertilizer application. He noted that farmers in sub-Saharan African countries lag behind other regions in fertilizer application, applying, on average, less than 10 kg per hectare, which is 10 percent of the world average.
Another issue brought up was the lack of funding of agricultural research for development by most bilateral agencies on which African governments depend. The diplomats pledged to advise their governments of the need to increase support for improved agricultural technologies. They agreed that funding agricultural research work in line with the 2006 Abuja Declaration to allocate at least 1 percent of the donor country's gross domestic product to agricultural research is of the utmost importance. Enhancing access to markets, extension services and inputs and supporting women and youth in agriculture were also identified as fundamental policy issues that need to be urgently addressed. Strong partnerships and collaborative efforts between various African governments, CIMMYT and the private sector were also called for.
The ambassadors were briefed on CIMMYT's achievements in the region, and how, in partnership with national agricultural research systems  and private seed companies, they have released more than 200 drought-tolerant maize varieties that perform significantly better under moderate drought conditions than varieties already on the market, while yielding the same – or better – in a normal season. More than 6 million farmers in sub-Saharan Africa grow improved drought tolerant maize varieties developed by CIMMYT and partners.
A wide range of CIMMYT-SARO technologies were also showcased, including sustainable intensification strategies based on the principles of conservation agriculture. Compared to conventional cropping practices, conservation agriculture increases yields after two to five cropping seasons due to the combined benefits of minimum soil disturbance, crop residue retention and crop rotation. Conservation agriculture has been successfully promoted in Malawi, Mozambique, Zambia and Zimbabwe for the past 10 years. For example, yield increases of 20-60 percent were recorded in trials in farmers' fields in Malawi, while in Zambia and Zimbabwe, yields increased by almost 60% using animal traction innovation agriculture technologies.
Other technologies demonstrated were pro-vitamin A maize and quality protein maize. The diplomats learned that CIMMYT had released eight pro-vitamin A hybrids with 28% more vitamin A content in Zambia (4), Malawi (3) and Zimbabwe (1). On improved varieties, CIMMYT sent 823 seed shipments (1.3 million envelopes) to 835 institutions worldwide over the last four years.
"The success of our projects goes beyond the breeding work. Through the value chain approach, our work now is to ensure that seed companies and, ultimately, maize farmers benefit from the seed that is developed with their needs in mind. Getting drought-tolerant maize and other improved seeds to the markets and farmers is a critical next step," said James Gethi, CIMMYT seed systems specialist.