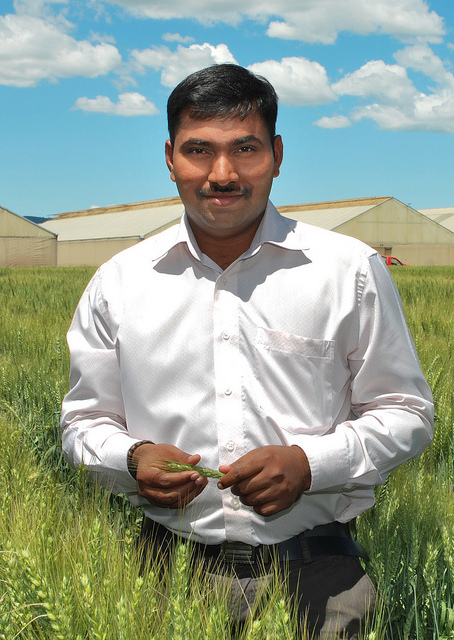 EL BATAN, Mexico (CIMMYT) – A scientist who has advanced the development of nutrient-rich millet and wheat varieties with higher yield potential, disease resistance and improved agronomic traits has won the 2016 Young Scientist Award for Agriculture presented by India's Society for Plant Research.
Velu Govindan, a wheat breeder from India working with the HarvestPlus project at the International Maize and Wheat Improvement Center (CIMMYT), received the award last week for high-yielding, nutritious wheat varieties tolerant to rust diseases and climate change-induced heat and drought stress.
"I'm so honored," said Govindan. "It's a terrific vote of confidence for the work we're doing at CIMMYT and through HarvestPlus to develop nutritious staple crops that significantly reduce hidden hunger and help millions of people lead better, more productive lives in the global south."
CIMMYT scientists tackle micronutrient deficiency or "hidden hunger" by biofortifying crops to boost nutrition in poor communities where nutritional options are unavailable, limited or unaffordable. About 2 billion people worldwide suffer from hidden hunger, which is characterized by iron-deficiency anemia, vitamin A and zinc deficiency.
The wheat component of HarvestPlus, which is part of the Agriculture for Nutrition and Health program managed by the CGIAR global agricultural research project, involves developing and distributing wheat varieties with high zinc levels.
Govindan has been actively involved in the recently released wheat variety Zinc Shakthi – meaning "more power" – which has been adopted by some 50,000 smallholder farmers in India. In addition, two new varieties are projected soon to be widely adopted throughout the fertile northwestern Indo-Gangetic Plains of India.
"We've released 'best bet' varieties in India and Pakistan to ensure fast-track adoption of high zinc wheat," Govindan said. "Farmers are adopting it, not only for its nutritional benefit, but also for its superior agronomic features like competitive yield, rust resistance and other farmer preferred traits."
Before joining CIMMYT eight years ago, Govindan worked at the International Crops Institute for the Semi-Arid Tropics (ICRISAT), where he initiated the development of an iron-rich pearl millet called Dhanashakti – meaning "prosperity and strength" – which was commercialized in 2012 in the Indian state of Maharashtra, where it is now used by more than 100,000 smallholder farmers.
In addition to his primary responsibility of breeding nutrient-rich wheat varieties, Govindan works with the Global Wheat Program's spring wheat breeding team at CIMMYT. The spring bread wheat program develops high yielding and climate resilient varieties, which are distributed to more than 80 countries in the wheat growing regions of the developing world.
Through its annual awards ceremony, the Society for Plant Research, which has also produced the international journal Vegetos since 1988, recognizes individual contributions from across a broad spectrum of plant-based research, including agriculture, biotechnology, industrial botany and basic plant sciences.