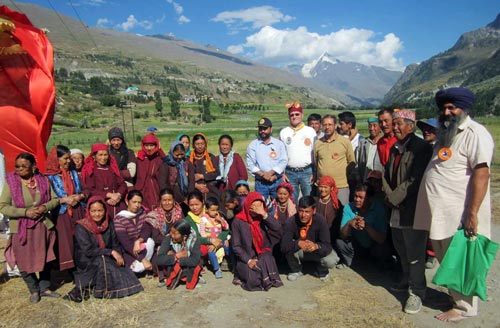 Public and private sector partners in HarvestPlus' biofortified wheat research and dissemination network in South Asia got together at ICRISAT, Hyderabad, on 10-11 September to discuss progress on breeding research, producing seed for target populations, and strategies for accelerating seed production and fast-tracking commercialization of biofortified zinc-rich wheat varieties.
Partners from India, Nepal, Bangladesh and Pakistan, as well as delegates from the Indian Council of Agricultural Research (ICAR), various state agricultural universities, NGOs, small and medium-size private seed companies, processors, millers, and progressive farmers discussed topics such as critical gaps and opportunities in outreach strategies, priority upscaling interventions, and policy incentives for fast-track adoption of improved high Zn wheat varieties.
ICAR Deputy Director General (Crop Science) J.S. Sandhu inaugurated the workshop with a formal presentation on India's Consortia Research Platforms (CRP) for improving nutritional quality of major staples and emphasized the extraordinary nutritional challenges that country faces, e.g., some of the highest rates of childhood stunting and malnutrition in the world. Wolfgang Pfeiffer, HarvestPlus Director (Product Development and Deployment), highlighted the success of HarvestPlus partners in disseminating nutrient-dense wheat, reaching 50,000 farm households and providing biofortified wheat to a quarter of a million household members by 2015. Parminder Virk, Product Development Manager at HarvestPlus, urged participants to set up a fast-track commercialization pipeline to enable nutrient rich wheat varieties to reach smallholder farmers fast.
CIMMYT Wheat Breeder Velu Govindan discussed advances in the development of competitive high Zn wheat germplasm at CIMMYT, Mexico, to satisfy the needs of national program partners, while Arun Joshi, Senior Wheat Breeder, CIMMYT-South Asia, emphasized the crucial role of public and private sector partners in ensuring farmers have rapid and long-term access to nutrient rich wheat seed. Ravish Chatrath, IIWBR, summarized the results of a special biofortified wheat trial conducted across locations in India.

V.K. Mishra, Banaras Hindu University, reported that farmer-participatory varietal selection trials have enabled the identification and release of competitive high Zn wheat varieties for fast-track commercialization in the eastern Gangetic Plains (EGP) of India. The new varieties are not only nutritionally superior, but also drought tolerant and resistant to rusts and other foliar diseases. They are being commercialized in India as truthfully-labeled seed under different names by private companies and farmers' seed production networks.