Scientists part of the Seed Production Technology for Africa (SPTA) and the Maize Lethal Necrosis Gene Editing projects are leveraging innovative technologies to transform seed production systems and speed up the delivery of disease resistance in elite new hybrids. This research is helping smallholder farmers in sub-Saharan Africa to access high-quality seed of new hybrids that were bred to perform under stressful low-input, drought-prone conditions, including farming regions impacted by maize lethal necrosis (MLN).
Fast delivery of MLN-tolerant varieties
The fight against maize lethal necrosis (MLN) has persisted for almost ten years now.
Collaborative efforts in diagnostics, management and systematic surveillance have limited its spread and confined the disease to the eastern Africa region. However, ongoing work is required to efficiently develop MLN-tolerant varieties for smallholders in endemic areas and prepare for the potential further movement of the disease.
"Maize lethal necrosis still exists. It has not been eradicated. Even though it has reduced in its prevalence and impact, it is still present and is a latent threat in Ethiopia, Kenya, Rwanda, Tanzania and Uganda, with potential to spread further," said B.M. Prasanna, director of CIMMYT's Global Maize Program and the CGIAR Research Program on Maize.
"That is why the work of the gene editing project is critical to rapidly change the genetic component of those susceptible parent lines of popular hybrids into MLN-tolerant versions," said Prasanna. Scientists will edit the four parent lines of two popular hybrids, currently grown by farmers in Kenya and Uganda, which are susceptible to MLN. The edited MLN-tolerant lines will be used to make MLN-tolerant versions of these drought-tolerant hybrids.
Through gene editing technology, the time it takes to develop hybrids using traditional breeding methods will be cut in half. By 2025, the edited MLN-tolerant hybrids will be available for planting on approximately 40,000 hectares by about 20,000 Kenyan farmers.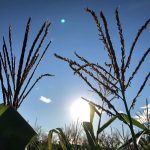 Business as unusual
The unique seed production technology developed by Corteva Agriscience seeks to transform the seed production process in sub-Saharan Africa. This technology utilizes a dominant non-pollen producing maize gene to create female plants that are unable to produce pollen.
Seed companies that use seed production technology eliminate the need to detassel the female parent: a manual process through which tassels are removed from plants to prevent self-pollination and ensure that the intended male parent is the only source of pollen in the hybrid seed production field. Targeted small and medium-size seed companies could make significant savings to the cost of production if they were to eliminate manual detasseling. The method also helps to ensure the purity of the hybrid seed by removing the risk of unintentional self-pollination.
Hybrids produced using the seed production technology, characterized as 50 percent non-pollen producing (FNP), are unique since only half of the plants will produce pollen in the field. FNP hybrids re-allocate energy from the tassel and pollen production to grain formation, thus delivering an additional 200 kilograms per hectare yield advantage to the farmer. This represents a 10 percent productivity boost for farmers who will harvest approximately 2 tons per hectare, the average maize yield across sub-Saharan Africa. Farmers engaged in participatory research have demonstrated preference for FNP hybrids and associate the trait with higher yield and larger ear size.
As the first phase of Seed Production Technology for Africa (SPTA) wraps up, the collaborators are preparing for the next phase that will focus on commercializing, scaling up and increasing smallholders' access to FNP. "This is among the unique partnerships funded by the foundation and I am hopeful that this incredible work will continue through the next phase," said Gary Atlin, program officer at the Bill & Melinda Gates Foundation.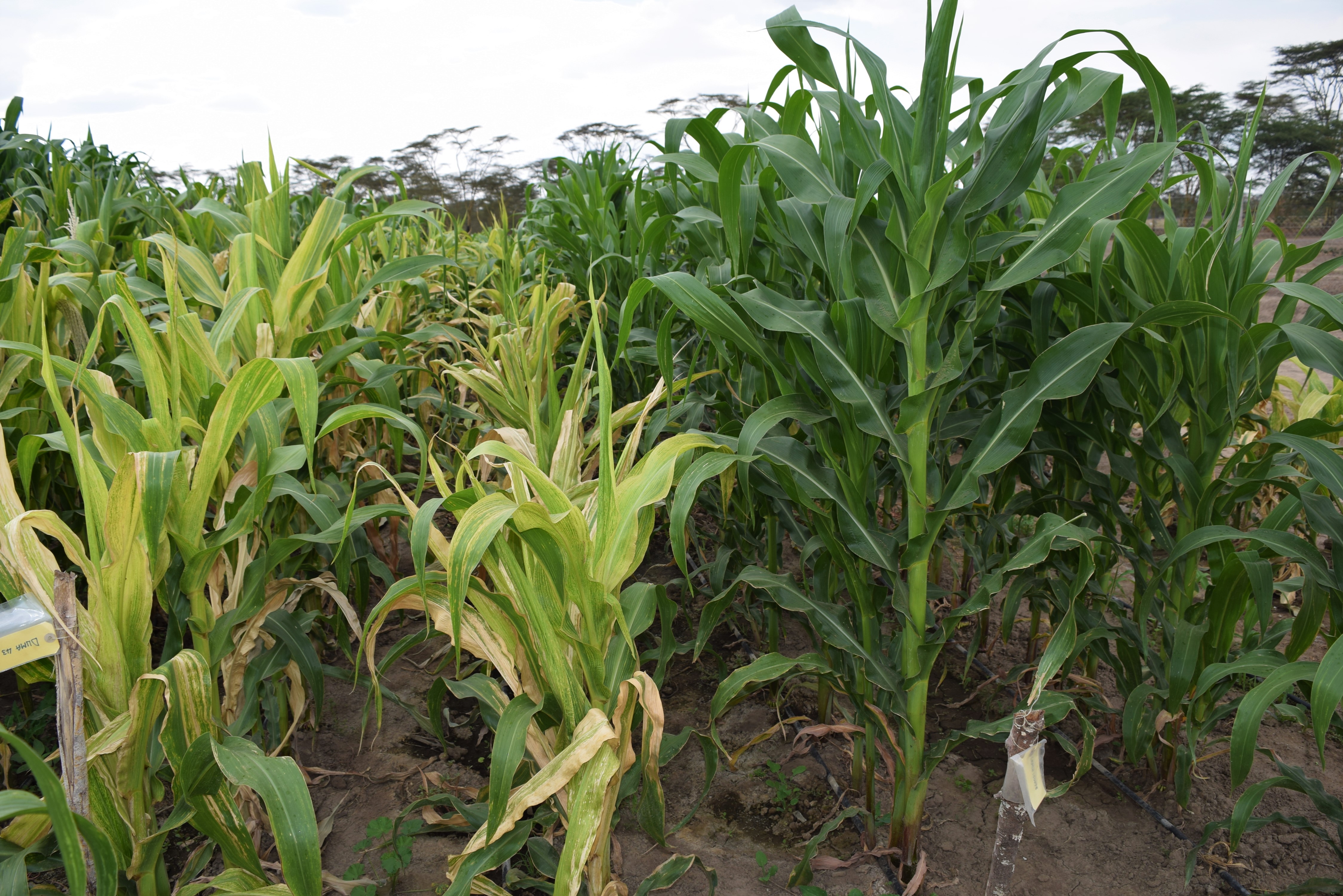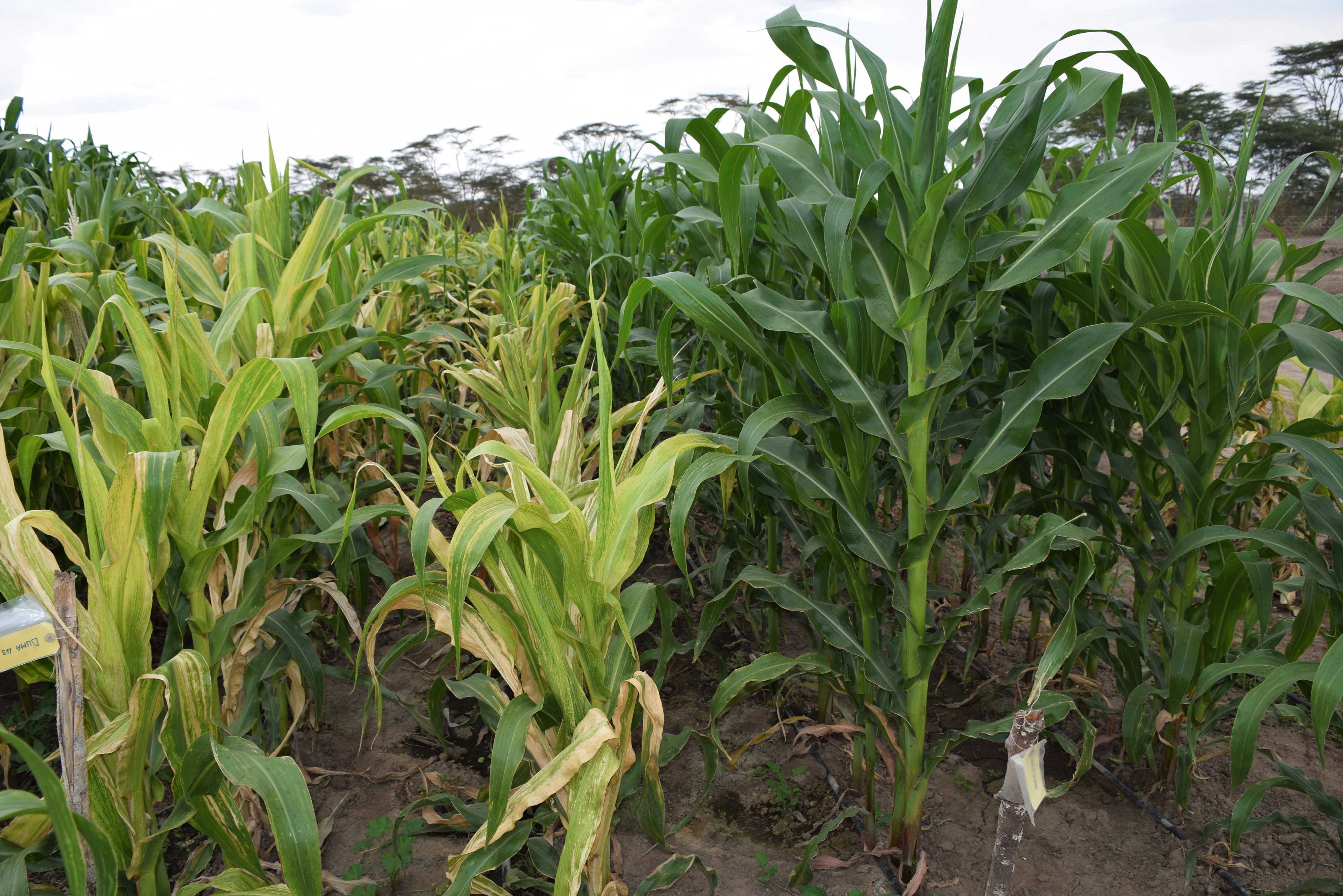 A win-win collaboration
Research and development work under the SPTA and the MLN Gene Editing projects has immensely benefited from the support of public and private partners. Seed companies and national institutions have contributed to improving access to and knowledge of these technologies as well as creating a crucial link with farmers. Ongoing engagement with regulatory agencies through the different stages of the projects ensures transparency and fosters understanding.
In order to assess the progress of these two initiatives, representatives from regulatory agencies, seed trade associations, seed companies, national agricultural institutions and funders came together for a virtual meeting that was hosted on July 29, 2020.
"KALRO embraces partnerships such as those that are delivering these two projects. That synergy helps us to resolve challenges faced by farmers and other actors in various agricultural value chains," observed Felister Makini, deputy director general of Crops at KALRO.
As the primary technology provider, Corteva Agriscience provides the seed production technology system on a royalty-free basis and grants access to key gene editing technologies, which are the foundation for the two projects. Corteva Agriscience is also actively involved in project execution through collaborative scientific support.
"We have appreciated the opportunity to work with CIMMYT, KARLO, Agricultural Research Council (ARC) of South Africa and the Bill & Melinda Gates Foundation to bring some of the technologies and tools from Corteva to address significant challenges facing smallholder farmers in Africa. We could not have done this alone, it requires the partnerships that exist here to bring forth these solutions," said Kevin Diehl, director of the Global Seed Regulatory Platform at Corteva Agriscience.