SUPPORTING THE CONNECTIVITY OF RESEARCH, EDUCATION AND OPPORTUNITIES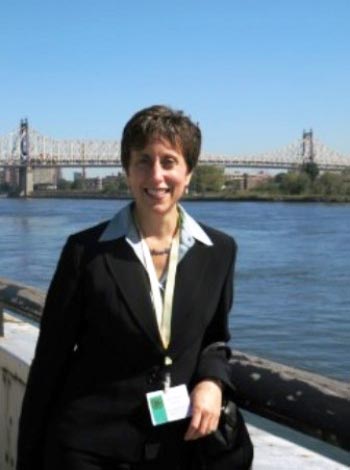 International Women's Day on March 8, offers an opportunity to recognize the achievements of women worldwide. This year, CIMMYT asked readers to submit stories about women they admire for their selfless dedication to either maize or wheat. In the following story, Amy Braun writes about her Super Woman of maize and wheat, Kellogg Company's Diane Holdorf.
Diane Holdorf is a super woman and an inspiration to all of us at Kellogg Company. As Chief Sustainability Officer and Vice President of Environmental Stewardship, Health and Safety at Kellogg, Diane has been the inspiration and force behind the expansion of the company's global sustainability commitments to include specific goals supporting smallholders around the world as part of new public commitments for 2020.
She has also been an ambassador for responsible sourcing and sustainable agriculture within the company, and has done a tremendous job raising awareness with Kellogg employees and leaders on the important role that smallholders, and women in particular, play in food security within their communities.
Under her leadership, Kellogg also commissioned a study in 2014 to assess how the company's supply chain could improve the productivity and livelihoods of some smallholders around the globe. Soon afterwards, she traveled with Kellogg's CEO, to attend the U.N. Secretary General's Climate Summit in New York City to make a public statement committing to support 15,000 smallholders adopt climate-smart agriculture practices by 2020.
Climate-smart agriculture can help improve livelihoods and boost climate resiliency.
Kellogg currently supports 65,000 smallholder farmer livelihoods across their 10 priority ingredients through the market. Statistics show that women represent an average of 41 percent of workers on smallholder farms and 11 percent of farm managers or owners, according to a 2015 report.
Diane is a passionate leader for sustainability. With her muddy boots, she spreads her passion to inspire an entire company. Her drive, communication skills and leadership has caused Kellogg not only to meet overall objectives, but she has also infected leaders and employees with a clear understanding that sustainability matters.
Diane has gone beyond the call of duty, demonstrating that a sound sustainability strategy is a tool that adds value to the company and consumers. Specifically, Diane has broadened Kellogg Company's engagement on agricultural supply chains, with exceptional leadership related to wheat, maize and rice smallholders.
She has brought cross-functional teams to Thailand, Ghana, India and Mexico to learn about how these growers work – and to inspire us to find ways to work with research teams like the International Maize and Wheat Improvement Center (CIMMYT), the International Rice Research Institute (IRRI) and others to share our knowledge and technologies.
In fact, she led the team that brought quinoa growers from Bolivia to the United States to represent the only indigenous voice at the International Year of Quinoa Research Symposium.
As a member of the University of Michigan Graham Sustainability Institute's advisory board, she supports the connectivity of sustainability research, education and real-world opportunities.
Through various partnerships with CIMMYT, IRRI, Field to Market and industry associations, as well as with the United Nations, she fosters the collaboration needed to bring agriculture to the forefront of science and policy.
Well-respected by her peers in industry and non-governmental organizations, she is and will continue to be a super woman due to her dedication to sustainability and food.
Without her leadership, we would not be able to do the work we do with the thousands and thousands of smallholders around the world.
Any views expressed in this article are those of the author and not of the International Maize and Wheat Improvement Center.