Hybrid seeds exhibit a significant potential to boost on-farm productivity and attain food security. Still, the availability, affordability and accessibility of such quality seeds remain a challenge for farmers in South Asia. Primarily driven by the demand from the poultry industry, maize productivity in the region is increasing annually. Yet, the hybrid maize seed coverage is below 50% in most South Asian countries.
In continuation of its capacity-building initiatives, the International Maize and Wheat Improvement Center (CIMMYT) conducted an International Training Workshop on Quality Hybrid Maize Seed Production and Seed Business Management in South Asia on August 15-18, 2022, in Kathmandu, Nepal. The four-day hybrid training was jointly organized by Nepal's Seed Quality Control Center, Nepal Agricultural Research Council (NARC), Seed Entrepreneurs' Association of Nepal and CGIAR's Seed Equal Initiative. Primarily, the event aimed at strengthening the capacity of seed stakeholders on the latest advances in quality hybrid maize seed production and establishing competitive hybrid seed business strategies.
Around 60 participants comprising of private seed company owners, national and international seed system specialists, maize breeders, crop inspectors, seed agronomists, marketers, policymakers and researchers working in hybrid seed production and marketing attended the training. Representatives were invited from Nepal, India, Bangladesh and Pakistan.
Principal trainer, John MacRobert, shared examples and knowledge in the principles of hybrid maize seed production and seed business. Former principal scientist of CIMMYT, MacRobert is currently the managing director of Mukushi Seeds Pvt Ltd in Zimbabwe and director of Quality Seed Pvt Ltd in South Africa. The training also involved group discussions and exercises on preparing a seed road map as well as developing profitable seed business plans. The participants used a seed business model canvas tool to chart their production plans, develop marketing strategies and diagnose profit. In 2018, MacRobert trained 15 private seed companies from Nepal and Pakistan on hybrid seed business mentorship course in Kathmandu. Since then, the participants brought in and shared rich practical experiences from their own businesses and regulatory organizations during this year's program.
Joining MacRobert were 14 national and international experts from CIMMYT and other institutions, who delivered sessions related to hybrid maize breeding principles and techniques, seed quality control measures and regulations, and variety registration and licensing policies and procedures.
The forum offered an excellent learning opportunity for the national and international participants to exchange knowledge and experiences from seed specialists on developing competitive hybrid maize and seed production technologies that will bring cost-efficiency in production and maximize crop yields and business profits. It also served as a ground for establishing networks and collaborations. The mutual learnings will contribute to building national and regional partnerships in the seed sector.
Participants reflected on the learnings and benefits gained from the comprehensive course, which they would apply to improve maize productivity in their respective countries.
Muhammad Aslam, assistant professor from the University of Agriculture Faisalabad in Pakistan, acknowledged the opportunity provided to him and his university. He mentioned the support of CIMMYT in Pakistan in strengthening the local maize seed industry, where the market share of local seed companies is gradually increasing due to the elite germplasm support and capacity development efforts by CIMMYT. He added that the practical knowledge gained from the training will enhance the university students' skills.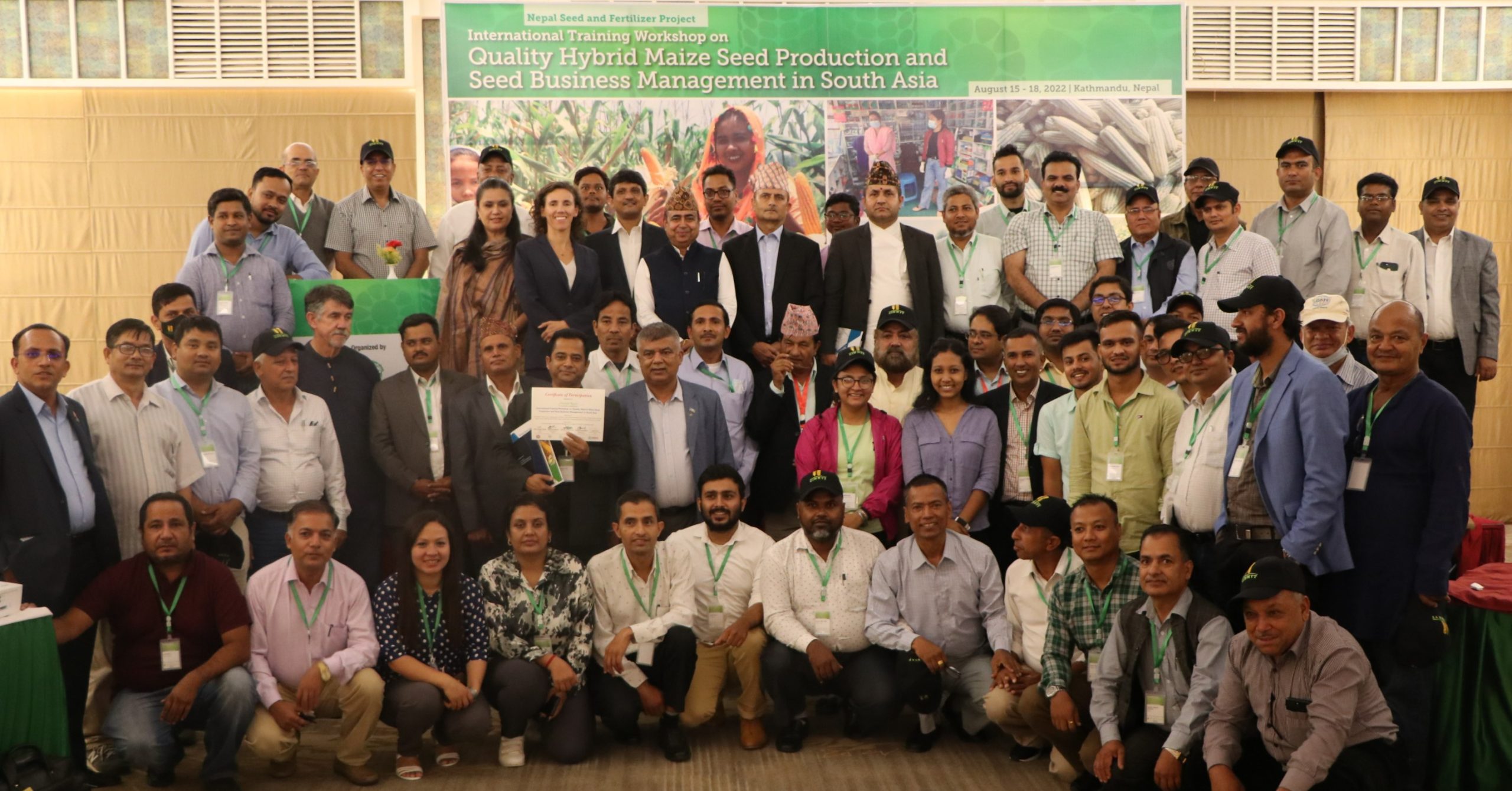 An ode to seeds
During the closing session of the training, Govinda Prasad Sharma, Secretary of the Ministry of Agriculture and Livestock, handed over diverse maize seeds to the NARC and seven private seed company partners of the Nepal Seed and Fertilizer (NSAF) project. CIMMYT acquired the elite maize parental lines and breeder seeds from its international maize breeding hubs in Mexico, Zimbabwe, Colombia and India. The seeds have the potential of yielding 6-7 metric tons per hectare for synthetics and more than 10 metric tons for hybrids–a significant increase from 3-5 metric tons of local seeds. More importantly, given the current climate challenges Nepali farmers are facing, these climate-resilient seeds reach maturity earlier than local varieties which reduces their exposure to drought. These seeds will also withstand Fall Armyworm infestations, a devastating pest threatening maize production in Nepal.
"Genetic materials that will not only enhance yield but diversify the gene pool of crops in Nepal is extremely important," said Lynn Schneider, deputy director of the Economic Growth Office at United States Agency for International Development (USAID) Nepal. "Agriculture must combat climate change and malnutrition, which are critical for the South Asia region. So, I am really proud that we are working on these areas," shared Schneider.
"Food security is a priority for the Government of Nepal," explained Sharma. He mentioned maize as an essential commodity from the food and feed perspective for South Asia and plans to collaborate with the private sector and donor organizations to increase maize productivity in the country. "The event will definitely help in augmenting the activities and accelerate the pathway towards achieving food and feed security," he added.
Moreover, a certificate of appreciation was presented to Nepal's National Maize Research Program to recognize their effective collaboration in hybrid maize varietal promotion and source seed distribution. Similarly, three partner seed companies of the project were also recognized for the breakthrough in becoming the first recipients of the Government of Nepal's research and development license to register and produce hybrid seeds on a commercial basis.
CIMMYT also launched an assessment report on Cereal Seeds Value Chain in Nepal that provides evidence-based recommendations for developing Nepal's formal cereal seed sector, specifically maize and rice. The publication highlights the need for a well-performing seed system where high-quality seeds of a wide range of varieties and crops are produced and available in time and affordable to farmers.
Deepak Bhandari, executive director of NARC, also congratulated the authors and expressed the significance of formulating and implementing inclusive strategies to build a vibrant seed industry in Nepal. He also acknowledged the event organizers for conducting an exceptional international workshop on hybrid maize seeds for the public and private seed stakeholders.
Cover photo: Training attendees gather to discuss competitive hybrid maize seed production technologies and build relationships with seed systems professionals. (Credit: Bandana Pradhan/CIMMYT)