Nepal's National Seed Vision 2013-2025 identified the critical skills and knowledge gaps in the seed sector, across the value chain. Seed companies often struggle to find skilled human resources in hybrid product development, improved seed production technology and seed business management. One of the reasons is that graduates from agricultural universities might be missing on recent advancements in seed science and technology, required by the seed industry.
Researchers from the International Maize and Wheat Improvement Center (CIMMYT) have been collaborating with Agriculture and Forestry University (AFU) to review and update the existing curriculum on seed science and technology, for both undergraduate and postgraduate students. This work is part of the Nepal Seed and Fertilizer (NSAF) project, funded by the United States Agency for International Development (USAID) through the Feed the Future initiative.
Realizing the need to increase trained human resources in improved seed technologies, CIMMYT researchers held discussions with representatives from the Department of Agronomy at AFU, to begin revising the curriculum on seed science and technology. Developed four years ago, the current curriculum does not encompass emerging developments in the seed industry. These include, for example, research and product development initiated by local private seed companies engaged in hybrid seed production of various crops, who want to be more competitive in the existing market.
Each year, approximately 200 bachelor's and 10 master's students graduate from AFU. In collaboration with CIMMYT, the university identified critical areas that need to be included in the existing curriculum and drafted new courses for endorsement by the academic council. AFU also developed short-term certificate and diploma courses in the subject of seed science and technology.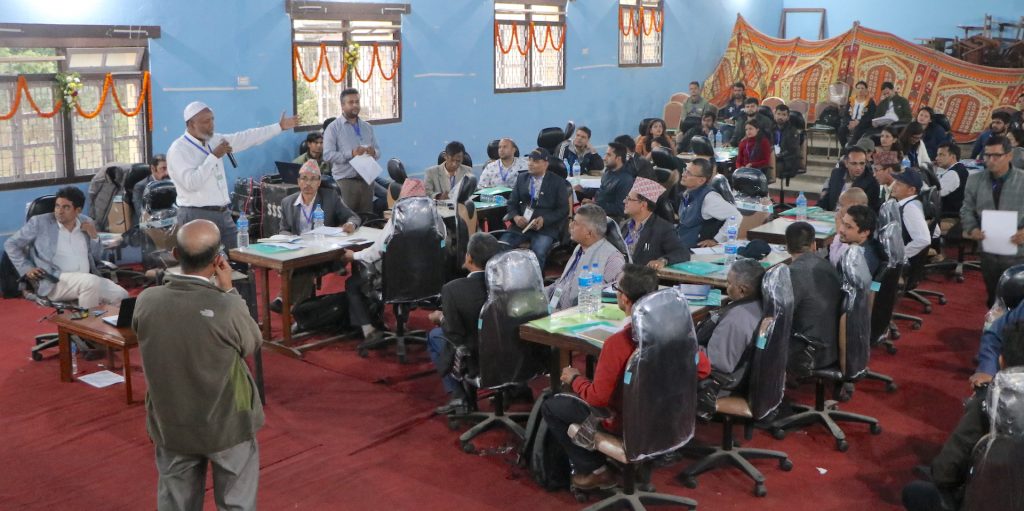 Shared knowledge
On November 20, 2019, CIMMYT, AFU and Catholic Relief Services (CRS) organized a consultation workshop with seed stakeholders from the public and private sectors, civil society and academia. Participants discussed emerging needs within Nepal's seed industry and charted out how higher education can support demand, through a dynamic and responsive program.
Sabry G. Elias, professor at Oregon State University (OSU), discussed recent advances in seed science and technology, and how to improve productivity of smallholder farmers in Nepal. He is supporting the curriculum revision by taking relevant lessons from OSU and adapting them to Nepal's context. Sabry shared the courses that are to be included in the new program and outlined the importance of linking graduate research with the challenges of the industry. He also stressed the importance of building innovation and the continuous evolution of academic programs.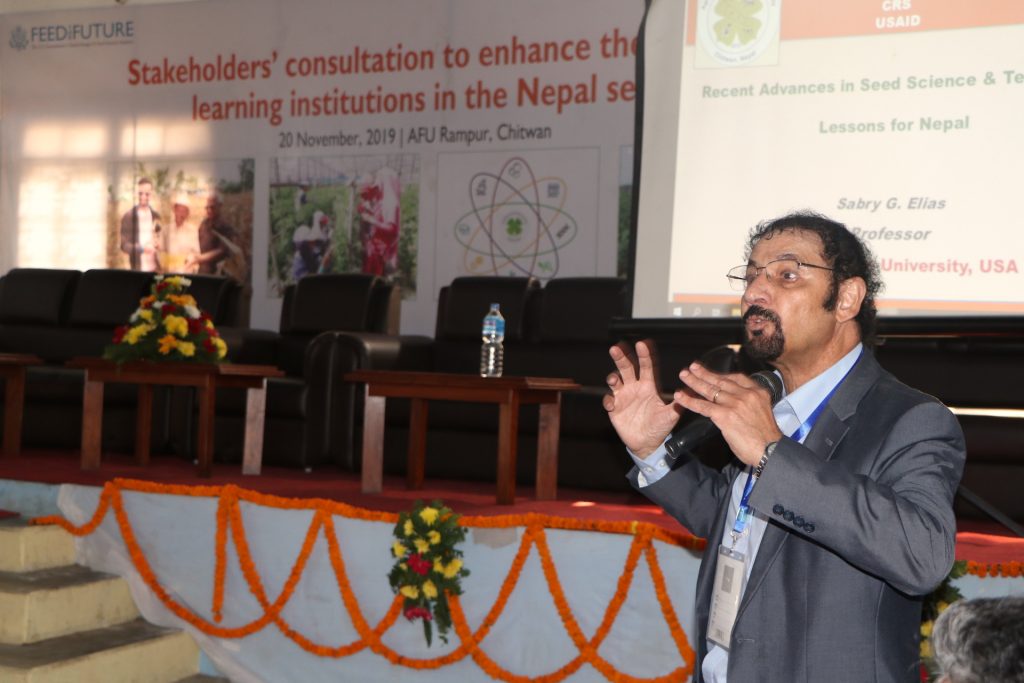 Professors from AFU, Nepal Polytechnic Institute, Tribhuvan University, and several private colleges introduced the current courses in seed science and technology at their institutions. Santosh Marahatta, head of the Department of Agronomy at AFU, discussed the limitations of the current master's and doctoral degree programs, and proposed a draft curriculum with integrated courses across the seed value chain. J.P. Dutta, dean of the Faculty of Agriculture at AFU, shared plans to create a curriculum that would reflect advanced practices and experiences in seed science and technology.
Scientists and researchers from Nepal Agricultural Research Council (NARC) presented their activities and suggested key areas to address some of the challenges in the country's seed sector.
"Our aim is to strengthen local capacity to produce, multiply and manage adequate quality seeds that will help improve domestic seed production and seed self-sufficiency," said Mitraraj Dawadi, a representative from the Seed Entrepreneurs Association of Nepal (SEAN). "Therefore, we encourage all graduates to get hands-on experience with private companies and become competent future scientists and researchers."
AbduRahmann Beshir, Seed Systems Lead for the NSAF project at CIMMYT, shared this sentiment. According to him, most current graduates lack practical experience on hybrid seed development, inbred line maintenance and knowledge on the general requirements of a robust seed industry. "It is important that universities can link their students to private seed companies and work together towards a common goal," he explained. "This human resource development drive is part of CIMMYT's efforts to help Nepal on its journey to self-reliance."