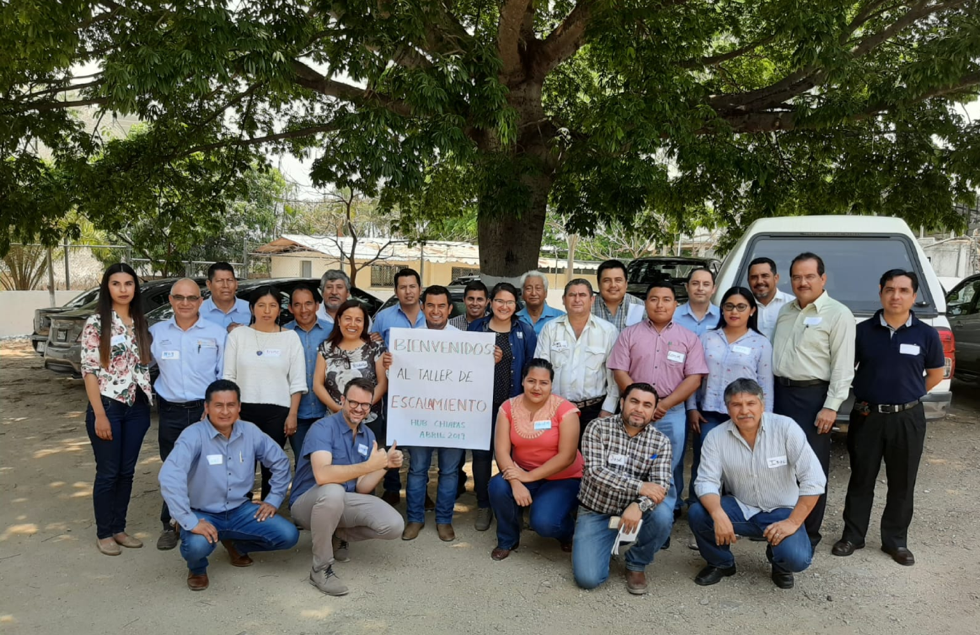 How to scale up agricultural innovation in a sustainable and responsible manner? Through a workshop from the International Maize and Wheat Improvement Center (CIMMYT), a group from Mexico's state of Chiapas learnt the basic principles of scaling. This knowledge will allow them to design and implement strategies that live well beyond the end of a project and that take into account the systems in which they operate.
Through presentations, group exercises and discussions, 23 people associated with the MasAgro project in Chiapas — technical advisors, coordinators and collaborators —  received training on scaling sustainable and responsible agricultural innovations.
The scaling process is relevant because oftentimes the size of a problem does not match the size of its solutions. To support scaling efforts, all relevant actors and entities must subscribe to a paradigm shift to achieve a positive sustainable impact for the greatest number of people.
Executing innovations in scaling requires a paradigm shift in all relevant actors and entities involved in order to achieve positive, sustainable impact that reaches the greatest number of people.
The workshop was divided into three sections. The first section was focused on basic concepts and the definition of realistic and responsible scaling goals. In the second, the group discovered the "Scaling Scan" tool. The third section was focused on the identification of opportunities and potential actions at the project level and through strategic collaborations.
The workshop "Scaling farming innovations: the what, for what and how" took place on April 24 and 25, 2019, in Tuxtla Gutiérrez, Chiapas. The event was led by Lennart Woltering, international scaling expert at CIMMYT, María Boa, CIMMYT scaling coordinator, and Jorge García, CIMMYT Hub Manager from the MasAgro project in Chiapas.
This training was held under the project for Strengthening Market Access for Small Producers of Maize and Legumes in Oaxaca, Chiapas and Campeche, which is financed by the Walmart Foundation.