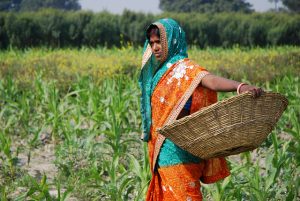 EL BATAN, Mexico (CIMMYT) – A new study identifies the key ways to keep up with India's rising food demand while minimizing greenhouse gas emissions.
Global food production must increase by 70 percent to meet a population of more than 9 billion in 2050. India, with a current population of 1.3 billion and rising, is central to this challenge.
As incomes rise in developing countries, many go through 'nutrition transition' away from staple crops towards high greenhouse gas-producing foods like meat and dairy. India, however, has a cultural preference for a lacto-ovo-vegetarian diet — dairy, eggs, and plant-based products —  and is likely to differ in this regard from similar developing countries, like China or Brazil.
In India, the majority of greenhouse gas emissions from agriculture are produced from agricultural inputs, farm machinery, soil displacement, residue management and irrigation.
Authors in a recent study from the International Maize and Wheat Improvement Center (CIMMYT) have identified higher emissions from continuously flooded rice, compared to rice which has more frequent periods of water drainage, and a wide range of emissions for other crops due to variation in fertilizer application.
The United Nations Framework Convention on Climate Change has placed emphasis on mitigation of greenhouse gases from agriculture and a number of strategies have been proposed. Measuring emissions from different crops and management systems can help identify the most efficient way to reduce future greenhouse gas emissions while keeping up with food demand.
Read the full study "Greenhouse gas emissions from agricultural food production to supply Indian diets: Implications for climate change mitigation" and check out other recent publications from CIMMYT staff below.
Genomic regions associated with root traits under drought stress in tropical maize (Zea mays L.). Zaidi, P.H., Seetharam, K., Krishna, G., Krishnamurthy, S.L., Gajanan Saykhedkar, Babu, R., Zerka, M., Vinayan, M.T., Vivek, B. In: PLoS One, vol.11, no.10: e0164340.
Global challenges and urgency for partnerships to deploy genetic resources. Sukhwinder-Singh, Vikram, P., Sansaloni, C.P., Pixley, K.V. In: Indian Journal of Plant Genetic Resources, vol. 29, issue 3, p. 351-353.
High accuracy of predicting hybrid performance of Fusarium head blight resistance by mid‑parent values in wheat. Miedaner, T., Schulthess, A., Gowda, M., Reif, J.C., Longin, F.H. In: Theoretical and Applied Genetics, vol 130, no. 2, p. 461–470.
Identification and functional characterization of the AGO1 ortholog in maize. Dongdong Xu, Hailong Yang, Cheng Zou, Wen-Xue Li, Yunbi Xu, Chuanxiao Xie In: Journal of integrative plant biology, vol.58, no.8, p.749-758.
Identification of genomic associations for adult plant resistance in the background of popular South Asian wheat cultivar, PBW343. 2016. Huihui Li, Sukhwinder-Singh, Bhavani, S., Singh, R.P., Sehgal, D., Basnet, B.R., Vikram, P., Burgueño, J., Huerta-Espino, J.  In: Frontiers in Plant Science, vol.7, no.1674, p.1-18.
Genomic Selection for increased yield in Synthetic-Derived Wheat. 2017. Dunckel, S., Crossa, J., Shuangye Wu, Bonnett, D.G., Poland, J. In: Crop Science, v. 57, p. 713-725.
Germinate 3: development of a common platform to support the distribution of experimental data on crop wild relatives. 2017. Shaw, P., Raubach, S. Hearne, S., Dreher, K.A., Glenn Bryan, McKenzie, G., Milne, I., Gordon Stephen, Marshall, D. In: Crop Science, v. 57, p.1-15.
Greenhouse gas emissions from agricultural food production to supply Indian diets: Implications for climate change mitigation. 2017. Vetter, S.H., Sapkota, T.B., Hillier, J., Stirling, C., Macdiarmid, J.I., Aleksandrowicz, L., Green, R., Joy, E.J.M., Dangour, A.D., Smith, P. In: Agriculture, Ecosystems and Environment v. 237, p. 234-241.
How climate-smart is conservation agriculture (CA)? its potential to deliver on adaptation, mitigation and productivity on smallholder farms in southern Africa. 2017. Thierfelder, C., Chivenge, P., Mupangwa, W., Rosenstock, T., Lamanna, C., Eyre, J.X. In: Food Security, vol. 9, no. 3, p. 537–560.
Identification and molecular characterization of novel LMW-m and -s glutenin genes, and a chimeric -m/-i glutenin gene in 1A chromosome of three diploid Triticum species.  2017. Cuesta, S., Alvarez, J.B., Guzman, C. In: Journal of Cereal Science, v. 74, p. 46-55.