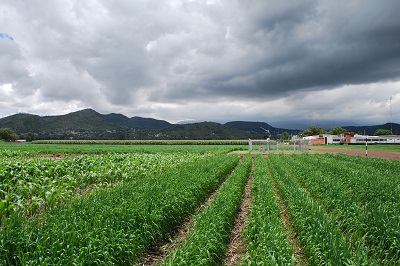 A new study on climate change patterns indicates that climate change could reduce total crop production 23 percent by 2050, the same year in which human population is expected to increase past nine billion people.
Globally, one in nine people were unable to meet their dietary energy requirements in 2015 and that number is expected to increase. Food insecurity is exacerbated by unstable global food prices, which are a reflection of unpredictable crop production seasons due to extreme weather patterns like temperature shocks, drought and flooding.
Climate-resilient agriculture has been touted as essential to achieving food security in the future. The study shows that improvements in technology and agronomic practices have the capacity to increase global food production to adequate levels, even in extreme conditions.
The authors say that beginning to implement mitigation and adaptation technologies now is crucial to check climate change's adverse impact on global crop production and food security.
Read the full study "Impact of climate change, weather extremes, and price risk on global food supply" and check out other publications by CIMMYT staff below:
Participatory integrated assessment of scenarios for organic farming at different scales in Camargue, France. 2016. Delmotte, S., Barbier, J.M., Mouret, J.C., Le Page, C., Wery, J., Chauvelon, P., Sandoz, A., Lopez-Ridaura, S. In: Agricultural Systems, vol.143, p.147-158.
Patterns and determinants of household use of fuels for cooking: empirical evidence from sub-Saharan Africa. 2016. Dil Bahadur Rahut, Behera, B., Ali, A. In: Energy, vol. 117, p. 93-104.
Photosynthetic contribution of the ear to grain filling in wheat: a comparison of different methodologies for evaluation. 2016. Sanchez-Bragado, R., Molero, G., Reynolds, M.P., Araus, J.L. In: Journal of Experimental Botany, vol. 67, no.9, p.2787-2798.
Pm55, a developmental-stage and tissue-specific powdery mildew resistance gene introgressed from Dasypyrum villosum into common wheat. 2016. Ruiqi Zhang, Bingxiao Sun, Chen, J., Aizhong Cao, Liping Xing, Yigao Feng, Caixia Lan, Peidu Chen. In: Theoretical and Applied Genetics, vol.129, p.1975-1984.
Precise estimation of genomic regions controlling lodging resistance using a set of reciprocal chromosome segment substitution lines in rice. 2016. Taiichiro Ookawa, Ryo Aoba, Toshio Yamamoto, Tadamasa Ueda, Toshiyuki Takai, Shuichi Fukuoka, Tsuyu Ando, Shunsuke Adachi, Makoto Matsuoka, Takeshi Ebitani, Yoichiro Kato, Indria Wahyu Mulsanti, Kishii, M., Reynolds, M.P., Piñera Chavez, F.J., Toshihisa Kotake, Shinji Kawasaki, Takashi Motobayashi, Tadashi Hirasawa. In: Nature Scientific reports, vol.6, no. 30572.
Predicting hybrid performances for quality traits through genomic-assisted approaches in Central European wheat. 2016. Guozheng Liu, Yusheng Zhao, Gowda, M., Longin, F.H., Reif, J.C., Florian Mette, M. In: PLoS One, vol 11, no. 7.
Predicting Rift Valley fever inter-epidemic activities and outbreak patterns: insights from a stochastic Host-Vector Model. 2016. Pedro, S.A., Abelman, S., Tonnang, H. In: PLoS Neglected Tropical Diseases, vol.10, no.12, 1-26 p.
Household energy consumption and its determinants in Timor-Leste. 2017. Dil Bahadur Rahut, Mottaleb, K.A., Ali, A. In: Asian development review, v. 34, no. 1, p. 167-197.
Cover crop-based reduced tillage system influences Carabidae (Coleoptera) activity, diversity and trophic group during transition to organic production. 2017. Rivers, A., Mullen, C., Wallace, J., Barbercheck, M. In: Renewable Agriculture and Food Systems, v. 32, no. 6, p. 538-551.
Impact of climate change, weather extremes, and price risk on global food supply. 2017. Haile, M.G., Wossen, T., Kindie Tesfaye Fantaye, Joachim, vB. In: Economics of Disasters and Climate Change, v. 1, p. 55-75.