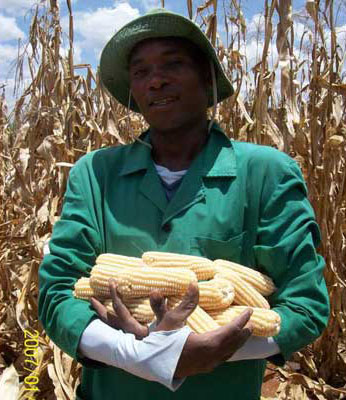 EL BATAN, Mexico (CIMMYT) — A committee was recently assembled by the US National Academies to assess the benefits and risks of genetically engineered (GE) crops and accompanying technologies.
GE crops – also popularly referred to as genetically modified organisms (GMOs) – have been a controversial issue since the public continues to perceive GE crops as unsafe, even though there is scientific consensus about their safety. Opponents of GE crops point to potential environmental concerns, food safety and intellectual property law issues.
The authors focused on individual varieties and traits within GE crops to form individual conclusions, rather than make a blanket conclusion about the safety and benefits of GE crops. The committee was composed of 20 experts from diverse fields and the report reflects over 900 studies on GE crops.
The US National Academies requires all reports to seek input from individuals directly involved in the problem under consideration. The committee on GE crops felt this was especially important given that the public views GE crops as such a controversial issue. The authors held public meetings and webinars, heard from 80 speakers ranging across perspectives and received over 700 comments from their website.
In their 584-page report, the authors answer the questions they determined to be most pressing based on public and scientific input. The report has received criticism from pro- and anti- GE advocates for not overtly backing or condemning GE crops.
The committee said they realize an almost 600-page report is a lot, so they organized the report based on answering questions, this way the public can easily find where their most pressing concerns are addressed. The authors said they hope that the evidence in the report will deepen the level of public conversation around GE crops.
Read the full study "Elevating the conversation about GE crops" and check out other recent publications from CIMMYT staff below.
First Report of Hop stunt viroid Infecting Citrus Trees in Morocco. 2016. Afechtal, M., Jamai, H., Mokrini, F., Essarioui, A., Faddoul, Z., Sbaghi, M., Dababat, A.A. In: Plant Disease, v. 100, no. 7, p.1512.
First Report of Wheat Blast Caused by Magnaporthe oryzae Pathotype triticum in Bangladesh. 2016. Malaker, P.K., Barma, N.C.D., Tiwari, T.P., Collis, W.J., Duveiller, E., Singh, P.K., Joshi, A.K., Singh, R.P., Braun, H.J., Peterson, G.L., Pedley, K.F., Farman, M.L., Valent, O. In: Plant Disease, v. 100, no. 11, p. 2330.
Gender as a Cross-Cutting Issue in Food Security: The NuME Project and Quality Protein Maize in Ethiopia. 2016. O'Brien, C., Gunaratna, N.S., Gebreselassie, K., Gitonga, Z., Tsegaye, M., De Groote, H. In: World Medical & Health Policy, v. 8, no. 3, p. 263-286.
Genetic diversity of spring wheat from Kazakhstan and Russia for resistance to stem rust Ug99. 2016. Shamanin, V., Salina, E., Wanyera, R., Zelenskiy, Y., Olivera, P., Morgounov, A.I. In: Euphytica, v. 212, n. 2, p. 287-296.
Genome-wide association study and qtl mapping reveal genomic loci associated with fusarium ear rot resistance in tropical maize germplasm. 2016. Jiafa Chen, Shrestha, R., Junqiang Ding Hongjian, Zheng Mu, C., Jianyu Wu, Mahuku, G. In: G3: genes – genomes – genetics, v. 6, no. 12, p. 3803-3815.
Factors determining household use of clean and renewable energy sources for lighting in Sub-Saharan Africa. 2017. Dil Bahadur Rahut, Behera, B., Ali, A. In: Renewable and Sustainable Energy Reviews, vol. 73, p. 661-672.
Gains in maize genetic improvement in Eastern and Southern Africa: II. CIMMYT open-pollinated variety breeding pipeline. 2017. Masuka, B., Magorokosho, C., Olsen, M., Atlin, G.N., Banziger, M., Pixley, K.V., Vivek, B., Labuschagne, M., Matemba-Mutasa, R., Burgueño, J., MacRobert, J.F., Prasanna, B.M., Das, B., Makumbi, D., Amsal Tesfaye Tarekegne, Crossa, J., Zaman-Allah, M. Biljon, A. von, Cairns, J.E. In: Crop Science, v. 57, p. 180-191.
Gender and inorganic nitrogen: what are the implications of moving towards a more balanced use of nitrogen fertilizer in the tropics? 2017. Farnworth, C.R., Stirling, C., Sapkota, T.B., Jat, M.L., Misiko, M., Attwood, S. In: International Journal of Agricultural Sustainability, v. 15, no. 2, p. 196-152.
Genetic diversity and population structure of native maize populations in Latin America and the Caribbean. 2017. Bedoya-Salazar, C.A., Dreisigacker, S., Hearne, S., Franco, J., Mir, C., Prasanna, B.M., Suketoshi Taba, Charcosset, A., Warburton, M.L. In: PLoS One, V. 12, no. 4: e0173488.