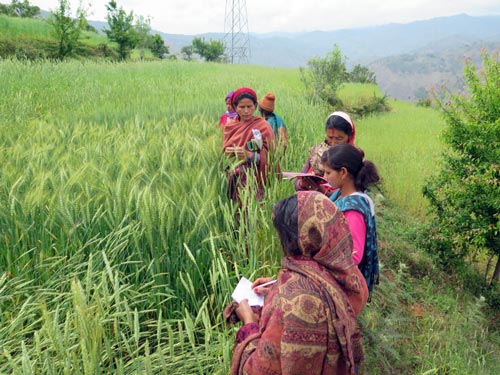 EL BATAN, Mexico (CIMMYT) – A new study examines the role of collective resource management in conflict.
Climate-induced migration can spur competition for resources such as cropland and freshwater, and stress or undermine existing social institutions according to the authors of the new study. The food security crisis and international 'land grabs' have drawn renewed attention to the role of natural resource competition in the livelihoods of the rural poor.
The study focuses on how collective action in natural resource competition can strengthen social-ecological resilience and mitigate conflict.
The scientists identified three action recommendations: using policy interventions to promote collectively managed natural resources, support natural resource management institutions to expand their ability to support collective action in response to competition and increase measures to affect the action arena by shifting incentives toward cooperative resolutions of resource conflicts and enhancing conflict resolution processes.
The authors note that stakeholders cannot write collective action into existence, but that collective natural resource management under effective guidance has been an effective peacebuilding mechanism.
Read the full study "Addressing conflict through collective action in natural resource management" and check out other recent publication by CIMMYT staff below:
Addressing conflict through collective action in natural resource management. Ratner, B.D.; Meinzen-Dick, R.; Hellin, Jon; Mapedza, E.; Unruh, E.; Veening, W.; Haglund, E.; May, C.; Bruch, C.. International Journal of the Commons 11 (2): 877-906. DOI: http://doi.org/10.18352/ijc.768Netherlands. Uopen Journals.
Land use and agricultural change dynamics in SAT watersheds of southern India. Ahmed, I.M., Murali Krishna Gumma, Shalander Kumar, Craufurd, P., Rafi, I.M., Amare Haileslassie, In: Current Science, vol. 110, no. 9, p. 1704-1709.
Linkages and interactions analysis of major effect drought grain yield QTLs in rice. Vikram, P., Mallikarjuna Swamy, B.P., Dixit, S., Trinidad, J., Sta Cruz, T., Maturan, P.C., Amante, M., Arvind Kumar, In: PLoS One, vol. 11, no. 3: e0151532.
Long term effect of conservation agriculture in maize rotations on total organic carbon, physical and biological properties of a sandy loam soil in north-western Indo-Gangetic Plains. Parihar, C.M., Yadav, M.R., Jat, S.L., Singh, A.K., Kumar, B., Pradhan, S., Chakraborty, D., Jat, M.L., Jat, R.K., Saharawat, Y.S., Yadav, O.P. In: Soil and Tillage Research, vol.161, p.116-128.
Maize maintains growth in response to decreased nitrate supply through a highly dynamic and developmental stage-specific transcriptional response. Plett, D., Baumann, U., Schreiber, A.W., Holtham, L., Kalashyan, E., Toubia, J., Nau, J., Beatty, M., Rafalski, A., Dhugga, K., Tester, M,. Garnett, T., Kaiser, B.N. In: Plant biotechnology journal, vol.14, no.1, p.342-353.
Mapping of spot blotch disease resistance using NDVI as a substitute to visual observation in wheat (Triticum aestivum L.). Suneel Kumar, Roder, M.S., Singh, R.P., Kumar, S., Ramesh Chand, Joshi, A.K., Kumar, U. In: Molecular Breeding, vol.36, no.95, p.1-11.
Independent introductions and admixtures have contributed to adaptation of European maize and its American counterparts. Brandenburg, J.T., Tristan Mary-Huard, Rigaill, G., Hearne, S., Corti, H., Joets, J., Vitte, C., Charcosset, A., Nicolas, S.D., Tenaillon, M.I. In: PLoS Genetics, v.13, no.3: e1006666.
Maximizing maize quality, productivity and profitability through a combined use of compost and nitrogen fertilizer in a semi-arid environment in Pakistan. Iqbal, S., Thierfelder, C., Zaman Khan, H., Hafiz Muhammad Rashad Javeed, Muhammad Arif, Muhammad Shehzad. In: Nutrient Cycling in Agroecosystems, v. 107, p. 197-213.
Modeling preference and willingness to pay for Drought Tolerance (DT) in maize in rural Zimbabwe. Kassie, G., Awudu Abdulai, Greene, W.H., Shiferaw, B., Tsedeke Abate, Amsal Tesfaye, Tarekegne Sutcliffe, C. In: World Development, v. 94, p. 465-477.
Nitrogen transformations in modern agriculture and the role of biological nitrification inhibition. Coskun, D., Britto, D.T., Weiming Shi, Kronzucker, H.J. In: Nature Scientific reports, v. 3, no. 17074, p. 1-10.
Occurrence of wheat blast in Bangladesh and its implications for South Asian wheat production. Chowdhury, A.K., Mahender Singh Saharan, Aggrawal, R., Malaker, P.K., Barma, N.C.D., Tiwari, T.P., Duveiller, E., Singh, P.K., Srivastava, A., Sonder, K., Singh, R.P., Braun, H.J., Joshi, A.K. In: Indian Journal of Genetics and Plant Breeding, vol. 77, no. 1, p. 1-9.