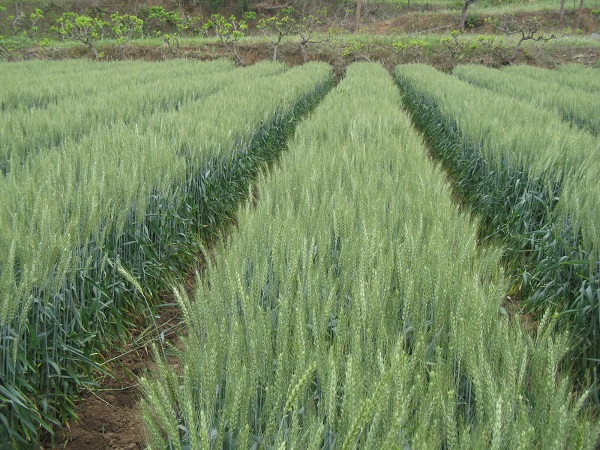 A new commentary published today in the leading science journal Nature Plants highlights the importance of an ancient grass species for wheat breeding. The commentary was sparked by the recent publication of a reference genome from Aegilops tauschii, also called goat grass.
Bread wheat was created some 10,000 years ago by a natural cross of more simple, primitive wheats with a sub-species of goat grass. As such, goat grass genes constitute a major component of the very large wheat genome. The sequencing of goat grass DNA opens the way for wheat breeders to apply a number of advanced approaches to improve the speed and precision of wheat breeding for important traits that may be found in the goat grass segment of the wheat genome.
The International Maize and Wheat Improvement Center (CIMMYT) has produced many wheat x grass crosses, recreating the original, natural cross but using other goat grass species and thus greatly expanding wheat's diversity. Wheat lines derived from those crosses have since been used in breeding programs worldwide and have helped farmers to boost yields by up to 20 percent. Goat grass is known for being highly adaptable and disease tolerant, so the crosses endow wheat with similar qualities. Varieties from these crosses make up over 30 percent of international seed stores.
Researchers expect that the sequencing of this grass species' DNA will facilitate advanced approaches such as "speed breeding" – a technique that uses controlled variables to achieve up to seven rounds of wheat crops in one year. This will help allow wheat breeding to keep up with the rising global demand for the crop and to address the challenges of new, virulent diseases and more extreme weather.
Check out the full article: The goat grass genome's role in wheat improvement. 2018. Rasheed, A., Ogbonnaya, F.C., Lagudah, E., Appels, R., He, Z. in Nature Plants and check out other recent publication by CIMMYT staff below:
Molecular genetic diversity and population structure of Ethiopian white lupin landraces Implications for breeding and conservation. 2017. Atnaf, M., Yao, N., Kyalo, M. ,Kifle Dagne, Dagne Wegary Gissa, Tesfaye, K. In: PLoS One v. 12, no. 11, p. e0188696.
Determinants of participation in cavy marketing : evidence from the Democratic Republic of Congo. 2017. Simtowe, F., Paul, B. K., Wimba, B. M. M., Bacigale, S. B., Chiuri, W. L., Maass, B. L. In: Journal of Agriculture and Rural Development in the Tropics and Subtropics v. 118, no. 2, p. 245-257.
Food security, sweet potato production, and proximity to markets in northern Ghana. 2017. Glenna, L.L., Borlu, Y., Gill, T., Larson, J., Ricciardi, V., Adam, R. In: Facets v. 2, p. 919-936.
Evaluation of grain yield and related agronomic traits of quality protein maize hybrids in Southern Africa. 2017. Setimela, P.S., Gasura, E., Amsal Tesfaye Tarekegne. In: Euphytica v. 213, p. 289.
Medium-term effects of conservation agriculture on soil quality. 2017. Ivy Sichinga Ligowe, Patson Cleoups Nalivata, Njoloma, J., Makumba, W., Thierfelder, C. In: African Journal of Agricultural Research v. 12, no. 29, p. 2412-2420.
Predicting yield and stability analysis of wheat under different crop management systems across agro-ecosystems in India. 2017. Jat, M.L., Jat, R.K., Singh, P., Jat, S.L., Sidhu, H.S., Jat, H. S., Bijarniya, D.,  Parihar, C.M., Gupta, R.K. In: American Journal of Plant Sciences v. 8, p. 1977-2012.
Pathogenomic analysis of wheat yellow rust lineages detects seasonal variation and host specificity. 2017. Bueno Sancho, V., Persoons, A., Hubbard, A., Cabrera-Quio, L. E., Lewis, C. M., Corredor Moreno, P., Bunting, D. C. E., Sajid Ali, Soonie Chng, Hodson, D.P., Madariaga Burrows, R., Bryson, R., Thomas, J., Holdgate, S., Saunders, D. G. O. In: Genome Biology and Evolution v. 9, no. 12, p. 3282-3296.
Genotype by environment interactions and combining ability for strawberry families grown in diverse environments. 2017. Mathey, M.M., Mookerjee, S., Mahoney, L.L., Gündüz, K., Rosyara, U., Hancock, J.F., Stewart, P.J., Whitaker, V.M., Bassil, N.V., Davis, T.M., Finn, C.E. In: Euphytica v. 213, p. 112.
Genome-wide association study in Asia-adapted tropical maize reveals novel and explored genomic regions for sorghum downy mildew resistance. 2017. Rashid, Z., Kumar Singh, P., Vemuri, H., Zaidi, P.H., Prasanna, B.M., Nair, S.K. In: Scientific reports v. 8, p. 366.
Combining ability analysis in newly developed S6 inbred lines of maize (Zea mays L.). 2017. Gazala, P., Kuchanur, P.H., Zaidi, P.H., Arunkumar, B., Patil, A., Seetharam, K., Vinayan, M.T. In: Journal of Farm Sciences v. 3, no. 3, p. 315-319.